Friday night's game between the Utah Jazz and Oklahoma City Thunder is once again another critical game to determine the standings in the Western Conference. This is the second of four meetings between the two teams for this season. The Jazz beat the Thunder on February 23, 120-119. They currently have a record of 31-32 and are currently the ninth seed, which is currently good enough to get into the play in tournament. Utah's last game was a loss at home to the San Antonio Spurs on February 28th, 102-94.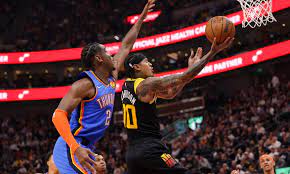 Injuries for the Jazz are to two key guards in Jordan Clarkson and Collin Sexton. Clarkson is out for tonight's game with a thumb injury. Sexton is out with a hamstring injury and it'll be at least another week until he is re-evaluated.
OKC is coming off a disappointing home loss to the Los Angeles Lakers on Wednesday, 123-117. Shai-Gilgeous Alexander did not play in the game due to being in the NBA's health and safety protocols for COVID. He is out again tonight. The Thunder are once again in must win mode as they sit 2.5 games back of the tenth seed New Orleans Pelicans for the final play-in spot.
Tonight's game is at 7:00pm CT at Paycom Arena in Oklahoma City. It is available nationally with the NBA's League Pass or it's available locally on Bally Sports Southwest in Oklahoma City and available in Utah on ATT SportsNet Rocky Mountain.