Daniel Corrigan | May 11th, 2019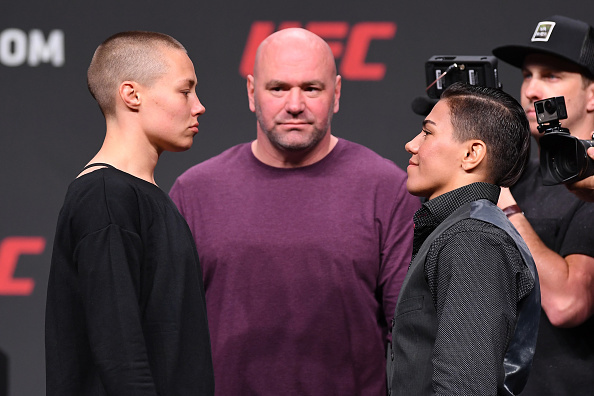 UFC 237 will take place tonight on ESPN+ live from the Jeunesse Arena in Rio de Janeiro, Brazil. This fight card will be the first time in UFC history that the smallest weight division (Women's Strawweight) will headline a PPV fight. The current champion, Rose Namajunas will look to defend her belt against Jessica Andrade.
This has the makings to be a card to remember. There are some legends, who very well be fighting some of their last fights, as well as some of the young up-incoming superstars. If you are a big UFC fan, this may be the last time you get to see Jose Aldo, BJ Penn, and Thiago Alves, inside the octagon.
Main Card Previews/predictions
Lightweight: Diego Ferreira v Francisco Trinaldo
This fight has been canceled by the CABMMA due to Ferreira having kidney stones.
Women's Bantamweight: Irene Aldana (9-4) v Beth Correia (10-3-1)
Aldana had a rough start to her UFC career, as she lost her first two fights. She has since won two straight and has earned a "fight of the night bonus" as well. Aldana has good K.O. power as she has knocked out five opponents.
Correia was an up-incoming star in this division before she was finished by Ronda Rousey in 34 seconds in a championship fight. She has since had a 1-2-1 record. With her only victory coming off a controversy.
These two were supposed to fight last August before Correia was declared medically ineligible. This will be Correia's first fight in almost two years.
Correia has had some very controversial wins in her career. I think she is highly overrated and just another brawler. Aldana will let the fight come to her and demolish Correia with right hands.
Prediction: Aldana: First-Round TKO
Welterweight: Thiago Alves (23-13) v Laureano Staropoli (8-1)
Hard to believe that Alves was once a top contender in the division. He has since fallen on hard times and does not have the same knock-out power that he once had. He is getting old, and won't be fighting for too much longer. Of course, when a top fighter unexpectedly declines, there is the talk of post-ped usage. Without a failed drug test, this is just poor speculation.
Staropoli is a classic bruiser. In his short career in the UFC, he has eight wins and five of them coming from knock-outs. Staropoli is only 26 years old and looks to cement himself as one of the top contenders in the division. With his youth, he is still a little wild with his punches. He needs to let the fight come to him against an experienced veteran.
There are two ways this fight will go. Staropoli will start throwing haymakers and Alves will follow along, or Alves looks to plan combos and keep the distance. This could be the most exciting fight of the night.
Prediction: Staropoli: Unanimous decision
Featherweight: Jose Aldo (28-4) v Alexander Volkanovski (19-1)
Now, this is going to be fun.
Aldo is an all-time legend, an all-time great. Possibly, the greatest to ever do it in the UFC. His career has not been the same since Conor McGregor knocked him out in 13 seconds at UFC 194. This could be the last time we see the Brazilian Jiu-Jitsu black-belt in the octagon.
Volkanovski is one of the hottest names in the featherweight division. Of his 19 wins, 11 came from knock-outs. Volkanovski just turned 30 and has entered the prime of his career. While he has dominated the division, no names stand out like a victory over Aldo would.
Aldo is only 32. Yes, he has been banged up by McGregor and Max Holloway, but those are some of the best names in the sport. Volkanovski, with a win, would put himself in the conversation of a top contender. I just think that Aldo will be riding the momentum of a win in his last fight and finish Volkanovski late.
Prediction: Aldo: Third-Round Submission.
Co-Main Event
Middleweight: Jared Cannonier (11-4) v Anderson Silva (34-9-1NC)
Silva, like Aldo, is another legend in this sport. Possibly fighting one of, if not his last fight in the octagon. I love Silva as much as the next guy, but the man is 44 years old and has one official victory in the past six years. I'm going to keep this preview short, I don't think Silva will ever win again. Cannonier is not a "bum" but it is obvious that this should not be the co-main event. The UFC is trying to keep Silva around to create buzz, in my opinion
I know, people can't handle the thought of losing Silva, but its time to let go. If he gets knocked-out, this will be the final fight of his career.
Prediction: Cannonier: Second-Round TKO
Main Event
Women's Strawweight Championship: Rose Namajunas (8-3) v Jessica Andrade (19-6)
Don't let her baby face fool you, Namajunas is a beast. There is a reason that she is the champion. Namajunas is great and had two great performances against Jonna Jedrzejczyk to claim and defend her title. Namajunas is an all-around fighter. Meaning that she is as good on the ground as she is standing up. "Thug Rose" (as they call her) Has a very long and lanky frame which is great for keeping distance and forcing the fight to the canvas.
Andrade is the complete opposite of Namajunas. She will force the fight up close and maul you with nasty combos. This is why I think Namajunas could be at a disadvantage. In order for Champion to win, she needs to keep distance and pick-off Andrade with jabs and combos. She also needs to force this fight to the ground. If she does that, she will retain her belt. If she lets Andrade get close, she is leaving in an ambulance.
Prediction: Namajunas: Unanimous Decision
This has the makings to be a great card. With all the veterans, legends, and young faces. If you are a long-time UFC fan, you may want to plan your Saturday night around this card. It may be the last time we see some legends in this sport.
Questions and comments?
thescorecrowsports@gmail.com
Follow Us on Twitter @thescorecrow
Follow Us on Reddit at u/TheScorecrow
Follow Us on Facebook at The Scorecrow
Follow Us on Instagram at The Scorecrow
Follow Daniel Corrigan on Twitter @Corrigan_Tweets
Main Credit Image
[getty src="1136479398″ width="594″ height="396″ tld="com"]