Pranav Ramasubramanian | October 29th, 2018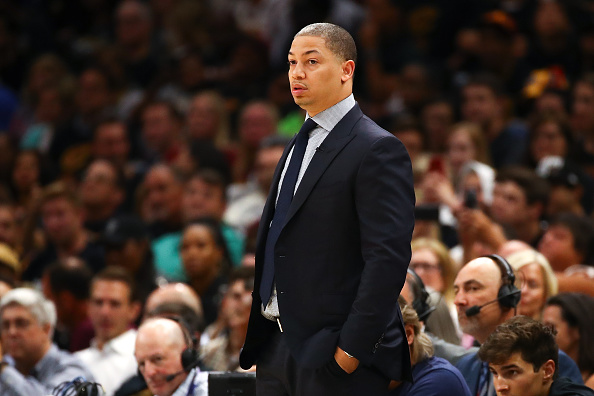 The Cleveland Cavaliers like to play the blame game and the latest scapegoat is Tyronn Lue.  The now former head coach of the Cavs has done a lot for this organization and it really is not fair to point the finger at him for this bad start, since there is not much anybody could do with this roster and situation.
Despite being relatively competitive in their opening six matches, the Cavaliers have not won a basketball game since last season, when the best player in the game LeBron James was still on the roster. Kevin Love has been reborn as the double-double machine he was in his Minnesota days, but the Cavaliers seemingly cannot play any kind of defense. They have let up over 100 points in each of their losses and you will not win many games by giving your opponent such easy offense, as shown by their league-worst record of 0-6. Although Dan Gilbert is the epitome of a terrible owner and the way they have restructured this team is not abysmal, they perhaps should consider the lengths they are prepared to go to win games, because the bad start is an indication that a high lottery pick may be a better option.
The Cleveland Cavaliers are planning to fire head coach Ty Lue, per league sources. @TheAthleticNBA @WatchStadium

— Shams Charania (@ShamsCharania) October 28, 2018
A downward spiral for Cleveland was inevitable after losing LeBron because if they knew how to keep him, they just would not be in the mess they are at present.
Tyronn Lue's accomplishments
David Blatt was a good head coach but had the tendency to freeze up in crucial situations. He called plays for players not even on the floor, took every regular season game seriously and the players seemed to have a poor relationship with him, as Blatt didn't hold them accountable. As a result, Dan Gilbert fired him after a 30-11 start as the Cavaliers were prepping for a Finals run in 2016. Tyronn Lue was an assistant and the players on the team seemed to like him very much. He knew how to communicate with them and get what he needed out of the team, thus he was promoted to head coach and signed a three-year deal. Lue helped the Cavaliers to a 27-14 record in the remaining games as the Cavaliers finished with a 57-25 record and the 1st seed in the East. In the postseason, they lost a mere two games on their path to a second straight NBA Finals and a rematch with the Golden State Warriors. Despite going down 3-1 in the series, Lue kept the team in high spirits. This was vital to the three amazing performances from the Cavaliers that followed, with LeBron and Kyrie Irving playing at their highest level to earn Cleveland's first championship in 52 years while being the first team to ever overcome a 3-1 Finals deficit.
https://twitter.com/HeatCheckHoops/status/1009190577387253761
Lue helped the Cavaliers reach the NBA Finals again the next year, but the addition of Kevin Durant for the Warriors made the Cavaliers look like simple chew toys, as the defending champions were dethroned in just five games. In the subsequent offseason Kyrie, in search of his own team to lead, requested a trade away from Cleveland, which was granted as he moved to the Boston Celtics. Lue was still able to get the Cavaliers to the NBA Finals last season, but they got swept as the Warriors repeated. Nevertheless, Lue had shown his ability to get the team to three straight Finals even in the worst situations.
The Cavs won 169 total games under Tyronn Lue.

Since he was named head coach in January 2016, only Golden State has more total wins. pic.twitter.com/QjkBBGmGwY

— SportsCenter (@SportsCenter) October 28, 2018
How it went wrong
Kyrie demanded to leave Cleveland as he did not want to play in LeBron's shadow. The issue with the trade that was made was that not only did he take his intensity with him, but the new pieces in Jae Crowder, Ante Zizic and Isaiah Thomas did not fit well with the team, as Thomas clashed with LeBron over ball control. Lue could not seem to handle these issues as everyone seemed frustrated at the organization and he failed to get the maximum out of the role players. It seemed the passion had disappeared and the players did not carry their weight, leaving it to Love and LeBron to do it all, as new signings in Derrick Rose and Dwyane Wade could not meet expectations. The Cavaliers decided to shake up the roster as they knew what they needed was an extra push to make the NBA Finals, and so they traded away all the new pieces except for Zizic for George Hill, Larry Nance Jr., Jordan Clarkson and Rodney Hood while also getting rid of Wade, Iman Shumpert, and Channing Frye. After a chaotic season, they finished with 50 wins and the fourth seed in the East.
Cavaliers, post trade deadline:

PG: George Hill, Jordan Clarkson
SG: Rodney Hood, J.R. Smith, Korver
SF: LeBron James, Jeff Green, Cedi Osman
PF: Kevin Love, Larry Nance Jr.
C: Tristan Thompson

— Legion Hoops (@LegionHoops) February 8, 2018
Lue took some time off from anxiety and Love's mental health was a concern but in the playoffs, the Cavaliers seemed to have just enough to eke out of the East and make the NBA Finals, even though the Pacers and Celtics took them to seven games. It is ironic that the combination of players Lue put on the court did not work well, but all seemed fine when LeBron James was doing all the graft. However, they got swept in the NBA Finals and Lue was really in trouble when LeBron decided to go to the Los Angeles Lakers, meaning he was left with a rebuilding team who, outside Love and this year's No.8 pick Collin Sexton (acquired via the Irving trade in the 2017 offseason), had few bright spots.
Reactions
The Cavaliers decided to go in a totally new direction and fired Tyronn Lue on Sunday morning. Here's his statement:
Tyronn Lue statement obtained by @espn @TheUndefeated pic.twitter.com/Cj7JdsYS12

— Marc J. Spears (@MarcJSpears) October 28, 2018
Other former Cavs were not too happy either. Here is what they said:
T Lue thanks for the memories and more importantly our partnership bringing a 🏆 to that deserved city/fan base. U know how to find me 🙏🏾

— LeBron James (@KingJames) October 28, 2018
https://www.instagram.com/p/Bpe18PGnD4P/?hl=en&taken-by=kevinlove
https://www.instagram.com/p/Bpe2ZsSHRw-/?hl=en&taken-by=channingfrye
https://www.instagram.com/p/Bpe0Io2BCcO/?hl=en&taken-by=richardajefferson
https://www.instagram.com/p/Bpe4wDvF7xf/?hl=en&taken-by=dahntay1
https://www.instagram.com/p/Bpe1i2olX6M/?hl=en&taken-by=teamswish
https://www.instagram.com/p/Bpe3Z43HFK4/?hl=en&taken-by=realtristan13
They clearly believe he should not have been fired, but it was bound to happen as it seemed the Cavaliers were always going to head in a different direction. This is why the rest of the NBA was not too surprised to hear the news. Lue can still smile knowing that the Cavaliers owe him $15 million and he does not have to coach this horrid team for another game. Larry Drew will step in as interim head coach and is expecting a long-term commitment, but it will be interesting to see how the rest of this season could possibly shape that.
Questions and comments?
thescorecrowsports@gmail.com
Follow Us on Twitter @thescorecrow
Follow Us on Reddit at u/TheScorecrow
Follow Pranav on Twitter @PranavRama1
Main Credit Image: [getty src="970039394″ width="594″ height="396″ tld="co.uk"]