Daniel Corrigan | April 6th, 2019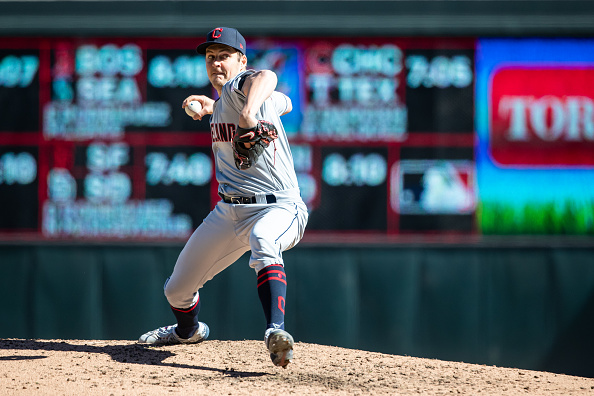 I have had this take for about a year now. I'm just now putting pen to paper and explaining my reasoning. There are many great videos I wish to show but baseball is still owned by old people who hate free publicity. So I shall use stats instead.
Trevor Bauer is the best pitcher the Indians have. He is absolutely a top three pitcher in this league. He damn well could be the best pitcher in the show right now.
First of all, before I continue, I think Bauer's ability to throw a TON of pitches is one of his best qualities. For example, Bauer had a no-hitter going into the 8th inning against the Blue Jays. Problem is, he was at 120 pitches. I really believe that Bauer could have completed the game. He has so many pitches he likes to experiment with that he is one of those guys who is willing to throw a lot of balls to a batter to get the batter confused.
With this skill, brings his biggest problem. He walks a lot of people. He led the league in 2015 with 79. Bauer is not afraid to throw a bad pitch. Being an Indians fan, Bauer is always due to having a meltdown inning. With his style of pitching, which involves a ton of experimenting on and off the field, this always happens.
I firmly believe that Bauer would have won the Cy Young last year if he didn't take a come-backer to his leg late last season.
The 2017 season I think is when Bauer took his biggest step. Bauer was always in the four ERA range, he gave up a lot of HRs, his ERA+ was never any good. 2017, he finally started to put things together at the end of the season. I still remember in 2016. The final rotation spot was between Bauer and Josh Tomlin. All sports media, radio talk shows, and everyone who knew a thing or two wanted Bauer off the team. Bauer started the year in the bullpen but eventually became a nice player for the World Series run. Then 2018 happened.
I mean, Bauer was outstanding last season. He posted a 2.21 ERA, won 12 games, struck out 221 batters, only gave up nine HRs, and his walk numbers decreased significantly, with only 57 players getting a free-pass.
I am a Cy young caliber pitcher so you're wrong there. I will be in the future as wel, so you're wrong on that as well. You did manage to tweet me at a time when most people are asleep, so you managed to get the response you were after. Good for you

— Trevor Bauer (トレバー・バウアー) (@BauerOutage) November 6, 2018
Bauer is something that baseball has really never seen. He is a mad scientist who use a variety of nontraditional methods. My theory is that Bauer was constructed in a lab. One technique that Bauer like to do is called  "Transcranial Direct Current Stimulation." He is literally shocking his brain. It more of a buzz, but the theory is that it will help you retain skills faster.
Bauer spends his time training at Driveline Baseball. A data-focused baseball performance center. Its here where he redefined, and "created" his slider and changeup. Bauer is very different. But in an awesome way.
Another way that Bauer is different is that he likes to speak his mind. He said in a tweet "I was better than Kluber last season." This was in response to someone tweeting at him about Corey Kluber. Now Bauer obviously wasn't calling out his teammate. He just likes to say what's on his mind. He is the poster boy for my personal campaign of "let the players have their voice." This is another discussion for another article. But the point is, Bauer is his own person.
Kluber could very well be the best pitcher the Indians have had in their history (best is different from accomplished.) He is the ace, and he has deserved it. Kluber is still excellent. Right now, at this time, Bauer is the best pitcher for the Indians, and it really is not that close.
Questions and comments?
thescorecrowsports@gmail.com
Follow Us on Twitter @thescorecrow
Follow Us on Reddit at u/TheScorecrow
Follow Us on Facebook at The Scorecrow
Follow Us on Instagram at The Scorecrow
Follow Daniel Corrigan on Twitter @Corrigan_Tweets
Main Image Credit:
[getty src="1140014222″ width="594″ height="396″ tld="ca"]