Alex Kielar | February 5th, 2019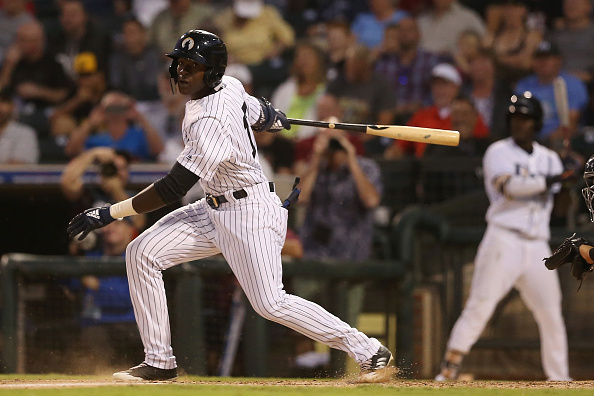 Even after graduating the likes of Aaron Judge, Gleyber Torres, and Miguel
Andújar from their prospect list the last couple seasons, while also trading away their No. 1 Prospect at the time, Justus Sheffield, to the Mariners this offseason, the Yankees still have a solid farm system with pieces primed to make their debuts soon. When it comes to the Yankees, they are never in full rebuild mode, so they focus more on grooming raw talent. Some of these names will and already have been mentioned in trade discussions, as the Yankees' championship window is wide open right now. Now let's get into the list!
Hit: 45
Power: 55
Run: 70
Arm: 65
Field: 60
The Yankees signed Estevan Florial out of the Dominican Republic in March 2015 after he emerged as a top international prospect during the 2014-2015 signing period. Before being allowed to sign, however, Florial had to produce a Haitian birth certificate after MLB discovered that he had assumed the identity of Haniel de Oleo when registering for school in the Dominican Republic. Florial received a bonus that was a fraction of what he would have gotten without the controversy, a mere $200,000, which was a bargain for the Yankees as he has some of the best all-around game of any player in their system.
Florial has all the makings of being a potential 5-tool player, with three of his tools sticking out the most being his raw power, speed, and arm strength. His speed is the part of his game that probably makes Florial the most dangerous, as he can beat grounders out, stretch singles into doubles, steal bases while distracting pitchers, and make almost any play in the outfield. During his minor league career with the Yankees, Florial has never had a fielding percentage of less than .971 and has stolen at least 10 bases every season.
The most his raw power can be seen is in batting practice, as he can be seen hitting bombs, while he does not have as much in-game power, because of his aggressive approach. But with his A+ speed, he doesn't have to sell out for home runs as he can use his speed to make things happen for the offense. Florial will obviously still hit his fair share of home runs, and with the short porch at Yankee Stadium, the number will only elevate.
Florial's defense in center field is plus but is probably the weakest of his well above-average tools. He uses his speed to make a lot of plays and is very good on coming in on the ball, but his route running is the part that can use the most refinement. With excellent arm strength, base runners are hesitant to test him, and he will end up as a plus defender with some more refinements. The other tool of the five tools is hitting for average and that is the tool that needs the most work for Florial. With his aggressive approach, he strikes out a lot, and he has to start recognizing pitches better to get to the level of plus hitter.
With the refinements needed to improve some parts of his game not being too hard to work through, Florial could definitely end up being a five-tool player and is a potential 30-30 guy. With the seasoning still needed for Florial to be Major League ready and still being young with a lot of room for more improvement, Florial is a couple years away from making it to New York. If he can stay healthy and make the needed improvements, he will rise to Triple-A by the end of this year or the beginning of next year. Depending on how quickly he improves and rises, he may even be a September call-up this year. From there if he continues to improve and produce, he could see himself making it to the Yankees by late 2020 or early 2021. Florial's ceiling is high and could be the Yankees starting center fielder in 2021. ETA: Late 2020/Early 2021
Fastball: 65
Curveball: 55
Changeup: 55
Control: 55
Jonathan Loaisiga was signed by the Yankees in February 2016 after missing two seasons with injuries after his pro debut in 2013 with the Giants, who signed him out of Nicaragua in 2012. The Yankees signed him after he threw 94-95 mph at a tryout and he started out at Low-A Charleston.
Unfortunately in his first start at Low-A in May, Loaisiga injured his elbow which required him to have Tommy John surgery. After already missing two seasons because of injury between 2013 and 2015, it was a tough pill for Loaisiga to swallow to miss even more time.
When he returned to action in 2017, Loaisiga started 11 games for the Yankees rookie-level team in the Gulf Coast League and played in the instructional league. He showed enough in these starts that the Yankees put him on their 40-man roster in November and he made his MLB debut in June 2018. He had an overall ERA of 1.38 while striking out 33 batters in the minor leagues.
Even with Loaisiga's small and skinny size, he has a surprising amount of power behind his three-pitch arsenal. His fastball generates around 93-96 mph and tops off at 98 mph and has late life down in the strike zone, using his quick, powerful arm. His curveball has a high spin rate and hits in the low-80s, pairing nicely with his high-speed fastball. His changeup at times has too much velocity and not enough of a difference in speeds with his fastball, but it is a pitch that has nice fade to it. In 34.1 innings in Trenton over 9 starts, Loaisiga struck out 40 batters while only walking 6.
When Loaisiga got the call to the Major Leagues, he didn't disappoint as he performed at a high level, pitching two scoreless games in his first three starts, before suffering from shoulder inflammation. He came out of the bullpen for five more games during the 2018 season and pitched to a not so impressive 5.11 ERA, but with more work, he will be able to work out his control and only improve.
As long as he can stay healthy, Loaisiga will start the 2019 season at Triple-A Scranton where he will work on improving his stuff. Since he attacks the strike zone and has strong control over his pitches, he only has some kinks to work out with his control and his stuff. Loaisiga will be the first pitcher the Yankees call upon for the Major League rotation in 2019 if someone gets hurt or they need a fresh starter in the rotation. With the ceiling Loasigia has, he definitely has a future as a mid-level starter for many years. ETA: 2018
Fastball: 65
Curveball: 55
Changeup: 55
Control: 50
Sent over to the Yankees from the Astros in the Brian McCann trade in 2016, Albert Abreu has the upside of a frontline starter. Abreu was signed by the Astros in 2013 out of the Dominican Republic for $185,000. He has struggled with staying healthy over the last few seasons, suffering from a shoulder strain and elbow inflammation. The highest level Abreu reached last season was Double-A Trenton, where he only made one start, lasting five innings.
When Abreu stays healthy and pitches at his best, he can command all three of his pitches which all grade at plus or better. His fastball usually sits around the 94-98 mph range and tops off in the triple digits, making him a dangerous pitcher when the control is there. His fastball also has sink to it that forces batters to swing over the top of it and miss it or hit the ball weakly on the ground. Abreu has a power breaking ball that he can change to make look like either a curveball or sometimes a slider, but mostly as a curveball that breaks down in the zone. This makes it a good secondary pitch to his power fastball, confusing batters and when commanded, forces swing and misses. His changeup can miss bats as well, but at times isn't quite at the level of his other two pitches, but it does get outs when needed.
Abreu struggled in his rehab starts at the beginning of the 2018 season at the Yankees rookie level in the Gulf Coast League, surrendering 13 runs in only 5 innings over three starts. He was trying to come back from a shoulder injury after being sidelined for a few months. Once he was able to get healthy and return from injury, he was sent to High-A Tampa. He settled down when he got to return to action and was fully healthy, going 4-3 and striking out 65 with 29 walks in 13 starts over 62.2 innings. This was good enough to get a call-up to Double-A Trenton, where he pitched in one game, going 5 no-hit innings while striking out 4 and walking one. This was right before the regular season ended for Trenton, so this was Abreu's only chance at the next level in the 2018 season.
Abreu has a deceptive short-arm delivery which makes him even more difficult to hit on top of his solid fastball and above-average secondary pitches. He vastly improved his walk rate after going to the Yankees, putting up a 3.0 walk rate after having a 4.5 rate in three years in the Astros system. Before this, there was talk that he may have been destined for the bullpen, but with this improvement, he still sees a future as a starter.
Abreu still has to work on his secondary pitches to make them more consistent along with his command and control, which he did improve upon last season. Once he can make these improvements, he should see himself at least on the back-end of the Major League rotation. As long as he can stay healthy and work through what he needs to work through to be a great pitcher, he should be getting the call to the Yankees late in 2019. If there is no room for him in the rotation, he will most likely start out in the bullpen, but he could fill in for spot starts or if any injuries occur. ETA: Late 2019
Fastball: 70
Slider: 50
Changeup: 55
Control: 55
The Yankees signed Domingo Acevedo back in October 2012 for a $7,500 bonus, more than two years after he had become eligible, out of the Dominican Republic. He made his U.S. debut in 2014, and he started to draw attention from his high-octane power fastball, but he suffered through minor injuries that sidelined him for the rest of the season and parts of the next two seasons.
Acevedo was finally fully healthy in 2017 and he made his way all the way up to Triple-A Scranton as he pitched solidly between High-A, Double-A, and Triple-A. He pitched to a 3.25 ERA, struck out 142, and walked 34 over 133 innings.
Acevedo's fastball is by far his best pitch and is plus-plus, as it has been seen on the radar gun at as high as 103 mph. Since he can't maintain that speed for a full game, he usually works it around 94-98 mph for his starts. The funkiness of his delivery and his 6-foot-7 frame make it a very difficult pitch to hit, along with his low three-quarters arm slot. His height is definitely something that he benefits from and helps him be a better pitcher, as he can finish low in the zone.
Acevedo's three-quarters arm slot has made it difficult for him at times to stay on top of his slider, but he worked more on it last season and it has improved. He still has room to improve this pitch, but his changeup is probably above his slider right now, as he can locate it very well, and use it effectively against lefty and righty batters.
With Acevedo's delivery comes a lot of effort as it isn't the smoothest ever, but he still is able to make it work. The main concern with him was that he wouldn't be able to hold up over an entire season, especially with his unorthodox delivery, but he proved that he can after last season.
Staying healthy is the biggest thing for Acevedo as he tries to make it to the Big Leagues and last there. He got a small taste of the Show in 2018 as he was called up to the Yankees in July during the Subway Series, for an extra arm in the pen, but he never got in the game and was sent down to Scranton right after the game. Most scouts don't see him lasting as a starter as injury is a concern, and he also has the stuff more primed for a spot as a high-leverage reliever, possibly even an Aroldis Chapman type, with the high-power fastball. If Acevedo can continue improving his command, and returning to his performance the last two seasons, while also staying healthy, he should get the call at some point during the season. ETA: 2019
Hit: 50
Power: 45
Run: 60
Arm: 55
Field: 60
The Yankees signed Everson Pereira out of Venezuela for $1.5 million in July 2017, putting him in a Yankees system that already has a few other toolsy outfielders. He was definitely one of the best all-around players in his international class and is a sure-fire center fielder with his speed.
Using his short, compact right-handed swing and great hand-eye coordination, Pereira makes hard line-drive contact fairly easily. Instead of trying to bash every ball out of the ballpark like a lot of players these days, Pereria tries to use all fields, but he still should develop some more power especially to hit the gaps and get more extra-base hits.
One of Pereira's best parts of his game is his speed, as he uses this on the bases to steal and take the extra base, while also covering ground in the outfield. His instincts in the outfield are outstanding as he reads the ball very well off the bat and gets good jumps. He also is willing to go all out for a ball and layout to make a catch.
At only 17 years old, Pereira made his pro debut in the Yankees' Rookie-advanced Appalachian League, appearing in 41 games on the Pulaski Yankees. He fared pretty well in 167 at-bats, hitting .263 with eight doubles, two triples, three home runs, and 26 RBIs.
Pereira has as high a ceiling as any prospect, and as he is yet to turn 18, he will still have plenty of time to develop more power and become seasoned while moving up the Minor League ranks. As he ages, he will only get better and better, and he could develop into the same type of player as #1 prospect Estevan Florial, and wind up becoming the Yankees #1 prospect after others graduate and/or are traded.
Depending on the Yankees plans with him, Periera may be pushed to a higher level to Low-A Charleston to start 2019, but being so young he will probably return to Extended Spring Training and then join the Staten Island Yankees in June, where he will continue to develop. He will probably move up the minor leagues at a pretty quick pace and as long as he can perform at a high level, he will make the Major Leagues in a few seasons, having the potential to being an all-star caliber and gold glove winning center fielder for the Yankees, or another team if traded, for several years. ETA: 2022
Main Credit Image: [getty src="1058417870″ width="594″ height="396″ tld="com"]