Givanni Damico| May 29th, 2019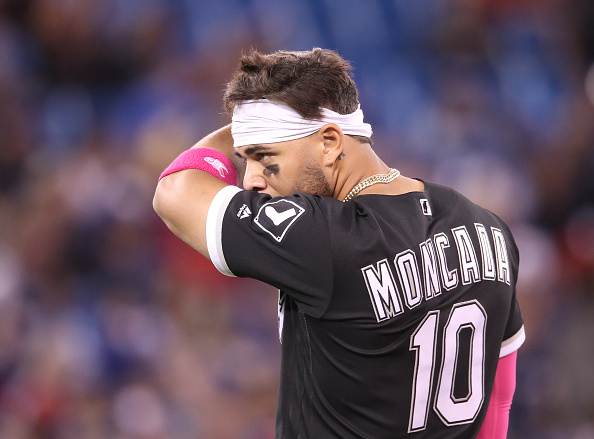 Welcome to the first edition of my "Top 10 Plays of the Week." We will look at phenomenal plays from all over the league every week. Feel free to DM me your submissions on Twitter @giodamico15 or on Reddit @giodamico15. Let's get into it.
#10. A diving catch to start off this list? You Bett.
Mookie Betts loves hitting the baseball, and he also loves robbing people of hitting the baseball. Jason Kipnis felt this on Sunday.
[youtube https://www.youtube.com/watch?v=cyKMI0W2aCA&w=560&h=315]
Yes, I used Matt Chapman as an example, not Nolan Arenado. He's the better fielder, get over it. It's never easy to make a tough throw in the rain and David Fletcher's speed didn't make it easier for Asdrubal Cabrera, but he put enough juice on the throw to nab Fletcher.
Asdrubal Cabrera looks like he's been playing third base his entire life. #TogetherWe | @Rangers pic.twitter.com/j7toPLJkwy

— FOX Sports Southwest (@FOXSportsSW) May 26, 2019
#8. 5-4-3… Triple Play?
Yes, you read that right. Yoan Moncada fielded a missile at third and made a heads up play. Check it out.
#7. Aledmys Diaz does the electric slide
Juan Soto did something similar this week, but he had help from teammate Victor Robles. Diaz had no help and made an extremely athletic play at the plate.
What a freaking slide pic.twitter.com/r7BItnvfYd

— Baseball Bros (@BaseballBros) May 25, 2019
#6. Carlos Gomez proves himself once again
Gomez hit a clutch three-run home run this week to propel the Mets to a victory, and now he's robbing Dawel Lugo of a base hit. Are you not entertained?!
[youtube https://www.youtube.com/watch?v=207qRl7J7nY&w=560&h=315]
We all know that Urshela can field, but did you know how strong his arm was? Oh, you did? Well, just watch the video anyway.
https://www.youtube.com/watch?v=ITzgJD4oNqw
Hamilton will probably never be known for his hitting ability, but you know what he can do? He can run. Fast. He can also field very well. Put these two together and you get this video of him robbing Clint Frazier.
Billy Hamilton doing Billy Hamilton things pic.twitter.com/xg2AYQz31F

— Baseball Scoops (@BaseballScoops) May 25, 2019
https://platform.twitter.com/widgets.js
#3. Kiermaier makes Rays' fans pretty Rowdy…
Rowdy Tellez looked as though he got all of this ball that Yonny Chirinos threw, but Kevin Kiermaier had something to say about that.
[youtube https://www.youtube.com/watch?v=rRUGdGkRqI0&w=560&h=315]
#2. Kevin again… this time it's Kevin Pillar
Kevin Pillar goes full superman extension to make this insane catch in right field… but that's not all. This diving catch turns into a double play. Check it out.
#MLB Kevin Pillar flew through the air for an amazinggggggggg catch… final: #SFGiants 4 – #RattleOn 10 pic.twitter.com/W6XWTR9zXt

— PDF Streaming (@PDFStreaming) May 26, 2019
https://platform.twitter.com/widgets.js
#1. Duggar had no business making this catch
Is Steven Duggar the new Superman? Did he just show up Kevin Pillar? I'm not sure. Kevin Pillar's play and Duggar's play were on the same exact level for me, so I gave the edge to Duggar.
[youtube https://www.youtube.com/watch?v=lsJHln86kS0&w=560&h=315]
I'm aware that I definitely missed some great plays, but that's why I need YOU GUYS to DM me @giodamico15 on Twitter and Reddit with your submissions for plays of the week. Congratulations to every player who cracked the list on being good at baseball.
Questions and comments?
thescorecrowsports@gmail.com
Follow Us on Twitter @thescorecrow
Follow Us on Reddit at u/TheScorecrow
Follow Us on Facebook at The Scorecrow
Follow Us on Instagram at The Scorecrow
Follow Givanni Damico on Twitter @giodamico15
Main Credit Image: [getty src="1148940072″ width="594″ height="439″ tld="com"]