Brian DeWester | August 2nd, 2018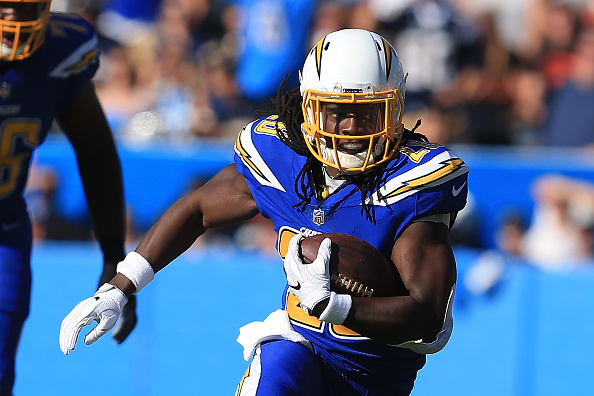 You may be asking yourself right now "Tier jumping RBs? Why doesn't he just say 'Breakout RBs' instead?" Well, if you keep pulling that thread, this whole makeshift facade might unravel. In all seriousness, yes, people use the terms "breakout" and "tier jumping" synonymously. However, since a lot of you out there use tier based ranking, this approach makes more sense. And if you don't use tier based drafting, you can still note the players mentioned as potential values.
Now, every year there are players that exceed the expectations (tier or otherwise). While there are a lot of variables that contribute to their success, one thing remains a constant: volume. Specifically, the number of touches. It may seem obvious that the increase in chances leads to an increase in points, but too often people expect a high level of efficiency to keep repeating year after year. The truth is football doesn't really work that way. So the axiom of volume helped to define this list.
The process of compiling the tiers for this list was a simple one. The FantasyPros expert consensus rankings (ECR) for half PPR were used in order to get a wide array of opinions on these players. Some of you are in standard leagues. Others in full PPR. Half PPR seemed like an easy middle ground for this article. Without further adieu here are those tier jumping running backs. (Statistical information can be found at playerprofiler.com. Strength of schedule information can be found at sharpfootballstats.com.)
Tier 2
Alvin Kamara, Saquon Barkley, Kareem Hunt, Melvin Gordon, Leonard Fournette, and Dalvin Cook.
No surprise here, but talent still exists in the second tier. In truth, all of these options could break into tier one, but they all have question marks. Barkley has the profile of a truly special athlete; however, his offensive line could stop him from breaking into that group. Kamara has volume concerns. Hunt could see his carries dialed back. Cook looked special prior to his injury, and now he has an injury to come back from and Latavius Murray could vulture some scores.
Tier Jumper(s):
Leonard Fournette & Melvin Gordon
Fournette and Gordon are the best bets to land in tier one territory. First, with Fournette you have a running back with arguably the highest touchdown upside in the league. His line has improved with the signing of Andrew Norwell, he was 10th in the league in evaded tackles, eighth in opportunity share, and has the fourth easiest schedule (according to Vegas sportsbooks). In short, the 223 pound back has a schedule that should lead to more positive game scripts with an improved offensive line.  His health and the fact that Blake Bortles doesn't target him as much as his competition (ranked 20th at this position) are the only things holding him back.
If there can only be one tier jumper, Gordon would be the pick. His situation checks a lot of boxes. Last season he ranked sixth in opportunity share and seventh in targets. So the volume numbers check out. Vegas sportsbooks rank the Los Angeles Chargers as having the third easiest schedule. Checkmark for potential positive game scripts. His offensive line improves with the return of Forrest Lamp, and there is no threat to steal goal-line work away from Gordon. Sure. The yards per carry totals (3.9) are less than ideal. However, he sees the necessary volume on a good offense to jump into the next tier.
Tier 3
Devonta Freeman, Jerick McKinnon, Christian McCaffrey, Jordan Howard, Joe Mixon, LeSean McCoy, Kenyan Drake, and Alex Collins.
As you would expect the question marks get a little bigger here. For instance, Freeman has proven production, but he shares the workload. McKinnon is an athletic freak, but he hasn't put it all together yet. McCaffrey has to compete with two people in order to get goal line carries. The list goes on and on.
Tier Jumper(s):
Jordan Howard & Joe Mixon
As was the case in Highlander, there can only be two. Fine. If there has to be only one, Mixon is the choice here. While Giovani Bernard is there, volume shouldn't be a concern for Mixon, who has the size and talent to be a true three-down back. The trouble is last year didn't exactly showcase that talent. Although, the talent is still there. Graham Barfield wrote about Mixon and his ability to create yards at the college level with the best of them. The other good news is that the offensive line has improved with the signing of Cordy Glenn and the drafting of Billy Price. That will certainly help the team take advantage of their rank of 11th easiest schedule (Vegas sportsbooks) this year. Add in the fact that the Bengals offense should experience some positive regression, and you have yourself a tier jumping candidate.
Howard, on the other hand, has done it before. He's been at least a top 12 fantasy running back in each of his first two seasons. A feat he was able to manage on some bad Bears teams. The main thing that will hold Howard back in PPR leagues though is his receiving ability. To put it kindly, let's just say that Howard makes catching the ball an adventure. And Tarik Cohen will limit those adventures going forward. Cohen, however, will not replace Howard as the goal line back, which gives Howard a pathway to the second tier.
Honorable Mention:
Alex Collins is an evading tackles machine. In games where he received at least 15 touches (nine games), he averaged north of six evaded tackles per game. That's insanely good. If the Ravens involve him more in the passing game, he will continue to impress in 2018.
Tier 4
Derrius Guice, Jay Ajayi, Derrick Henry, Mark Ingram, Rashaad Penny, Lamar Miller, Dion Lewis, Royce Freeman, Sony Michel, Ronald Jones II, and Tevin Coleman.
Otherwise known as the rookie tier. The questions regarding volume for everyone outside of Guice and Miller is the defining attribute of this tier. For instance, Penny seemed pegged for a three-down role but now reports having him facing competition from Chris Carson, while C.J. Prosise carves out the third-down role.
Tier Jumper(s):
Derrick Henry does not come without risk, but he has some great upside. The first thing working in his favor is his great offensive line. While they didn't perform up to their potential last year, they are still ranked as the fifth-best unit, according to PFF. Second, Henry has great size-adjusted speed. Third, the Titans have the seventh easiest schedule (Vegas sportsbooks). And finally, the team has the second easiest schedule for run efficiency. All good things. However, unlike the previous tier jumping options, Henry's market share is far from a sure thing. In all reality, there's a reason the Titans paid that much for Lewis, and it likely will center around third down and a clear pass-catching role.
Honorable Mention:
Much like Henry, Guice has a teammate who will be taking the majority of the passing work. However, unlike Henry, Guice has the ability to be a reliable receiver if called upon. The fact that Chris Thompson won't be 100% at the start of the season opens up a bigger chance for Guice to take on more of a receiving role. While the schedule isn't exactly working in Guice's favor, he does have a defined role and a healthy offensive line. If things stay that way, he has as much touchdown upside as anyone else in this tier.
Tier Five
Duke Johnson, Chris Thompson, Marshawn Lynch, Marlon Mack, Rex Burkhead, Tarik Cohen, C.J. Anderson, Carlos Hyde, Kerryon Johnson, Jamaal Williams, and Isaiah Crowell.
An interesting mix here. You have your collection of satellite backs amongst some potential bell-cow options.
Tier Jumper(s)
Jamaal Williams & Rex Burkhead
Pulling back the curtain a bit here, but Jamaal Williams was not high on the list at the inception of this article. He's less of an athlete than his teammate Aaron Jones, who was explosive in his limited time last season. He profiles as the worst receiver in the Green Bay backfield. And yet, here he is.
Part of the reason he falls on this list is simply opportunity. Josh Norris, of Rotoworld fame, once said that NFL teams are only honest two times in a league year: during free agency and the NFL Draft. While the draft capital difference between Jones and Williams isn't great, the team did draft Williams first. And if that was the only thing, it wouldn't be enough. However, now we have Jones's suspension, the fact that he's been hurt early in camp, and now we have coachspeak pumping up Williams. Who knows. Perhaps McCarthy sticks to his plan of having a committee in the backfield this year, and both Williams and Jones cannibalize each other's fantasy value. At this point though, there is enough reason to believe that Jones has an uphill battle to earn back snaps.
Honorable Mention:
Burkhead doesn't have the draft capital that Sony Michel does, but Burkhead doesn't necessarily need that to tier jump. Not only does Michel have a well-documented fumbling problem, but the RB2 in New England has been productive enough to support an RB2 finish. So even if Burkhead doesn't see more touches than Michel this year, he'll still provide good value.
Tier Six
Aaron Jones, Nick Chubb, Ty Montgomery, Giovani Bernard, Devontae Booker, Theo Riddick, Bilal Powell, James White, D'Onta Foreman, Corey Clement, Chris Carson, and Nyheim Hines.
This tier is a mix between high ceiling plays and satellite backs. Chubb and Jones embody the high ceiling play pretty well; however, Hyde's contract likely guarantees him the first shot. And Jones, despite his suspension, still has a chance to pay off, but he'll have some obstacles to clear. One of those obstacles is Montgomery, who is set to be the 3rd down/ 2-minute drill back. Other backs like Bernard and Hines, have a stable value in their respective roles, but they would need things to break their way to jump up in value.
Tier Jumper(s):
Ty Montgomery
Normally, this would be Aaron Jones and Nick Chubb in a heartbeat, but their roles right now aren't clear. If that changes for the better during the preseason, move them up your boards. As of right now, Montgomery is the best bet to return more value. He is the receiving back in an offense led by Aaron Rodgers. In 2016, Rodgers's last full season, he was third in the league in pass attempts inside the ten-yard line. Putting Montgomery out on the field, inside the ten, would give him another weapon to use. Montgomery was also the starting running back last year until he suffered a rib injury. In short, Montgomery's receiving role provides him a higher floor with room for more.
Tier Seven
Doug Martin, Latavius Murray, Kenneth Dixon, Chris Ivory, Peyton Barber, LeGarrette Blount, Matt Breida, Samaje Perine, Austin Ekeler, Frank Gore, Jordan Wilkins, T.J. Yeldon, Javorius Allen, Spencer Ware, Darren Sproles, and Wayne Gallman.
The surprising part here is that there are some decent options in the 50-70 range. Ivory obviously becomes a running back of interest if McCoy's legal troubles lead to him missing time. Breida could provide sneaky value in the "Coleman role." Dixon has the talent to be a starting back, but Collins is in his way. And Wilkins could take the lead role in the Colts committee.
Tier Jumper(s):
Jordan Wilkins
The positive drumbeat continues for Wilkins. At first, there was speculation that he could compete with Mack for touches. Now reports have him in the mix to lead the group. While it's still early and those reports may amount to nothing, this is the seventh tier. In other words, you shoot for upside. So if Wilkins has a pathway to a decent amount of touches per game, then he's worth the investment.
Questions and comments?
thescorecrowsports@gmail.com
Follow Us on Twitter @thescorecrow
Follow Us on Reddit at u/TheScorecrow
Follow Brian DeWester on Twitter @BrIreland
Main Credit Image: [getty src="884948266″ width="594″ height="396″ tld="com"]