Josh Elias | March 28th, 2019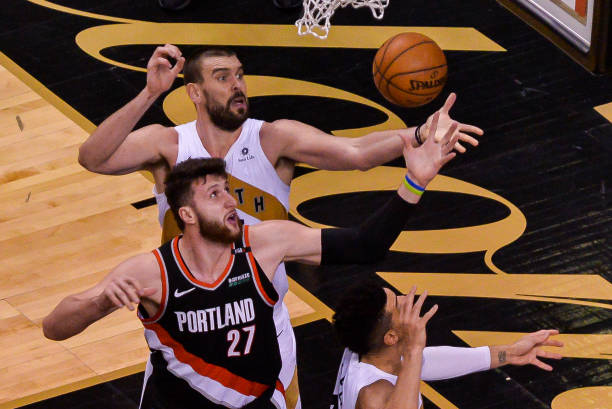 Here's my advice to anyone who's a fan of the Portland Trail Blazers who hasn't had the pleasure of learning this lesson the hard way over and over again yet.
Never have hope.
The basketball gods have claimed their most recent victim in Jusuf Nurkic after a horrendous compound fracture in overtime of Portland's 148-144 win against Brooklyn Monday night.
Early signs point to the best-case scenario in regards to his surgery, and he should be able to make a full recovery within a few months.
Portland's Jusuf Nurkic underwent season-ending surgery today on compound fractures, and some positive news: No nerve or muscle damage in his leg, league sources said. He is out indefinitely.

— Shams Charania (@ShamsCharania) March 26, 2019
Regardless, Nurkic's injury is very serious, sidelines him for the rest of the year in a season where Portland was set to have their best shot at a playoff run in over 15 years, and could be career altering for a player of his size, especially given the fact that he's now broken both legs in the last two years.
It also quickly turned what should have been a night of celebration – Portland clinched a playoff spot and inched closer to regaining the third seed from the Rockets with their win – into one of utter despair with the knowledge that the Blazers' chances of making it out of the first round have been all but decimated.
That seems to happen a lot. This organization is so unlucky that even casual fans can probably name two or three Blazers who've had career-ruining injuries that altered the course of the franchise.
Just how far back does this injury bug go though?
Let's rewind a couple years. It's 2017 and Portland's fighting their hearts out for one of the last two playoff spots. They've recovered remarkably from LaMarcus Aldridge's departure almost two years earlier and turned what looked like a hopeless first half of the season into a real run in the second half of the year after bringing in Nurkic before the deadline. He averaged 15.2 points and 10.4 rebounds and was generally a huge lift to the team on both sides of the floor. Cue a broken fibula for Nurkic that ended his season early, aside from an ill-advised return for a small part of a playoff game in their eventual loss to Golden State in a sweep.
Rewind further. Two more years. The Blazers are somehow a fringe contender despite the fact that a 34-year-old Steve Blake is their sixth man. You know who a really underappreciated part of that Portland team was? Wesley Matthews, who'd only missed 13 games his whole career before that season. Their best two-way player by far. Bang. Torn Achilles. They lose more games than they win the rest of the year, lose in five to Memphis, and the entire team leaves in free agency.
Rewind further, back to the lockout season of 2011-12. More than half of the team missed at least a third of the season, including Greg Oden, who missed every single game for the second straight year. Oh yeah, that's right. He was a thing. Don't even get me started.
Let's just say, in general, I expect a player to be healthy for more than 82 total games when he's taking up a roster space for half a decade. Never mind the fact that the person selected right after him was Kevin Durant.
It's not like Oden wasn't talented either. There's a reason he was selected first overall. He was always a double-double threat even in limited minutes when he was on the floor and one of the best young rim protectors in the league.
It just turns out not to be great for a player's health when one of his legs is visibly shorter than the other. Oden missed his entire rookie year with microfracture surgery in his right knee, injured his foot in his debut, broke his kneecap in his left knee twice, needed microfracture surgery in his other knee, sat out an extra few months after he had setbacks with his recovery, and capped it all off with arthroscopic surgeries in each knee and a third microfracture surgery all in his last month as a Blazer. All by age 24. I strongly doubt there's ever been another player who ever averaged a serious injury per every nine games played in the league.
Fun fact: In the 62 games Oden, LaMarcus Aldridge, and Brandon Roy played together, Portland's record was 50-12. Considering that's easily a higher winning percentage than Portland's ever been able to piece together over a full season, that's painful to be aware of.
Roy himself, of course, was the biggest bonafide star the team had had since Clyde Drexler and set up to be Kobe Bryant's successor as the best guard in the league until his knees decided that Kobe's career would outlast his.
Darius Miles, if not a catalyst for success or particularly team-friendly as a player, was at least a really fun player to watch on the terrible Blazer teams of the mid-2000s. Until he also hurt his knee and would spend the next two and a half years on the injured reserve list for Portland.
Arvydas Sabonis actually managed to play most of the time when he was at Portland, but he probably shouldn't have. Portland had to wait nine years, at which point he was 31, before he finally got the chance to come over to the NBA, and when he did, Blazers team doctor Don Roberts remarked at one point that Sabonis' foot injuries from his time in Spain were so serious that he could qualify for a handicapped parking spot and advised the team president that Sabonis probably wouldn't be able to play for the team.
His time in Portland lasted longer than Roy.
Nonetheless, Portland missed out on years of Sabonis and never got to see him at his full powers.
And the trend doesn't stop there. Brian Grant's chronic injuries stopped him from ever being able to contribute a full season to the then-contenders around the turn of the millennium.
Clyde Drexler was never the same again after needing knee surgery in the offseason immediately after the 1992 Finals. Kevin Duckworth and Jerome Kersey were felled by similar knee problems around the same time, while Terry Porter's prime managed to last two more years before ankle problems got to him. The four best players on a team good enough to make the championship twice in three years all had their primes cut short by injury less than three years apart.
Everyone knows about Sam Bowie. Drafted before Michael Jordan and couldn't come close to panning out because he just couldn't manage to stay healthy enough to play.
Less commonly known is that he both stayed healthy and looked quite promising as a rookie. He was a terrific rim protector – third in blocked shots in the entire league that year. It was the next year when he broke his left leg getting tangled up with teammate Kersey coming down from a rebound. And the year after that when he broke his other leg. A compound fracture, the same thing Nurkic just had happen. Starting with that year, Bowie only played 25 games over the course of the next three years before Portland gave up on him and send him to New Jersey (where he actually recovered and solidified himself as a reliable starting center).
Less known is the one-time all-star that thrived starting at center in Bowie's absence. Steve Johnson happened to develop tendinitis in both knees during his all-star season and would only play one more full season after that.
How about Bill Walton? Well, at least he actually managed to reach his peak. A championship and an MVP award sounds pretty good to me. Less good is the foot injury that made him play just 14 games in the next four years. Luckily, that was the Clippers' problem for most of that time because Portland's front office decided it was a great idea to treat him like garbage when he was injured.
Luckily, they had the top draft pick that year thanks to a trade. They'd select Mychal Thompson, who'd have a long relatively healthy career, including eight years in Portland. So why am I mentioning him? It might have something to do with his second season in the league, which he missed entirely with – you guessed it, a compound fracture.
Man, this goes back a long way. Literally every generation of basketball has seen Portland suffer a career-altering injury to a key player in a crucial moment. How's that even possible? Back as far as Bill Walton?
Wait… there's more? Back even further?
The 1970 NBA Draft was held on March 23. That's significant only because there were three new expansion teams involved in the draft and the expansion draft hadn't happened yet. Therefore, we can pinpoint the Trail Blazers' first-round pick as the official first Portland Trail Blazer.
Enter Geoff Petrie. You probably don't know him outside of his time as the Kings' president unless you're a long-time Portland basketball loyalist or a complete history nerd, but he was a pretty sweet offensive star back in the day. He was also the eighth pick in 1970, and the first ever Blazer.
A two-time all-star and a Rookie of the Year winner in a draft class that included Pete Maravich, Dave Cowens, Tiny Archibald, and four other Hall-of-Famers who went on to average 21.8 points per game over the course of his career, Petrie's time in Portland ended predictably if you've been reading the rest of this article.
Out of his six-year career, five of those were played while dealing with deteriorating cartilage in his left knee after tearing it in the offseason after his rookie year. By 27, it had gotten bad enough to need surgery again, and Portland realized he'd never be the same again.
And they realized that just in time. They sent him to Atlanta in exchange for the rights to Maurice Lucas, a new arrival from the ABA dispersal draft. While Lucas helped Bill Walton lead Portland to it's first and only title, Petrie underwent unsuccessful surgery after unsuccessful surgery and never played a game for the Hawks.
Make no mistake. This is more than just any team having bad luck with injuries. The Trail Blazers are cursed, and it goes all the way back to literally their first player. It's the one eternal truth of basketball, don't think for a second that this is ever going to end.
You could argue that the NBA is really just a big soap opera. The Blazers are the type of soap opera where the writers got lazy really early on and decided to kill off all the main characters in the same way.
Questions and comments?
thescorecrowsports@gmail.com
Follow Us on Twitter @thescorecrow
Follow Us on Reddit at u/TheScorecrow
Follow Us on Facebook at The Scorecrow
Follow Us on Instagram at The Scorecrow
Follow Josh Elias on Twitter @_SunsofThunder_
Main Credit Image:[getty src="1128586655″ width="594″ height="397″ tld="com"]