Scott Burke | September 5th, 2018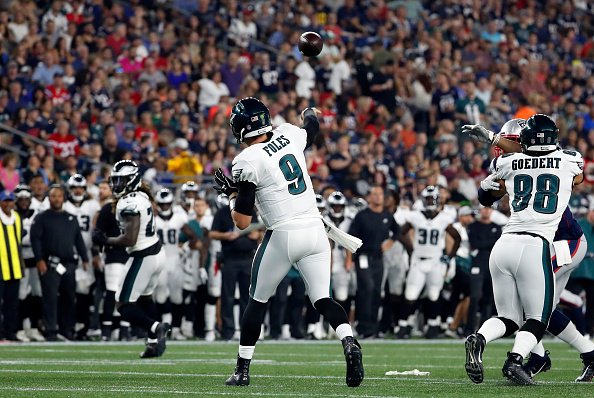 To quote the great Phil Collins, "I can feel it coming in the air tonight". That's right, the NFL season is upon us and what better way to get things started then with the initial installment of The Scorecrow NFL Power Sixteen.
The Scorecrow NFL Power 16
2017 Record (13-3)
Week 1: vs Atlanta Falcons
The defending champs enter the season at the top. With Carson Wentz unable to go week one, Nick Foles will start the opener against the Atlanta Falcons. Eagles fans hope they see the Super Bowl MVP version of Foles, not the 2018 preseason version.
2017 Record (13-3)
Week 1: vs Houston Texans
The reigning AFC champs enter the season at number two. There are some question marks in the receiving game with Julian Edelman suspended for four games and Danny Amendola traded to Miami. Look for Philip Dorsett to emerge as a favorite target for Tom Brady. Rookie Sony Michel will battle for touches with Rex Burkhead and James White.
2017 Record (13-3)
Week 1: vs San Francisco 49ers
The defense is intact and after coming up one game short of a Super Bowl appearance the Vikings are motivated. Minnesota won the Kirk Cousins sweepstakes, Dalvin Cook is healthy and the wide receivers are lethal. The Vikings are once again a force to be reckoned with in the NFC.
2017 Record (10-6)
Week 1: @ New York Giants
Jalen Ramsey is talking a lot of smack and getting opposing offenses fired up. The old saying is "if you're gonna talk it, you better back it up", and this Jags D certainly did that last season. All Blake Bortles needs to do is play like an average quarterback and feed Leonard Fournette the ball.
2017 Record (11-5)
Week 1: @ Oakland Raiders
One of the most exciting offenses in the league last season. Jared Goff emerged as a top quarterback and Todd Gurley probably should've won the MVP. The defense is solid and oh yeah, Aaron Donald re-signed to the tune of $135 million.
2017 Record (11-5)
Week 1: vs Tampa Bay Buccaneers
Perhaps the most balanced team top to bottom, the Saints are primed for a long playoff run. Mark Ingram being suspended for four games hurts, but Alvin Kamara and Michael Thomas will be the focal point on offense.
2017 Record (7-9)
Week 1: vs Chicago Bears
Aaron Rodgers is healthy and a whole lot richer after signing his brand new $134 million contract. Jimmy Graham was brought in to be a red-zone target. Jordy Nelson is gone but Davante Adams is set to take on the number one WR role. The offense needs to click in an ultra-tough NFC North.
2017 Record (13-3)
Week 1: @ Cleveland Browns
This is a big year for Mike Tomlin and the Steelers. A team that looked ahead to a meeting with the Patriots in the AFC title game last season was abruptly eliminated by the Jaguars in the Divisional round. Le'Veon Bell once again is holding out. Once he arrives in Pittsburgh it almost certainly will mark the beginning of his final season as a Steeler.
2017 Record (9-7)
Week 1: vs Kansas City Chiefs
Could this be the year the Chargers make a deep playoff run? Despite the loss of Hunter Henry to injury, there is plenty of firepower in the offense. The defense will be strong once again with a solid pass rush and depth in the secondary. Philip Rivers will be a dark-horse MVP candidate.
2017 Record (10-6)
Week 1: @ Philadelphia Eagles
With Matt Ryan, Julio Jones, Calvin Ridley and the law office of Freeman and Coleman, the Falcons have an extremely potent offense. The defense allowed 19.1 points per game in 2017 which was good for sixth best. Atlanta will look for playoff revenge week one in Philadelphia against the Eagles.
2017 Record (4-12)
Week 1: @ New England Patriots
The offense is healthy, the defense is healthy. Before season-ending injuries to Deshaun Watson and J. J. Watt, the Texans were clicking on all cylinders. Can Watson come anywhere close to his historic pace in 2017? If so, the Texans will be dangerous once again……and oh yeah they have this guy named DeAndre Hopkins.
2017 Record (11-5)
Week 1: vs Dallas Cowboys
Defense and running the football is what we expect with the Carolina Panthers. We know Cam Newton can make plays with his arms and legs, but if Christian McCaffrey plays like he did in the preseason, the Panthers offense will be dangerous. Can Devin Funchess emerge as a number one receiver?
2017 Record (10-6)
Week 1: @ Los Angeles Chargers
It's a changing of the guard in Kansas City. Alex Smith is in Washington as Patrick Mahomes takes over as quarterback for the Chiefs. He has no shortage of weapons with Tyreek Hill, Kareem Hunt, Travis Kelce, and Sammy Watkins. The offense has a chance to be fun to watch. The defense, which was 28th in total defense a year ago, leaves a lot to be desired.
2017 Record (9-7)
Week 1: @ Miami Dolphins
There isn't too much chatter around the Titans in 2018. Despite winning a playoff game last season many "experts" are overlooking the team from Music City. DeMarco Murray retired, Dion Lewis was brought in to complement Derrick Henry. Look for Corey Davis to emerge as a playmaker in 2018.
2017 Record (6-10)
Week 1: @ Minnesota Vikings
Jimmy Garoppolo took the league by storm late last season and it seems like the 49ers are ready to turn a corner. Unfortunately, big offseason addition Jerick McKinnon suffered a season-ending injury on the last play of training camp. Alfred Morris and Matt Breida take on the running back duties. Look for breakout years from Marquise Goodwin and George Kittle. Exciting week one matchup in Minnesota.
2017 Record (5-11)
Week 1: @ Green Bay Packers
The Bears may have made the biggest splash of the offseason by acquiring Khalil Mack from the Oakland Raiders. Mack is viewed by many as the best defensive player in the league and his presence has vaulted the strength of the NFC North. The Bears success is still predicated on the success of Mitch Trubisky and his new weapons Anthony Miller, Trey Burton, and Allen Robinson. Expect even bigger things from Jordan Howard in 2018.
Agree or Disagree with the Power Sixteen? Tweet us @thescorecrow
Questions and comments?
thescorecrowsports@gmail.com
Follow Us on Twitter @thescorecrow
Follow Us on Reddit at u/TheScorecrow
Follow Scott Burke on Twitter @Scot557
Main Credit Image: [getty src="1018737318″ width="594″ height="398″ tld="com"]