Zach Gotlieb, Mike Fanelli, Troy Pierce, Josh Elias, Givanni Damico| May 30th, 2019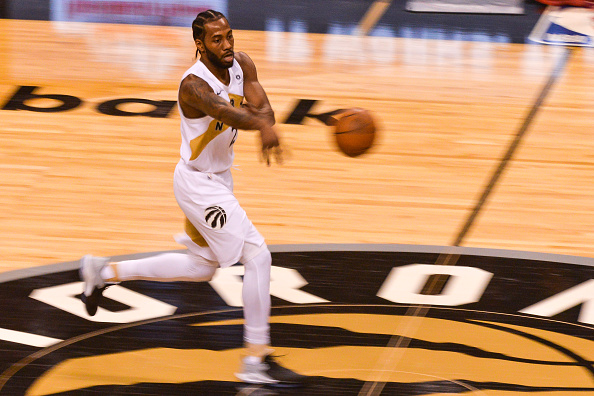 It all comes down to this. Sixteen teams entered. Just two teams remain. The Golden State Warriors and the Toronto Raptors have emerged as the best team from their respective conferences, and now it's time to figure out which team is the best team in the entire league. To reflect on this crazy postseason and preview the Finals, a few of our scribes have to come together to talk about it.
So, without further ado, let's get into it.
Who was the most surprising player in the playoffs?
Zach Gotlieb: Nikola Jokic
Jokic has been elite all season long. His numbers are staggering when you look at some of the comparisons he's getting. He led all big men in assists per game by three full assists, which is ridiculous. He can shoot from all over the floor and run the offense in the half court and the fast break. An offensive savant and the leader of the second best Nuggets team in the last decade. All that based on the regular season, but then we all wondered if he could lead a team to success in the playoffs, given it's a much more physical game and played differently than regular season basketball. Well, he lived up to the task and did better than most expected. Statistically, he improved his points, rebounds, and assists per game, almost averaging a triple-double. The advanced stats show that he led all players in offensive points added and defensive points saved. And if you want to question his conditioning, don't.
He averaged nine minutes more per game in the postseason and played more than 60 minutes in a four-overtime marathon game against the Portland Trail Blazers in the second round. He solidified himself as a top 10 player in the league with his play on both ends of the court (yes, both ends). Everyone in Denver knew "The Joker" was a star player, but I don't think anyone could have seen him be as effective as he was in the playoffs and frankly I was shocked at how well he played and how much he affected the game every single night with his dominance.
Mike Fanelli: Nikola Jokic
For the average NBA fan, they didn't know who Jokic before the playoffs; however, he is now a household name. Leading up the NBA finals, Jokic finished eighth in points per game, tied for first in rebounds per game, and third in assists per game despite being 7'0″ tall. Many didn't give the Nuggets the credit they deserved this year, and if not for a crazy good game seven from C.J. McCollum, the Nuggets would have been in the Western Conference Finals, in large part thanks to Jokic. His first-team All-NBA this season confirms his place among the NBA's best.
Troy Pierce: Meyers Leonard
Leonard breakout game against the Warriors, exploding for a career-high 30 points in a game where the Trail Blazers needed all the help they could get, especially in the absence of Jusuf Nurkic.
Josh Elias: Nikola Jokic/George Hill
I'm going to cheat and name two players here because Jokic's greatness is far from surprising. It's just slightly surprising exactly how much he stepped up. He was one of the four best players in the playoffs this year, and it's a shame that we only got to see two rounds out of him. Hill managed to redeem himself after his dismal showing last year with Cleveland and a very underwhelming regular season. Averaging 11.5 points on 53/42/82 shooting splits was very much a positive surprise.
Givanni Damico: Kawhi Leonard
I knew Leonard was good, but I did not expect him to be this clutch for Toronto. He's playing better right now than he ever played in San Antonio. I didn't know what to expect from him in Toronto, but I'd make the argument that Leonard is EASILY a top-five player in the NBA.
Which team was the most disappointing in the playoffs?
Zach: Boston Celtics
There is just too much talent on this team for them to not even really compete in the Eastern Conference Semifinals. They lost four games straight after winning game one, and three of the four losses were by 12 or more including an embarrassing 25 point loss in game five. I get it, they were up against the best team in the East, but to not even really compete is terrible. Guys like Jayson Tatum, and Gordon Hayward, and especially Kyrie Irving needed to step up and didn't. Irving shot a porous 18% in games 2-5. That just won't cut it when you are the best player on your team. I think they are more talented than most teams in the East, but lack of continuity made all that talent go to waste, and it is a shame.
Mike: Oklahoma City Thunder
Many, including myself, picked the Thunder to defeat the Blazers in the first round of the playoffs because of their two superstars in Russell Westbrook and Paul George. However, both guys struggled at times, and the Blazers won the series 4-1. Given that Westbrook is a former MVP, averaging a triple-double for the third straight season and George is a finalist for MVP this year, there is no excuse for the Thunder to lose that series the way they did.
Troy: Oklahoma City Thunder
I 100% have to go with the Oklahoma City Thunder. They just underachieved tremendously this season when you look at where they peaked claiming the third seed with about a month left in the season. More so, Oklahoma City was just too worn down. Paul George playing through an injury that was much worse than initially reported killed their offensive firepower, and Russell Westbrook just couldn't score at an efficient enough clip to keep them afloat. My second pick would be Boston. After cruising past the Pacers, the they fell flat against Milwaukee.
Josh: Boston Celtics
While I was never particularly backing the Celtics to be much more of a threat than they proved to be, it's still a massive disappointment for them to take a serious step back during the year where a chance to go to the championship finally opened up for them. It wasn't just the playoffs, the whole year was a disappointment, both as a whole and for almost every individual key player on the team.
Gio: Oklahoma City Thunder
What else is new? They had all the pieces and failed to put a good run together once again. Russell Westbrook and Paul George played solid basketball, but it wasn't enough to defeat Damian Lillard and the Blazers. I'm not convinced that Westbrook is the franchise guy in Oklahoma City anymore. He can carry the team to the playoffs with help from George and Steven Adams, but he just isn't as clutch as Oklahoma City needs him to be.
What is your Finals prediction?
Zach: Golden State Warriors defeat Toronto Raptors 4-2
Made this prediction going into the playoffs and I'm sticking with it. Kawhi Leonard has been otherworldly, but the rest of the team has been relatively inconsistent. Kyle Lowry has had a few outstanding games and a few awful games. Pascal Siakam has been up and down in the playoffs as well. Here's the thing, if there is any hope for the Raptors, it is going to be placed on the backs of Siakam and Lowry, along with the other role players stepping up on both ends of the court. With Stephen Curry and Klay Thompson on the other side, the Raptors simply can't afford to get into a shootout with the Warriors.
That will not end well for them, which means that defense is going to be crucial. Kawhi can't guard everybody so Siakam, and other players are going to have to step up and defend like never before. Assuming Kevin Durant doesn't play until the back half or at all in the series, the Raptors should be able to at least split the first two games at home in Toronto and game five at home. The thing about a seven-game series is the better team will win. The Warriors are the best team, and they are going to win this series and get their threepeat.
Mike: Golden State Warriors defeat Toronto Raptors 4-2
This prediction is based on Kevin Durant not playing till the back half of the series, if at all. Should Durant be able to play in game one or two, the Raptors might be lucky to steal one game since they have home court advantage. Everyone knew the Warriors were the favorites entering the league and given how well they play with and without Durant, I don't see a way how the Raptors pull off this series unless Stephen Curry gets hurts.
Troy: Golden State Warriors defeat Toronto Raptors 4-2
Toronto has a very good team, but it's unrealistic to expect Kyle Lowry to even hold a candle to Stephen Curry. It doesn't look like Kevin Durant will really be a factor in this series but even then Kawhi Leonard can't carry the load by himself and unfortunately, that's going to be the Raptors downfall. Lowry and Marc Gasol will need to step up, as well as Most Improved candidate Pascal Siakam. Fred Van Vleet will need to continue playing the way he did in the final two games of the Eastern Conference Finals.
I did say in our playoff round table that Toronto would be the best adversary for the Warriors and I think the Raptors case becomes even stronger without Durant on the floor. But, I think we've seen Golden State get back to what has made them so special during their historic run. Their ability to move the ball from side to side and make timely passes makes them unguardable. It's also extremely reminiscent of the Spurs dynasty that terrorized the Western Conference for so many years.
Josh: Golden State Warriors defeat Toronto Raptors 4-1
It would be an absolute shock for the Warriors to not end up as champions once again. While the absence of Kevin Durant hurts the Warriors in theory, as losing a consensus top three player league-wide should always do (especially losing him as a matchup for Kawhi Leonard in man-to-man situations), it clearly does improve the flow of the game, with them rarely resorting to isolation situations and instead returning to the ball movement-focused style that made them so special in the first place. I'd go as far as to say I believe that a Durant return might actually make them more susceptible to inconsistencies as a team. Therefore my prediction is a quick Warriors 4-1, but 4-2 if Durant returns prior to Game three.
Gio: Golden State Warriors defeat Toronto Raptors 4-2
As much as the Raptors look as though they could compete, the Warriors are too much of a powerhouse. I'd love to say Raptors in seven, but I want to be realistic here. They don't have all of the pieces necessary to defeat the Warriors.
Who will be the Finals MVP?
Zach: Stephen Curry
This really isn't a hard question assuming Kevin Durant is out multiple games in this series. In the previous three championships, Curry hasn't won MVP and deservedly didn't win it. He hasn't always been the typical "greatest shooter ever" Curry. Durant deservedly won the award the last two years in a row, just thoroughly beating the Cavaliers and bailing out Curry and Klay Thompson multiple times.
This year it is going to be dependant on Steph. He is the engine that makes the Warriors run, and it's time for him to show up and show out in the NBA Finals. That being said, it wouldn't be a far cry if Draymond Green made a run for MVP, especially if he can keep contributing on offense and can do anything, defensively, to keep Kawhi Leonard at bay.
Mike: Stephen Curry
With Kevin Durant not playing it will be finally time for Curry to showcase his dominance in the finals. For the Warriors to win without Durant, Curry will need to play at the same elite level he did verse the Blazers. A dark horse name to keep an eye on is Draymond Green. If he averages a triple-double and helps slows down Kawhi Leonard, he could be in serious consideration, much like Andre Iguodala a few years back.
Troy: Stephen Curry
This is Curry's time to shine on the biggest stage, especially without Kevin Durant available for the better part of the series. This will further solidify Curry as an all-time great point guard, and help break the narrative that he fails to play at a high level on the biggest stage.
Josh: Stephen Curry
Kevin Durant's injury makes this an easy one-man race. Curry will finally get the award that's eluded him for far too long, and it would take a remarkable turn of events for anything other than that to happen. The one potential dark horse that I'm willing to leave a sliver of a chance is Draymond Green, but only if Curry shoots poorly and Green both controls the tempo on both sides of the floor and plays the basketball of his life statistically.
Gio: Stephen Curry
He's got ice in his veins! Curry is a top three player in the NBA right now, and he will make or break this series for the Warriors! My bold prediction is that Curry scores 30 or more points in five of six games.
Who or what will be the X-factor in the NBA Finals?
Zach: Health
If Kevin Durant comes back from his strained calf early in this series, it's a wrap for Toronto. The Warriors have Andre Iguodala to fill that void. Obviously, he's not Durant, but he can still provide solid support, especially defensively. The one Warriors weak spot has been at center. They've been good enough to get by, but not great. If Demarcus Cousins comes back, the Warriors will have their center.
The biggest one on the Raptors is Kawhi Leonard. He has been the best player in the playoffs, and he's been the biggest reason the Raptors have gotten this far. He hurt his leg in game three verse the Milwaukee Bucks and was seen limping several times throughout the rest of the series. If he can't play or his hindered by his injury to any degree, this series will be over quickly.
Mike: The Raptors Big Men
Saying Kevin Durant would be a cop-out answer, for if he plays in game one, this series won't go past five games at best. However, I'll give a better answer than that, as to how the Raptors' big men defend Stephen Curry coming off a screen. The Blazers' big men weren't up on Curry as he came off the screen, giving him way too much space to shoot. During the Blazers series, Curry averaged 6.5 made three-pointers made per game, while shooting 43.5% from deep. If Durant doesn't play this series, the Raptors have to do everything to run Curry off the three-point line, and their ability to defend him off the screen will be critical.
Troy: Warriors Performance Early
I'm going to go with the intangibles around this Warriors team. The experience they have playing at this level should make this feel like any other game for them. Come out with a ready mindset and be prepared for Raptors to give their best effort and deliver a sucker punch to try and get a foothold in this series.
Josh: Kyle Lowry
While Kawhi Leonard is undeniably the piece that pushed Toronto over the top, it has to be considered that Lowry's individual success is more directly tied to the success of the team. It should definitely be noted that the Raptors are 9-10 in games where Lowry scores in single-digits and just 1-7 in his worst eight performances of the season (with the one win coming in their March 28 blowout of the Knicks).
I believe a very important progression in his game is that his assist numbers dropped significantly from 8.7 per game in the regular season to 6.4 per game in the postseason so far. I believe that's very much a good thing and allows the team to use Leonard for momentum more than himself. Lowry's battle to balance impacting the game with not making the result dependent on himself will be key to how well Toronto can hang with the Warriors this series.
Gio: Steph Curry and Klay Thompson
I hate to say it, but Thompson has been pretty average this season. He needs to turn it up a notch, and the splash brothers need to look like the vintage duo. There's nothing fancy about their game but if they're making their threes, the Warriors win the series easily.
Two teams remain, and they are ready for a showdown to finally determine which team was the best team in "The Association." It's taken some staggering performances from star and role players on each team to get this far, and now it's time for the best players to step up and perform in the biggest spotlight of the season. The Splash Brothers and the Warriors will go up against Kawhi "The Klaw" Leonard and the Raptors. Will the Warriors get the threepeat and cement themselves as one of the greatest dynasties in the history of American team sports or can the Raptors play spoiler and win their first championship in franchise history? Those questions will be answered starting tonight.
Questions and comments?
thescorecrowsports@gmail.com
Follow Us on Twitter @thescorecrow
Follow Us on Reddit at u/TheScorecrow
Follow Us on Facebook at The Scorecrow
Follow Us on Instagram at The Scorecrow
Follow Zach Gotlieb on Twitter @zachgotlieb
Follow Mike Fanelli on Twitter @MikeSports22
Follow Troy Pierce on Twitter @HoopHead_prod
Follow Josh Elias on Twitter @thejelias
Follow Givanni Damico on Twitter @giodamico15
Main Image Credit:
[getty src="1081231912″ width="594″ height="396″ tld="com"]