Givanni Damico | March 2nd, 2019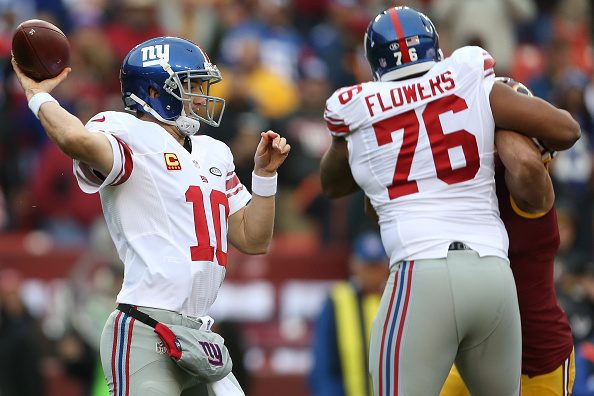 Drafting Offensive Linemen High is a Risk
There have been many first-round busts in the history of the NFL Draft. A lot of them have been offensive linemen that just did not live up to expectations. Today, we're going to take a look at five of the biggest offensive line busts in the last decade.
#1. Luke Joeckel, OT (Texas A&M) Selected by Jacksonville, 2013 Round 1 Pick 2
Joeckel was very highly touted out of Texas A&M going into the 2013 draft. At this point, the Jaguars were terrible (not much has changed) and needed protection for their starting quarterback at the time, Chad Henne. Well, Joeckel didn't provide much help in 2013. He suffered a high ankle sprain which ended up being a broken ankle. in early October which held him out for the remainder of the season. The team progressed from 2-14 in 2012 to 4-12 in 2013. In 2014, Joeckel was able to make it through the whole season, but he was average at best. He let in nine sacks over the course of the season, while being penalized a total of four times. These numbers aren't what you expect from someone you take at the second overall pick. 2014 was worse. He only started 14 out of 16 games and let in eight sacks and being penalized eight times. 2016 was rough for Joeckel, as he had a major left knee injury just four games in. Joeckel got one more chance in 2017 with the Seahawks, but guess what happened? If you guessed injury, give yourself a pat on the back. This time he played eleven games (and allowed six sacks) but he missed five weeks during the season with another knee surgery. No one took a chance on him in 2018. Joeckel's career was a sad disappointment as he just could not stay on the field, and when he was on the field, he was a mediocre tackle. This was a bad draft in general, but an especially poor pick for the Jaguars.
#2. Jason Smith, OT (Baylor) Selected by St. Louis, 2009 Round 1 Pick 2
Smith was passed around more than a girl at a frat party throughout his four-year career. At the time, the Rams' front office was known for being terrible at drafting. Jason Smith proved to be the biggest blunder of all for that front office. Smith used to be a tight end for the Baylor Bears. He put on muscle and they proceeded to move him to offensive tackle. The Rams were intrigued as they thought that Smith was an athletic anomaly. He wasn't what they thought. His career was riddled with concussions, so his development was stalled. Smith was helpless against the pass rush. He looked like a newborn puppy attempting to block a three-hundred pound defensive lineman. It just didn't work. I think this was a reach by St. Louis more than it was Smith being a disappointment. I wouldn't take a risk on someone who isn't a proven offensive lineman, it just doesn't make sense.
#3. Ereck Flowers, OT (Miami) Selected by New York Giants, 2015 Round 1 Pick 9
Ereck Flowers is a joke. The entire football community knows it. The fans know it. It's common knowledge at this point. Watching Ereck Flowers makes me think that they could pull some guy off the streets of New York (or Jacksonville now) and put a uniform on him and he'd still do better than Flowers. In 2017, Giants fans wanted Flowers out so badly that they created a GoFundMe page to get him out of New York. On the first play of the 2018 season, Flowers was called for a tripping penalty. You can't make this stuff up. Flowers was never able to be a powerful anchor against power rushers. He also wasn't agile enough to stop the speed rushers. Now that I think about it, I think I could get past Ereck Flowers. He's a pretty lazy player with a low motor. He was good at Miami, but he just never panned out. Once released by the Giants, he struggled in his first week with the Jaguars, allowing a sack and seven quarterback hurries. I wouldn't want him on my practice squad, so we'll see where he ends up next year.
#4. Greg Robinson, OT (Auburn) Selected by St. Louis, 2014 Round 1 Pick 2
Five years later and the Rams are making a second appearance on this list. Greg Robinson wasn't on any NFL team's radar before the 2013-14 college football season. Once the season started, he shocked the college football world by anchoring Auburn's offensive line. Robinson didn't have to do much pass blocking at Auburn, and when he did, it seemed lazy. His hand placement was off. This should have been a red flag for all NFL teams. He was pretty agile for his size in his one year of college success, but it wasn't anything special. He was highly touted as the best run blocker in the draft. He was also supposedly one of the strongest linemen in the league in his rookie campaign. I don't necessarily blame the Rams for taking a shot at him, but the lack of pass blocking would have made me pass on him. In his first two seasons, Greg Robinson had one of the worst Pro Football Focus ratings for offensive linemen in the NFL. He was also the most penalized player in the league from 2014 when he entered the league, to the end of the 2016 season. He had committed 35 penalties in this span. They could've taken Jake Matthews, but they decided Robinson was the move. Robinson clearly didn't work out for the Rams. The Browns are giving him one last chance in 2019 as they extended him for one year through the 2019 season.
#5. Jonathan Cooper, OG (UNC) Selected by Arizona Cardinals, 2013 Round 1 Pick 7
Three weeks after signing his rookie deal, Jonathan Cooper broke his left fibula and was placed on Injured Reserve. He missed his entire rookie season. Over the next two seasons, he only started 11 games before he was traded to the New England Patriots. He didn't play a down for the Patriots. Coming out of UNC, Cooper was drawing comparisons to Jahri Evans of the New Orleans Saints. He did start 13 games for the Cowboys in 2017, but his career just never worked out from the start. He's bounced around from team to team, but he's never lived up to his All-Pro comparisons.
Questions and comments?
thescorecrowsports@gmail.com
Follow Us on Twitter @thescorecrow
Follow Us on Reddit at u/TheScorecrow
Follow Us on Facebook at The Scorecrow
Follow Us on Instagram at The Scorecrow
Follow Givanni Damico on Twitter @giodamico15
Main Credit Image: [getty src="499164926″ width="594″ height="396″ tld="com"]