Matt Woolsey | October 24th, 2018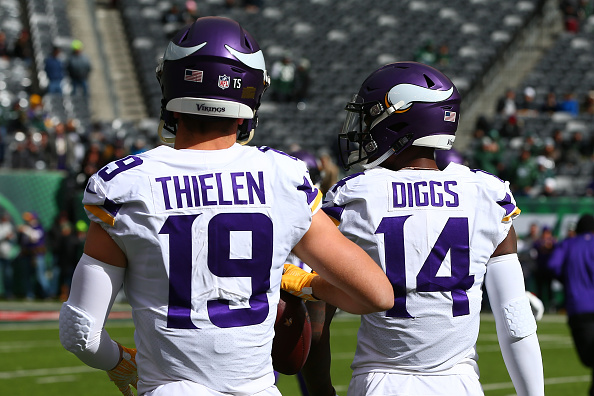 A few weeks ago I wrote an Adam Thielen vs Stefon Diggs article and from what I gathered from some comments it was not well received. I asked the Brass at The Scorecrow to let me have a do-over because many felt my article was a little one-sided.
Both Diggs and Thielen are amazing route runners with sure hands and probably the best duo in football right now. Maybe an argument could be made for Antonio Brown and JuJu Smith-Schuster, but I'm not sure even they could come close to Diggs and Thielen. But I have allowed the suspense to build up inside you enough and here we are, Diggs vs Thielen Part II.
This past January the world witnessed the Minneapolis Miracle. I am not a Vikings fan and unless you were a Saints fan you could not help but be excited after that play. And that is what Diggs is, he is exciting to watch. He brings big play after big play to your fantasy team.
When you watch your players you want exciting plays, you want to be able to cheer and text your friends, "did you just see that play, that's my guy."
En una jugada al puro estilo de @criscarter80 el WR @stefondiggs atrapó este pase durante el partido ante #Cardinals el Domingo pasado @Skolvikings_1 @SkolVikingsMTY @vikings_es @Arg_Vikings @plandejuegoNFL pic.twitter.com/w1XfW6fskV

— Ricardo Sosa (@sosarick) October 16, 2018
The moves he makes in his route running are sick. He has broken the ankles of so many defensive backs trying to cover him.
.@stefondiggs running an out

• Inside release, gets vertical + leans into DB to avoid being pushed inside
• Sells in-route with quick breakdown/weight drop + head & shoulder fake inside
• Hard stab with inside foot to redirect, points toe toward sideline, & whips head around pic.twitter.com/SFqRiP61Gm

— Receiver School (@ReceiverSchool) October 9, 2018
Stefon Diggs really went through the legs and behind the back 💀 pic.twitter.com/gKV6K7hi63

— Football Tweets™️ (@FootballTweetsO) October 9, 2018
Now I want you to picture a beautiful three-story house with a large finished attic. The attic is where Diggs lays his head at night, that is his ceiling. In Week 2 he was the number one receiver on the week in half-point PPR(Points Per Reception) Over his career, he has had eight 100-yard games, including a 182-yard game against the Packers in 2016. He has had four multiple touchdown games, including one this season and yes against the Packers. He can win your week for you, then there is the flip side.
In this same beautiful three-story house with a finished attic, they ran out of money when building it. The house is finished but it comes with a dark, damp, unfriendly basement; and unfortunately, Diggs lays his head down there as well. This season alone he has had one game as a WR3 and three games that absolutely bombed your team.
Diggs is electric, he is fun to watch. He lives in a nice attic with a high ceiling for your fantasy team, but sometimes he will hang out in the damp basement and make you want to bang your head against the wall.
In 2013, 32 teams passed on Adam Thielen in the NFL draft before signing with the Minnesota Vikings. Here we are five years later and he is the number one fantasy wide receiver so far in 2018.
Wonder how many teams would love to have a receiver making these types of moves right now?
Thielen going ALL OUT 💪 @athielen19 pic.twitter.com/RgaG0HpcVf

— The Checkdown (@thecheckdown) October 14, 2018
Your weekly reminder that Adam Thielen is superman pic.twitter.com/5m3gs8sVwE

— Sam Monson (@PFF_Sam) October 7, 2018
Aside from Week 1 where he was ranked 25th in the same half-point format he has been a top ten wide receiver for the past six weeks, he has two games as a top five, including being the number one wide receiver this past weekend.
He has not only averaged 100 yards receiving per game this season so far, but he has also actually had at least 100 yards receiving each game this season. Right now Thielen is on pace for 153 receptions on 203 targets for 1,878 yards and 11 touchdowns. This would be 330 fantasy points in half-point scoring. Over 400 if you play in full point.
Remember that three-story house from earlier. Diggs isn't bunking alone in the attic, that's where Thielen sleeps also. The only difference so far this season is Thielen may hang out on the third floor because that's how high his floor is this season.
Conclusion
I'm sure you're happy with either one of these guys on your roster and I'm sure you'll be happy for the rest of season. But Thielen right now is coming out as the better receiver statistically and for fantasy. I have even seen forums discussing, "is Thielen the best receiver playing now?"
Next season are we going to start discussing Thielen as a first round pick? I think the argument could definitely be made. I own some shares of Thielen in dynasty and right now he has me dancing for joy.
Captain, they missed a crucial part of the dance. pic.twitter.com/UCNjPbmGVz

— Drew (@DrewChrist87) October 15, 2018
Just for fun, I did post a poll on Twitter and you can check that out here as well as some of the comments.
We are now seven weeks into the season, let's solve this once and for all. RT and comment please @MyFantasyLeague @TheMaj_Fantasy @chef_sports @abetheape38 @broncobecka @BigShots_Jake @TheBauerClub @realffadvisor @Paul_Ryan15 @FantasyFBStoner @Paul_Ryan15 @GirlFantasyFB

— Matt Woolsey🏈 (@AresgodFF) October 23, 2018
Questions and comments?
thescorecrowsports@gmail.com
Follow Us on Twitter @thescorecrow
Follow Us on Reddit at u/TheScorecrow
Follow Matt Woolsey on Twitter @AresgodFF
Main Credit Image: [getty src="1052744248″ width="594″ height="396″ tld="com"]
Advertisement