Kit Shepard | November 10th, 2018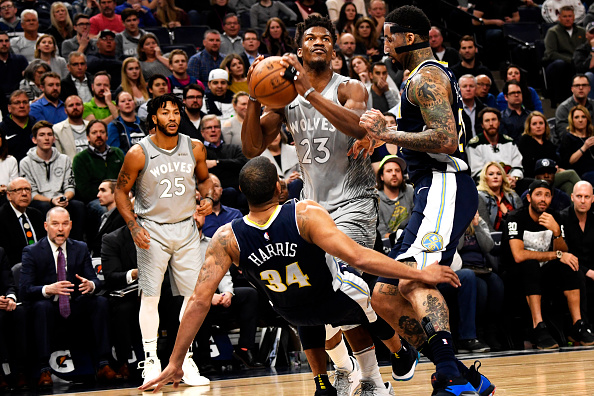 Despite being less than a month old, the 2018-19 NBA season has not been short of drama. We've had breakout stars, surprise teams, sensational, even tear-jerking individual performances, and a punch-up between two of league's highest-profile teams. Now, just when it appeared that the dust had settled after frantic opening few weeks, the basketball world has been turned upside down once again, with All-Star Jimmy Butler being traded by the Minnesota Timberwolves to the Philadelphia 76ers. It was never going to be a dull season, was it?
After months of speculation regarding the 29-year-old's future, Butler at last got his wish to leave Minnesota. With the dramatic saga reaching its conclusion. here are a few first impressions about the trade.
Essentials
76ers receive: Jimmy Butler (one year, $18,691,627, player option for 2019-20), Justin Patton (one year, $2,667,600).
Timberwolves receive: Dario Saric (two years, $6,008,826, team option for 2020-21), Robert Covington (four years, $46,879,127), Jerryd Bayless (one year, $8,575,916) 76ers' second-round draft pick (2022), a rejuvenated Karl-Anthony Towns.
Jimmy Butler and the Sixers fully expect to reach a deal on a long-term contract this summer, league sources tell ESPN. Sixers made deal with plans to add Butler to a Big Three with Joel Embiid and Ben Simmons.

— Adrian Wojnarowski (@wojespn) November 10, 2018
What does this mean for the 76ers?
Philadelphia has gone from a team with an outside chance of making the Finals to perhaps the best team in the Eastern Conference due to this move. Their record, at 8-5, falls into the good-not-great category, and the consensus around the league was that the Toronto Raptors, Boston Celtics and, after their hot start, the Milwaukee Bucks were better bets to sit on the vacant, LeBron-shaped throne at the summit of the East come the postseason.
However, this trade has changed everything. The Sixers now have more than enough firepower to compete with the best in the conference, and Butler could be the perfect star to add to their roster. They have been crying out for more shooting this year (they sit 21st in three-point percentage) largely due to the fact that neither of their two best players besides Butler (Ben Simmons and Joel Embiid) is a true threat from behind the arc. Although Butler is not a dead-eye from deep, he strengthens an area which was one of Philadelphia's biggest weaknesses, at least amongst their top players.
The wing can also compliment the offensive style the Sixers' two other stars. Simmons is a superb slashing finisher at the rim and has once-in-a-generation passing talent, while Embiid is one of the top centers in the NBA. Nevertheless, both have concerning holes in their game. For the former, his lack of anything resembling a jump shot allows opposing defenses to back off the 6'8″ point guard, thus limiting his playmaking and penetrating ability. Meanwhile, the questions over Embiid's injury record will not go away, as the Cameroonian big man has missed more games than he has played since he was drafted in 2014. With Butler around, Philadelphia has a player who can make their own shot and score from anywhere, reducing the pressure on Simmons to create good looks for himself and his team-mates. Likewise, he is an additional offensive option that can protect the seemingly injury-prone Embiid from any more issues over a long NBA season. Welcome to the newest big three.
As for the defensive end, the loss of Covington, a member of the all-defense first team last season, should not be too big a problem. Butler has the height (he stands at 6'8″), agility and speed to defend multiple positions, a skill that is gold dust in the modern NBA. Philadelphia was not in desperate need of his defensive qualities, but Butler's prowess without the ball is hardly a bad thing.
Despite this, like every trade in the NBA, it is not perfect. The Sixers may be more of a contender than they were before, but Covington and Saric were two solid starters at the forward position with no major weaknesses in their games, and expect J.J. Redick to move into the starting five moving forward.  Philadelphia has also put their long-term success at risk in order to win now; Butler can become a free agent at the end of this season, and the 76ers were not on his initial list of teams he would be willing to sign for. If they cannot convince him to remain there past this year, then the Sixers will have given up a considerable chunk of their core for six months of Jimmy Butler. Unless they win a championship (which remains highly unlikely for any team not named Golden State), then this does not seem like the best of deals. Having said that, the 76ers are allegedly hopeful that Butler will stick around:
Jimmy Butler and the Sixers fully expect to reach a deal on a long-term contract this summer, league sources tell ESPN. Sixers made deal with plans to add Butler to a Big Three with Joel Embiid and Ben Simmons.

— Adrian Wojnarowski (@wojespn) November 10, 2018
The 76ers are done with trusting the process. It's time to win now.
What does this mean for the Timberwolves?
The Jimmy Butler experiment failed miserably in Minnesota. In the 2017 offseason, they gave up three lottery picks, Zach Lavine, Lauri Markkanen and Kris Dunn to acquire him. In return, the Wolves got a first-round playoff exit before Butler demanded a trade, single-handedly destroy their chemistry with his public attacks on their bright young stars, Karl-Anthony Towns and the Andrew Wiggins, in the process.
Nevertheless, all things considered, Wolves fans will greet this news with relief. The trade lifts a major weight off the organization's shoulders, allowing them to focus on building around Towns and Wiggins, as well as recovering from a dismal 4-9 start. Butler had become a cancer in the Minnesota locker room and, in spite of his self-proclaimed sensational work ethic, he simply had to go. As Butler himself said, the situation was beyond repair.
And it's not as if Minnesota has received a bunch of scrubs in return. As hinted to above, Covington and Saric are more than capable of making a difference on either end of the floor. The pair both averaged over ten points last season and gained valuable post-season experience. Moreover, they increase the depth of a Wolves team that, under coach Tom Thibodeau, has been criticized for giving too many minutes to too few players in recent years.
Butler was meant to turn the Timberwolves into a bona fide contender, but it simply did not work out. Now, Minnesota has a clearer idea about their identity; Towns, after signing a lucrative extension in the offseason will be the focal point for years to come, and Wiggins will see more of the ball. Both have the opportunity to develop into the superstars they have the potential to be. With the incoming second-round pick a useful asset to have down the road and Derrick Rose showing flashes of his former MVP-self this season, the future is anything but bleak.
Would Timberwolves fans have taken Saric and Covington for Butler six months ago? Absolutely not. Would they have taken Saric and Covington for Butler six hours ago? Absolutely.
For us neutrals, the only downside about this trade is that we have to wait until January 16th to watch the two teams face-off. Fear not though. If there is one thing this trade has taught us, it's that the next big NBA story is always just around the corner.
Questions and comments?
thescorecrowsports@gmail.com
Follow Us on Twitter @thescorecrow
Follow Us on Reddit at u/TheScorecrow
Follow Kit Shepard on Twitter @KitShepard
Main Credit Image: [getty src="945009910″ width="594″ height="396″ tld="co.uk"]