Zach Gotlieb | February 11th, 2019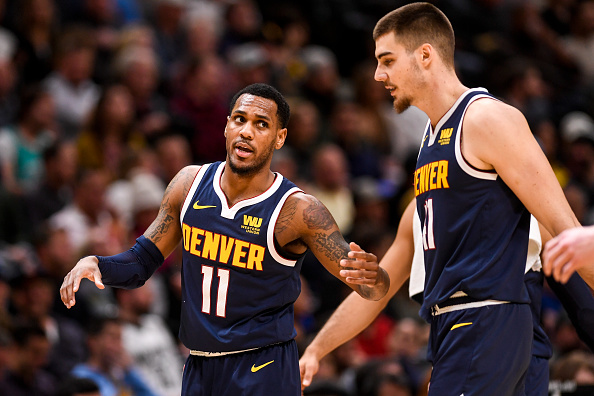 It was a wild day at the NBA Trade Deadline. Lots of moves were made. The Philadelphia 76ers acquired Tobias Harris, the Toronto Raptors snatched Marc Gasol, and the Los Angeles Lakers did NOT get Anthony Davis, despite an offer that included upwards of six players including key core pieces and multiple first round draft picks. The Denver Nuggets, however, decided not to make a move at the deadline and frankly, it may have been for the best.
There's a reason this team is second in the Western Conference. Despite not having all five of their starters active since the second game of the season, leading the league with most games lost due to injury and having one of the youngest teams in the league, Denver still has 37 wins. They are currently on pace for about 55 wins for the season which is just under their franchise record of 57 wins since the NBA/ABA merger.
The key to their success is…depth. They have one of the deepest rosters in the league which is proven by the use of 11 different starting lineups this year. Any trade that would have dealt in any sort of significant talent upgrade, a Tobias Harris or Anthony Davis on the extreme end, would have significantly compromised the Nuggets' strong bench. Losing key pieces like Paul Millsap, Malik Beasley or Monte Morris would have been unavoidable and far from ideal.
The team is finally getting healthy. Second-round pick Jarred Vanderbilt made his NBA debut just over 2 weeks ago and had a short stint with the Delaware Blue Coats G-League organization to get back into game shape going into next year. Then with an injury to Millsap, he was brought back to the team for depth purposes. Millsap has been listed as questionable for the last 3 games but ended up being out in all of them. He's slowly making progress back.
Isaiah Thomas is working in 5-on-5 practices finally, and he's asking around on Twitter about where local 5-on-5 games are taking place so that he can work himself back into shape. The question mark with him isn't if he can still play, but where he'd even fit in this team. Second-year guard Morris has been an enormous piece for this team, picking up 16.3 points per game over the last six games, which is far more than anyone ever expected him to do going into the season. He is second in the league in assist: turnover ratio and a key facilitator on the second unit that has been going so well so far. With Beasley, he's the leading 3-point shooter on the team, and Torrey Craig has become one of the top defenders on the team, shutting down Russell Westbrook twice and slowing down James Harden in a huge win on February 1st. In other words, Thomas does not fit into the rotation. His role would have to be a late game or just a "need a score" guy. If you need a bucket, he's fearless and accurate. That's the kind of guy you need at the end of games, but I don't know how he would fit in with a consistent role.
The rotation has been pretty much set in stone at this point. It's no longer the time for experiments. Now is the time to make a playoff push, and integrating new pieces may prove difficult. However, despite perhaps not wanting to incorporate new parts and not making any trades at the deadline, that does not mean that there are no holes that must be filled. They need help defensively. Since 2019 hit, Denver has dropped from a top-five defense in the league to 14th. The hole is specifically at power forward when Millsap is not on the floor. Players like Trey Lyles have not done a great job defensively, and it has hurt the team.
They need help in perimeter defense, which may not be attributed to talent, but coach Michael Malone saying "Our lack of communication is comical at times. I mean, how hard is it to say 'switch' or 'screen'? But we don't do that for some reason. It starts there, but the 3-point defense is most alarming to me; not just the percentage we are giving up, but as of late we are giving up 15 made-threes a game," is not a good sign for the team defense. It's gonna be a point of emphasis going forward, and it has to be. They can score with any team in the league, but that doesn't matter if they cannot get stops too.
They are placed second in the West, have one of the deepest and youngest teams in the league, surviving injuries all over the place. Making a trade would mean having to sacrifice assets, key players, and draft picks; the latter two being what this team has been built on. A new mentality defensively and continued progression of the young pieces that have gotten them this far should be able to guide them to the playoffs; even among the treacherous Western Conference.
Questions and comments?
thescorecrowsports@gmail.com
Follow Us on Twitter @thescorecrow
Follow Us on Reddit at u/TheScorecrow
Follow Zach Gotlieb on Twitter @zachgotlieb
Main Credit Image: [getty src="1071569086″ width="594″ height="396″ tld="co.uk"]