Liam Romero | July 30th, 2018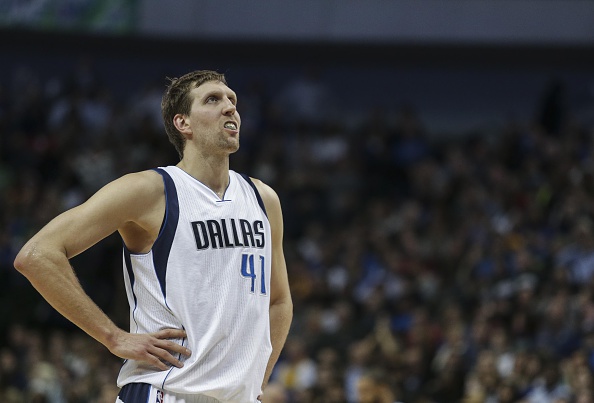 Every year, dozens of new players enter the league and new stars rise to prominence. As these new players rise to fame though, the older players are downgraded, a shadow of their prime. All of these players were at one point superstars in the league, but today they get paid a fraction of what they once were as their stats deplete. As the 2018-2019 season approaches, here's a list of five overlooked players who are far beyond their prime but deserve more recognition for how great they once were.
Deron Williams has had possibly the worst fall off in just a couple of seasons. Most notable for his time playing in Utah, at his prime, Williams averaged a double-double, scoring 19.4 ppg and dishing out 10.7 apg during the 2008-2009 season. Being a superstar with the Jazz, Williams played for Team USA in the Olympics and is a 3x NBA All-Star. Williams was an elite level point guard in Utah all the way up until he was traded to the Nets in the 2011 season. Upon his debut in Brooklyn, Williams' numbers gradually started to drop all the way until he hit rock bottom while playing in Cleveland during the 2016-2017 season, only scoring 7.5 ppg and 3.6 apg, a fraction of his old self. Williams hasn't played in the NBA since he went back to the Mavericks in the 2016-2017 season. Most NBA fans have forgotten how great Deron Williams once was, especially after his unsatisfactory play in Cleveland. His highlight footage in Utah will still lead his legacy there, and fans of the early 2000's NBA remember how amazing he once was. Today, he's nearly fallen off the face of the NBA, and fans don't respect how amazing he once was.
In recent seasons, Pau Gasol has been tossed from the Lakers to the Bulls, and now the Spurs. Gasol won two championships with the Lakers in 2009 and 2010 during arguably his prime seasons. He averaged a double-double in both years, with 18.3 ppg and 11.3 rpg in 2009, and 18.8 ppg and 10.2 rpg in 2010. Playing alongside stars Kobe Bryant and Derek Fisher, Gasol was a crucial piece to their run in those years. The Spanish native was drafted in 2001 by the Grizzlies and spent six years in Memphis, but he will obviously forever be remembered for being on the Lakers. His stats have dropped significantly since then, averaging 10.1 ppg and 8 rpg last season as he begins to play fewer minutes. Entering his 18th season, the big man's talent is overlooked, as NBA fans forget the force he once was in the paint as he begins to live in his brother, Marc's, shadow.
Dirk Nowitzki just signed a one year, $5 million dollar deal with the Mavericks. This deal now makes him the NBA's record holder for the longest time spent with a single team. Drafted in 1999 by the Mavericks, Nowitzki's rookie year was below average, only scoring 8 ppg and grabbing 3.4 rpg, but six years later in the 2005 season, he flipped his averages to a ridiculous 26.6 ppg and 9 rpg, scoring a very uncommon amount for a seven footer at the time. Later in 2011, Nowitzki would win the NBA Championship against LeBron James' Heat. He won the finals MVP after averaging 26 ppg and 9.7 rpg in the series. His lethal step back jumper was next to unguardable, and will always be synonymous with his name. Today, Nowitzki still averages a satisfactory 12 ppg and 5.7 rpg, but he is not near the level he once played at. As he gets older, his skills may dissipate but his legacy is solidified as he has grown into a Mavericks legend.
The first thing many people think of when they hear "Vince Carter" is his insane dunks. Everybody has seen the crazy videos from when he won the 2000 NBA Dunk Contest, but the 41-year-old small forward still pulls off some incredible dunks time to time. Though drafted in 1998 by the Warriors, Carter's tenure in Toronto is the most memorable of his career. He's most notable for his "Vinsanity" era with the Raptors where his best season was the 2000-2001 season when he averaged 27.7 ppg. Carter has been an 8x NBA All-Star and has played for seven teams. With age comes a fall of stats and athleticism, and Carter is no exception. Last season, he averaged a minuscule 5.5 ppg while playing half as many minutes as he did in Toronto. Deemed "The Best Dunker of All Time" by NBA fans, he will always be remembered for "Vinsanity" with the Raptors, though his athleticism is overlooked despite his age. Today, Carter's career is coming to its end, and it's a shame that young NBA fans didn't experience his legendary prime.
Derrick Rose is quite possibly the biggest "What if…?" story of the NBA. The youngest MVP of all time has been plagued by injuries that ultimately turned him from a superstar to an average point guard. The Chicago native was drafted by the Bulls in 2008 with the first overall pick, and subsequently won the Rookie of the Year award. Unlike other players on the list, Rose started in his prime after being drafted. His best stats were from 2008-2012 before he got injured. His best season in 2011 saw him scoring 25 ppg and dishing out 7.7 apg. He was named an NBA All-Star three times with the Bulls as well. Unfortunately, the fall of Derrick Rose would come in 2012 when he tore his ACL. Rose then returned in 2013 only to tear his meniscus. It was clear from that point that D Rose would never be the same again. After being passed around to various teams, Rose's numbers have dipped, especially this season. Derrick Rose is a player whose prime came and went too fast and too early, but he was able to be a hometown hero for a brief amount of time as he was the NBA's youngest superstar. Unfortunately, fans only remember him for his injuries rather than his once elite level talent.
Whether their decline is due to age or injury, all of these players deserve respect for what they once were. They all had a significant impact on the game of basketball and all at one point were powerhouses in the league.  
Questions and comments?
thescorecrowsports@gmail.com
Follow Us on Twitter @thescorecrow
Follow Us on Reddit at u/TheScorecrow
Follow Liam Romero on Twitter @LiamRomero9
Main Credit Image: [getty src="460852260″ width="594″ height="403″ tld="com"]