Pranav Ramasubramanian | February 3rd, 2019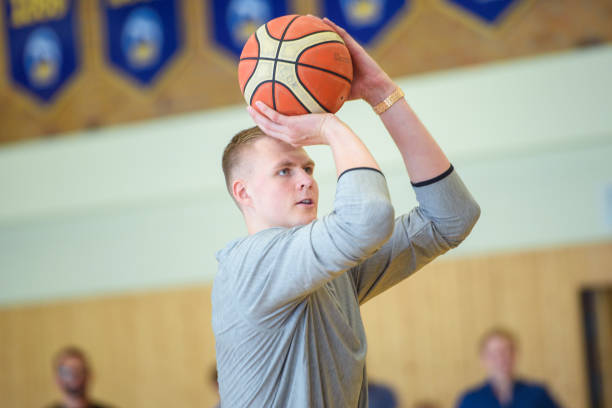 The NBA trade deadline is vastly approaching on Thursday so teams are scrambling to trade some of their players for good value. Kristaps Porzingis has been frustrated with the New York Knicks since last season as he decided not to attend the exit interview over a dispute with now-former head coach Jeff Hornacek about the team's direction, and those concerns about the team seemed to resurface in a meeting with management yesterday.
Kristaps Porzingis left the Knicks with the impression that he prefers to be traded, league sources tell @ramonashelburne and me. Knicks are expected to commence discussions on moving him ahead of next Thursday's deadline.

— Adrian Wojnarowski (@wojespn) January 31, 2019
It just feels a little odd that a player of his caliber got granted his trade request so fast because he was on his way to becoming a superstar before he got hurt.
The Brutal Injury
Kristaps Porzingis was developing fast in the NBA with his ability to stretch the floor with solid perimeter shooting and ability to create his own shot complemented by good post moves to help him average 22.7 points per game last season. That's when one of the worst things that can happen to an athlete happened to Porzingis. On February 6th, 2018, against the Milwaukee Bucks in Madison Square Garden Kristaps Porzingis dunked all over Giannis Antetokounmpo. As Giannis was draped all over him, Porzingis didn't get a proper place to land and his knees banged into Antetokounmpo's and he landed ok, but the impact of the play had affected his left knee as he grabbed it and immediately exited. Porzingis was diagnosed with a torn ACL in his left knee and the timetable was up in the air as it is a quite serious injury that takes time to heal.
Porzingis hasn't been on the court since.
Mavericks' New Direction
The Dallas Mavericks were on top of the NBA world in 2011 when they found a way to get through the West and beat the superteam Miami Heat with LeBron James, Chris Bosh, and Dwyane Wade in six games to win the NBA championship. The Mavericks roster consisted of many veterans and rising stars so some key pieces left because of satisfaction of going out on top or desire to play for more money.
This Day in Mavs History: The Mavericks scaled the NBA playoff mountain and planted their flag as 2011 NBA Champions

RELIVE: https://t.co/paZ2wn6yx9 pic.twitter.com/QjtPVx2hYK

— MICHAEL LARK (@themichaellark) June 12, 2018
The Mavericks were able to make the playoffs consistently in the next couple of seasons but were bounced out in the first round due to constant roster changes. The Mavericks pushed the San Antonio Spurs to seven games the year the Spurs won it all and that effort convinced them to give Dirk Nowitzki one last shot at a ring, but they made a grave mistake trading for Rajon Rondo, whose ego got in the way of the team and his consistent clashing with Rick Carlisle drove the team apart. The Mavericks were projected to be championship contenders that year, but they faced another harsh first round exit and that prompted the key pieces to leave for better chances of winning on other teams. The new signings looked good on paper, but sadly none of them panned out and the inability to attract big free agents lead to one more first-round exit until Mark Cuban was forced to scrap all his plans of championship contending and rebuild with Dirk also aging.
Honestly the trade for Rondo was the downfall of Mavericks franchise.

— Ben Watson (@benwatson333) November 3, 2016
Mark Cuban has even admitted to making the Mavericks tank last year to get the highest draft pick they could and they did just that by getting the fifth pick, but they traded it to the Hawks for the third pick to scoop up European sensation Luka Doncic to make him the new face of the franchise even giving the Hawks another 1st rounder in the future based on where it falls.
Trade details
On Thursday the New York Knicks decided to trade Kristaps Porzingis, Tim Hardaway Jr., Trey Burke, and Courtney Lee to the Dallas Mavericks for Dennis Smith Jr., Wesley Matthews, and DeAndre Jordan. The Knicks also get two future first-round picks from the Mavericks.
The trade is official.

Here's what the Mavericks and Knicks are getting in their blockbuster deal. https://t.co/xX3qXrBoM0👈#MFFL #NewYorkForever pic.twitter.com/zZ2Agr5q5K

— SportsDayDFW (@SportsDayDFW) January 31, 2019
Porzingis was also targeted by the Brooklyn Nets, Los Angeles Clippers, Miami Heat, San Antonio Spurs, and Toronto Raptors. These teams just didn't seem to dial the phone as fast as the Mavericks did. Dennis Smith Jr. has been on the trade block for a while and he finally gets traded to a team that will help him grow. This was a big blockbuster trade, but it wasn't the one many were expecting.
Winner of Trade
The Knicks are clearly the winners of this trade as they have freed up cap space for two max slots and will be very aggressive on their approaches to land superstars like Kevin Durant or Kyrie Irving in free agency and pair them together in the backcourt.
https://www.youtube.com/watch?v=AkAXD3q0z58
The Knicks didn't want to give up a max slot to a player coming off an ACL injury and risk their future. It also helps avoid a logjam down low if the Knicks decide to keep their first-round pick, which would put them at No.1 overall right now letting them pick and sign Zion Williamson to a cheap rookie contract. The Mavericks lost the trade as they gave up too much and the most valuable piece they lost was Dennis Smith Jr., as they were so happy with Luka Doncic's growth and knew with Rick Carlisle's system that both of them would hog the ball too much despite their good on-court chemistry, but new addition Trey Burke is a little bit of a downgrade even though he can shoot the ball better than Dennis Smith Jr. can. The amount of money on the contracts isn't great as they will be paying big money to Tim Hardaway Jr., who will make $17 million per year until 2021, and Courtney Lee, who will make $12 million per year until 2020 while the Knicks can simply buy out DeAndre Jordan, who is on a one year contract, and also buy out Wesley Matthews, who also happens to be on the last year of his contract and it won't even put a dent in their future. Also Mark Cuban's latest statement states that Porzingis will sit out the rest of the season recovering from his ACL injury and will only play for the Mavericks starting next season as Porzingis will sign the qualifying offer for just one year in restricted free agency with the Mavericks, which runs the risks of Porzingis leaving in the 2020 free agency for more money or team chemistry issues so the Mavericks although get some good shooting pieces they could get stuck with just that and may have to tank again if Porzingis leaves making this whole trade useless.
Kristaps Porzingis intends to sign a $4.5M qualifying offer this summer with Dallas, making him an unrestricted free-agent in 2020.

That's HUGE.

— Legion Hoops (@LegionHoops) January 31, 2019
Loyalty means nothing to anybody in the NBA and the NBA has shown it's a business yet again. The Knicks were looking to get rid of any last bit of Phil Jackson's traces to ensure free agents that the dark times were behind them. It really seemed like both teams needed help with a reboot and both teams just took a very good first step towards that with this trade.
Questions and comments?
thescorecrowsports@gmail.com
Follow Us on Twitter @thescorecrow
Follow Us on Reddit at u/TheScorecrow
Follow Pranav on Twitter @PranavRama1
Main Credit Image: [getty src="997832984″ width="594″ height="396″ tld="com"]