Matt Woolsey | October 10th, 2018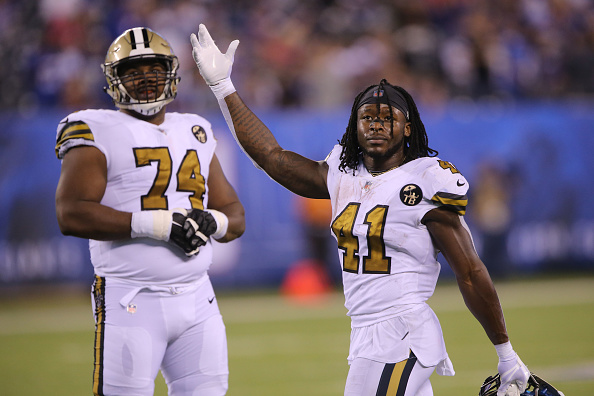 First I would like to congratulate Drew Brees on breaking Peyton Manning's record for all-time passing yards. What he and Sean Payton have done for the city of New Orleans is remarkable. I remember watching the Saints as one of those blah teams and now they are one of the most exciting to watch.
I mention Brees because he's worth the praise and because I believe it correlates to what happened to Alvin Kamara Monday night. Going into Monday Night Football I was down by 25 points and I had Alex Smith and Kamara playing. I was certain this week's win was a lock. Why would I not? Kamara has single-handedly won my matchups for the previous four weeks. I lost by four points. I was pissed. I would rather get blown out by 50, than to lose by four. I threw so many four-letter words at the TV that night.
Yes, I knew Mark Ingram was coming back and would eat into Kamara's production somewhat, but I didn't expect the 39 total yards, only three receptions on four targets, and no touchdowns. Okay, so how did Brees' night correlate to the lack of production from Kamara? Because it was Brees' night.
Monday Night Football, primetime home game, and Brees only needed 200 yards to pass Manning. Of course, the Saints and Payton were going to give this night to Brees. Of course, they were going to make sure he broke the record in front of everyone. They basically schemed Kamara out of the game. They weren't going to run screens and dump offs. They were going deep. But Mark Ingram had a good game.
Yes, Mark Ingram had a great game and I wish Kamara had gotten at least one of Ingram's touchdowns. But Kamara was coming off four weeks of averaging 82% of the snaps and Ingram had fresh legs. They more or less gave Kamara the night off because they could, because he wasn't needed. DO NOT TILT ON ALVIN KAMARA
I have seen so many tweets of people asking if they should trade Kamara. I have seen so many tweets of people saying I was offered Kamara, should I take the trade. The answers are NO and YES. Do not trade Kamara and if you get a trade offer, hit that accept button. In fact, hit up the Kamara owner in your league, see if they're tilting on him. David Johnson just had a decent game where he scored two touchdowns. Those touchdowns came on short fields because of turnovers. If you have David Johnson, trade him for Kamara.
Last year, Kamara had a five-week stretch where he was a top-five running back. During those weeks, Ingram was sharing the backfield and even had three weeks as a top-five running back himself. Kamara will be fine. Do not trade him; go trade for him.
Questions and comments?
thescorecrowsports@gmail.com
Follow Us on Twitter @thescorecrow
Follow Us on Reddit at u/TheScorecrow
Follow Matt Woolsey on Twitter @AresgodFF
Main Credit Image: [getty src="1047957462″ width="594″ height="396″ tld="com"]