Alex Perl | May 30, 2019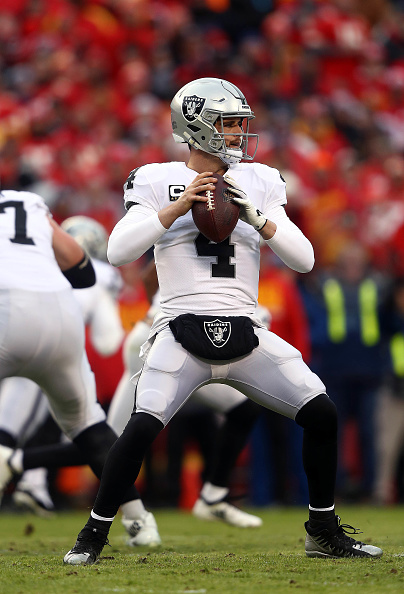 With a flurry of offseason moves, multiple first-round picks and a move to Las Vegas on the horizon, the one familiar staple within the Oakland Raider organization will be it's starting quarterback. Going into his 6th season as starting quarterback for the Raiders will be Derek Carr.
As it stands currently, Carr is tied for the 7th highest paid quarterback annually in the league. A contract that is above the likes of names such as Andrew Luck and Philip Rivers. Now when you also consider the 25 million dollar annual contract Carr receives, is tied with the 12-time pro bowl and super bowl winning quarterback Drew Brees, this is where things start to get cloudy, to say the least.
Wins and losses mean everything, especially when it comes to your quarterback. Entering his now 6th season at the age of 28, Carr has only once led the Raiders to a record above .500. A 12-4 season in which Carr's season had ended abruptly due to a broken fibula the week prior to the regular season finale. The Raiders would subsequently lose their first playoff appearance in 14 years. With an overall combined record of 32-46 and a .410 winning percentage, this ranks Carr 16th among all active quarterbacks with 70 or more games played.
One thing that has led to the many pitfalls in Carr's career has been the instability of the Raiders coaching staff over the years. Carr is now under his 4th different head coach in Jon Gruden, his 3rd offensive coordinator in Greg Olson (who was previously his first offensive coordinator in 2014) so this should be taken into consideration. It's hard to be successful when you have to basically learn an entirely new system year after year. Imagine Tom Brady with no Bill Belichick. With Gruden signing a ten-year contract, it seems there may finally be some stability within the Raider organization. This should benefit Carr greatly as well as having a coach in Gruden who was once quoted as stating "I came back to coach Derek Carr."
The quality of the talent within the Raider organization has been questionable for many years. Bad draft choices, bad free agent signings, and trades, as well as the reign of lunacy from former owner Al Davis, had led the Raiders to a period of irrelevance and surrounded Carr with teams that have not been up to par. The trades of pro bowl Defensive End Khalil Mack and Wide Receiver Amari Cooper last season doomed the Raiders hopes of competing, and although it once again made the franchise a laughing stock, the moves have actually proved fruitful on paper this offseason. With the cleared cap space, the Raiders were able to trade for arguably the top Wide Receiver in the sport in Antonio Brown, they signed a promising receiver in Tyrell Williams to line up next to Brown, jack of all trades defensive back Lamarcus Joyner as well as signing Trent Brown the super bowl winning blindside protection of Tom Brady to the roster. With three first round drafts including Running back Josh Jacobs, the future possibly could look bright for Carr and this revamped Raiders.
With all of the changes will come high expectations, and the Raiders are indeed in a good position when it comes to Carr and his contract after this season, should he falter. If they cut Carr after this season the dead money drops to $5 million, with the net cap savings going up to $16.5 million. With a move to Vegas in 2020 scheduled for the Raiders, this year will decide if Carr moves with them or not. in a press conference earlier this year, Carr discussed the coaches and how their critiques and aide will help him, "Whatever it is, you take that, and you just run after it and give it all that you have." For Carr's sake hopefully, all that he has will finally be enough.
Questions and comments?
thescorecrowsports@gmail.com
Follow Us on Twitter @thescorecrow
Follow Us on Reddit at u/TheScorecrow
Follow Us on Facebook at The Scorecrow
Follow Us on Instagram at The Scorecrow
Follow Alex Perl on Twitter @APbass999
Main Image Credit: [getty src="1089116994″ width="404″ height="594″ tld="com"]