Pranav Ramasubramanian | July 14th, 2018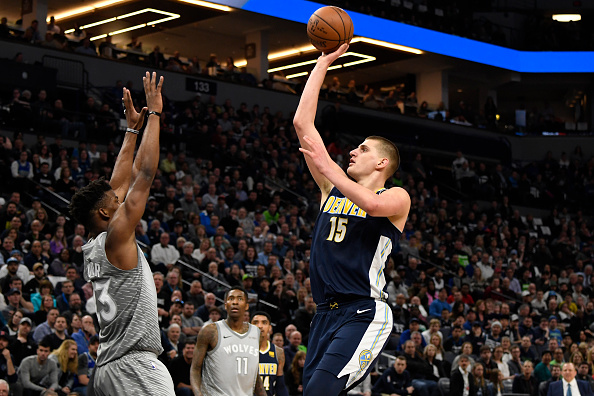 The Denver Nuggets have been one game away from the playoffs for the past two years and have been refreshing to watch because of their young talents like Nikola Jokic, Jamal Murray, and Gary Harris making them an offensive beast, but at times their youth hindered them.
Denver had 40 wins in the 2016-2017 season and had they finished out some close games, they could've beaten out the Portland TrailBlazers for an 8th seed. In the offseason, the Denver Nuggets had tons of cap space because most of their team consisted of youth on cheap contracts. They recruited Paul Millsap, who had averaged 18.1 points per game to ensure Nikola Jokic's responsibilities were shared and they signed Millsap to a three-year, 90 million dollar deal. Things went awry for the Denver Nuggets when Paul Millsap suffered a wrist injury that cost him over half of the season and only appeared in 38 games in the 2017-2018 season, but his chemistry with Nikola Jokic instantly clicked with the Nuggets playing high-level basketball when they were on the court together. Denver lost a play-in game vs. the Minnesota Timberwolves because Nikola Jokic ran out of gas from carrying the team and racking up triple-doubles all season despite a six-game win improvement at 46-36, the Denver Nuggets missed the playoffs yet again. The Denver Nuggets tried to land a meeting with LeBron James, but LeBron was already set on becoming a member of the Los Angeles Lakers so they needed to look to fill other glaring needs.
What Have The Nuggets Done?
The Denver Nuggets had the 14th pick in the NBA Draft and had seen big names already go off the draft board, but they decided to roll the dice on Missouri SF Micheal Porter Jr., who was a projected top-five pick in the draft before he suffered herniated discs during practice in November. Micheal Porter Jr. may make a smart decision like Ben Simmons and sit out the whole year and focus on recovering to get back to a complete 100%. Denver knows that now is not their time and is willing to play the long game in their journey towards championship contention. The glaring weakness on the Nuggets depth chart was they needed more guards who could come in and give decent minutes to help the bench. The Denver Nuggets looked done with free agency signings after they locked up their most prized possession, Nikola Jokic for five years and 148 million. This would all change in one night.
The Denver Nuggets chose to sign Isaiah Thomas for a one-year deal worth two million dollars to help solidify their depth as one of their two moves Thursday night. It will be nice to see some fresh legs out there after Devin Harris was given heavy minutes due to experience and uncertainty at the backup point guard situation, but Devin Harris is 35 years old and won't be very effective slowing down a young, fast team. Isaiah Thomas is a player, who seemed destined for the max, but got traded from the Boston Celtics because of a sudden hip injury everything went to ruins and he even played through his sister's death taking the Boston Celtics to the Eastern Conference Finals that year. Kyrie Irving wanted out of Cleveland and after his agent leaked out the news, the Cavaliers were looking for the best offer to ship him out of town and Danny Ainge was the one who offered the best deal, when Ainge sent Isaiah Thomas, Jae Crowder, Ante Zizic and a 2018 unprotected first-round pick from Brooklyn for Kyrie Irving. Many thought that the Boston Celtics lost the trade because of the pieces they gave up, but Isaiah Thomas never had chemistry with teammates and created too much locker room drama while not playing effectively being out for a majority of the time. Crowder gave good minutes but didn't really do much and Isaiah Thomas got shipped to the Lakers and Crowder to the Jazz. Even though the draft pick turned into Alabama guard Collin Sexton, the return wasn't enough for losing a young 25-year-old superstar in Kyrie Irving. Isaiah Thomas meshed well with the Los Angeles Lakers and Luke Walton despite his selfishness to try and play lights out to impress teams to give him a good contract. He actually helped the Lakers play very well, but when the Los Angeles Lakers were plotting to get Paul George and LeBron James, they didn't want extra salary on the team. After LeBron James came to the Lakers everyone knew Isaiah Thomas was out the door, but no one thought for a cheap minimum.
The second move the Denver Nuggets made Thursday night was when they shipped Kenneth Faried, Darrell Arthur, a protected first-round pick in 2019 and a future second-round pick to the Brooklyn Nets for Isaiah Whitehead. Denver sheds about 21 million in cap space as they try to pursue some big stars in the market next year like Jimmy Butler or Klay Thompson making their young core the main selling point. Kenneth Faried hasn't panned out like they thought he would and really died down so keeping him was a waste. Darrell Arthur wasn't a game-changer so the Denver Nuggets clearly won this trade for getting rid of useless pieces. Denver knows not to mess around and waste Nikola Jokic's prime like they wasted Carmelo Anthony's prime so they are gearing up to load up the team and go all in. They also managed to re-sign Will Barton for four years and 50 million because of his good contribution of 15.7 points per game helping Denver's explosive offense. The Denver Nuggets know that the window isn't now, but until then it helps to at least have good pieces around the team to give themselves a shot in the Wild, Wild West and entice marquee free agents.
Questions and comments?
thescorecrowsports@gmail.com
Follow Us on Twitter @thescorecrow
Follow Us on Reddit at u/TheScorecrow
Follow Pranav on Twitter @PranavRama1
Main Credit Image: [getty src="945530046″ width="594″ height="396″ tld="com"]