Josh Elias | January 26th, 2019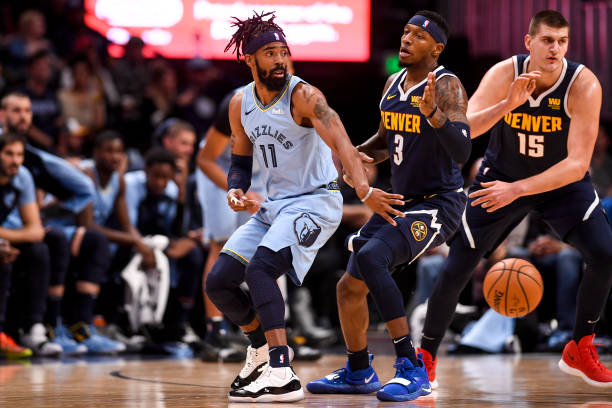 According to ESPN's Adrian Wojnarowski, the Memphis Grizzlies are finally ready to put the "Grit and Grind" era behind them, having reportedly made it clear to other teams throughout the NBA that they are actively listening to offers for their two star players, Mike Conley and Marc Gasol, both of whom have spent their entire decade-plus-long NBA careers in Memphis.
An injury-riddled Memphis team had an incredibly substandard year last season, and despite it looking at the beginning of the year like they might be able to turn it around in 2018-19, 14 losses in their last 15 games says otherwise.
Here I'll go over the best moves available in regards to both players, and why, realistically, none of them should happen.
Mike Conley to Indiana
In the immediate aftermath of Victor Oladipo's torn quadriceps tendon, which will likely have him out for approximately a full calendar year, the Indiana Pacers are in a bit of a desperate situation. While two of their most important players, Domantas Sabonis and Myles Turner, are both just 22 years old, the rest of the Pacers' core is built for a win-now situation. Without their star player, that will be an overwhelming challenge for them.
I don't know what a good solution for this team is, especially when Oladipo's injury is one that's so rare in basketball that we honestly have no clue to what extent he'll recover.
At least with an ACL or Achilles injury, a team knows the player will probably never be the same.
On paper, adding Mike Conley seems like a half-decent solution for Indiana's woes. It would give them a clear number one option for the immediate future without drastically changing the timeline of the team's goals for contention.
But there are many problems with that idea, and some of them are immediately obvious.
The first is clearly his contract. With the ninth-largest contract in the league, he is paid over $30 million annually for the next three years. That's too much money for teams in 99% of situations to be willing to pay a perennial borderline-All-Star-level player.
That also has salary cap effects that would limit the sort of deal the Pacers would be able to offer Memphis. Cory Joseph would be an obvious choice to include in the trade, but the Pacers would also have to send multiple other assets to Memphis to even be able to match Conley's salary impact, and the Grizzlies are unlikely to accept multiple deadweight contracts without asking for multiple first-round draft picks, something a small-market team like Indiana can't afford to give up.
On top of that, there's the factor of Conley's presence on the team making Darren Collison redundant to an extent, a potential offensive clash with Tyreke Evans (while Evans did make his career resurgence last year in Memphis, his success was largely as Conley's replacement – when they both played, they both suffered), and the fact that his prime is unlikely to outlast his ridiculous contract now that he's 31.
Mike Conley to Utah
I've seen rumors about this one a lot. The good thing about this move is that it would be a much easier trade to achieve for Utah than it would for Indiana. Something along the lines of Ricky Rubio, Thabo Sefolosha, a heavily-protected first-round pick, and the draft rights to someone who will never come over to the league like Ante Tomic for Conley and a cheap role player should do the trick.
He'd certainly be an upgrade as a shooter over Rubio, and Utah desperately needs someone hit shots for them. They're one of the worst-shooting teams in the league from just about every spot on the court. He's also a much more capable off-ball player than the Spaniard. Plus he'd certainly fit in with their culture. So what's the problem?
Well, on the court, there doesn't seem to be too much of one. He'd fit nicely for their immediate future. The main problems have to do with his age and his contract. 31 years old may not seem old when we've got Vince Carter and Dirk Nowitzki still hanging around in the league in their early forties, but depending on injuries, it's most likely that Conley has a maximum of five more productive years left in the NBA.
Five years from now, Rudy Gobert will be 31 and Donovan Mitchell will be 27. Conley's career will be winding down at a time when their two most important players, who Utah are clearly building around, will be in the middle of their prime, and that is not something the Jazz's management is going to want to have to deal with.
Especially when you consider the fact that his contract would deal a massive blow to Utah's flexibility. Gobert, Mitchell, and Conley all have their contracts up in the offseason of 2021. There's a good chance they'll all command over $20 million annually, meaning over half of 2021-22's projected salary cap of $123,900,000 will be taken up by three players who would need one of the league's best supporting casts in order to come anywhere close to contending. And that's the best case scenario.
The Lakers and Grizzlies have a very short trade history. The Grizzlies have existed for almost 25 years now, and yet these two teams have still only traded with each other three times.
Two of those trades were completely irrelevant, and the other one was one of the biggest trades in both franchises' respective histories. It included two Gasols.
Some people believe another move like that might be on the horizon. The Lakers have made it very clear that they want to bring in a second star to pair with LeBron James, and, honestly, they desperately need to do so.
Gasol would be a bad choice, again, because of contract reasons. The Lakers should be a huge free agent pull this offseason, and taking away money that could go to a Jimmy Butler or a Kemba Walker doesn't seem to be the smartest move unless it's for a top ten player in the league, minimum.
There's also the fact that playing with LeBron has hurt every star big man he's played with, with the one exception of Zydrunas Ilgauskas. Gasol has already been trending in the direction of shooting more from the outside, and his efficiency has actually dropped in comparison to what it was before he shot threes. On a LeBron-led team that already has very few competent shooters, Luke Walton probably wouldn't let him even look at the post. His unique post passing ability would also be showcased much less.
On top of that, he's 33, and the Lakers would almost certainly have to part with one of their young studs to bring him in. Probably Brandon Ingram. Now, I strongly disbelieve in Brandon Ingram, but even I'm not stupid enough to suggest getting rid of him to bring in two years of a post-prime Marc Gasol.
Another suggestion for what should happen to The Big Burrito, a nickname that Marc really needs to be referred to by more often, is a move to Charlotte.
The move itself would be pretty straightforward. The Hornets have a plethora of awful contracts they could send back to Memphis. Bismack Biyombo's two years and $34 million still owed to him? Michael Kidd-Gilchrist's two years and $26 million? Cody Zeller's three years and $34.4 million? Marvin Williams' two years and $29.1 million?Nicolas Batum's three years and $76.7 million?
No, you're right, they'll never be able to get out of that one.
But basically, all they'd have to do is package a bad contract or two along with either Malik Monk or a first-round pick.
They seem unwilling to play Monk very much, and he's awfully inefficient in their system, so moving him to a team that's beginning a rebuilding process seems optimal for him.
The level of risk taken here for a relatively low reward just isn't nearly worth it though.
Not even taking into account his age and the fact that he's already noticeably begun to decline in the last two years, there's simply the fact that Marc Gasol and Jeremy Lamb still isn't an attractive couple of second and third options for a player at Kemba Walker's point in his career. No matter how much loyalty he has, there has to be a major shakeup in many different ways in Charlotte for it to look even nearly worth staying at.
Beyond that, even Gasol himself could still leave. The last year on his contract is a player option, meaning he could opt out after the season's over. There's a chance that they could make this trade, lose an important young asset, and still end up with both no Kemba and no Gasol.
Then again, it might be what the organization deserves.
The fans sure as hell deserve better though.
Questions and comments?
thescorecrowsports@gmail.com
Follow Us on Twitter @thescorecrow
Follow Us on Reddit at u/TheScorecrow
Follow Josh Elias on Twitter @_SunsofThunder_
Main Credit Image:[getty src="1071544614″ width="594″ height="396″ tld="com"]