Frank Dyevoich | September 23rd, 2018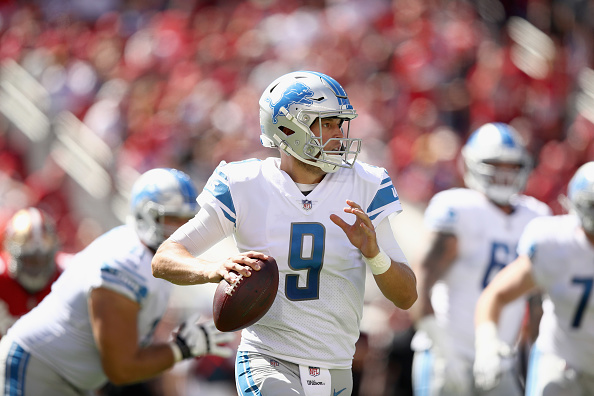 Another week has come and gone and we are one step closer to claiming what is rightfully ours, the championship. This week there are more injuries that have role players stepping up into full workloads and more trends that bring to life favorable matchups that we need to exploit. It is in your best interest to start or sit the following players this week.
Start Em'
Quarterbacks:
Matthew Stafford vs. NE – The Patriots do not take well to losses, so they are going to be looking to make a statement in prime time that they are still atop the NFL food chain. Stafford is going to have to be airing it out all night in order to keep pace, and since he is playing at home, I expect plenty of fireworks in this one. If Blake Bortles can dominate the Patriots' secondary, Stafford should obliterate them. Projection: 365 yards, 3 TDs
Jimmy Garoppolo vs. KC – The Chiefs defense is non-existent, and their best playmaker Eric Berry is likely to miss this game as well. Garoppolo is going to have to sling the rock in order to keep pace with the explosive Chiefs offense and it will lead to fantasy points galore. Projection: 325 yards, 3 TDs.
Ryan Fitzpatrick vs. PIT – Fitzpatrick is on fire and it is not going to stop this week. After laying down 400+ yards and 4 TDs against the stout Eagles' defense, it is very possible that he does it again for a third straight week. He has the weapons and right now he has the mojo. Start him with confidence. Projection: 335 yards, 3 TDs.
Running Backs:
Latavius Murray vs. BUF – Latavius Murray needs to be started in all leagues, all formats, and all DFS lineups this week. Dalvin Cook is out with a hamstring injury and the lowly Buffalo Bills are coming to town. This game will be a complete blowout, and Murray should see 25-30 touches against one of the worst defenses in the league.  Projection: 123 yards, 2 TDs, 4 cates for 27 yards.
Corey Clement vs. IND – This is another injury situation to take advantage of. Jay Ajayi and Darren Sproles are both out this week, so that leaves Clement and Wendell Smallwood as the only viable RBs on the Eagles roster right now, and Clement will see the bulk of the touches against a very weak defense. Projection: 87 Yards, 1 TD, 6 catches for 52 yards.
Matt Breida vs. KC – Neither team will have a comfortable lead that they can just sit on in this game, so that should lead to a positive game script for Breida anyway you slice it. He showed last week that he is both explosive and elusive and he should see plenty of work. Alfred Morris will still get work in short yardage situations, but he also fumbled twice at the goal line in week 1, so I expect Breida to see most of the red zone work. Projection: 83 yards, 6 catches for 72 yards and 1 TD.
Giovani Bernard vs. CAR – With Joe Mixon set to miss 2-4 weeks after an arthroscopic knee procedure Bernard is the guy in Cincinnati. He will see between 20-25 touches and is an automatic start in all leagues while Mixon is out. Projection: 92 yards, 1 TD, 5 receptions for 51 yards.
Marshawn Lynch vs. MIA – So far, the Dolphins have allowed at least one TD to opposing running backs each game this year and that is not going to change this week. Lynch has been able to find the end zone in two straight weeks against two of the toughest rush defenses in the league, he should make mincemeat of this porous one. Projection: 112 yards, 2 TDs, 2 receptions for 22 yards.
Wide Receivers:
Kenny Golladay vs. NE – Golladay is emerging as the WR1 on the Lions. He has 21 targets in two games and is averaging 100 yards a game. The Lions should be in catch-up mode most of the game and Golladay will be a huge beneficiary of game script. Marvin Jones also appeared on the injury report with an ankle issue so his snaps should be limited. Expect a huge game from Golladay. Projection: 8 receptions for 125 yards and 1 TD.
Emmanuel Sanders vs. BAL – Sanders will be the focal point of the Broncos passing attack in this game because Demaryius Thomas will be locked down by Brandon Carr. Carr has emerged as one of the league's best corners this season so Case Keenum should be looking Sanders' way early and often. Projection: 8 receptions for 110 yards and 1 TD.
Allen Robinson vs. AZ – History tells us that we should avoid whichever wide receiver is being shadowed by Patrick Peterson, and that might still be good advice, however, the inept coaching has him playing in a zone defense, so the opposing team just schemes their best players to the opposite side of the field. The Bears will do whatever they can to keep Robinson away from Peterson, and as such he will run circles around the rest of that mediocre secondary. Projection: 8 receptions for 93 yards.
DeSean Jackson vs. PIT – The fact of the matter is that as long as Fitzpatrick is throwing him footballs, D-Jax is a must-start. He has caught all of his targets and Fitzpatrick will not hesitate to heave in his direction if he thinks that he beat his coverage.  So far the Steelers have been one of the worst secondaries in the league and now the high flying Buccaneers are next to feast. Projection: 5 receptions for 111 yards and 1 TD.
Will Fuller vs. NYG – All Will Fuller does is score TDs. In his last 5 games with Deshaun Watson, Fuller has 8 TDs, and now he gets a Giants' secondary that will be without their #2 corner, leaving Fuller matched up against their third best corner. I expect another huge day for Fuller. Projection: 5 receptions for 104 yards and 1 TD.
Tight Ends:
Eric Ebron vs. PHI – Ebron should be one of Luck's favorite targets on Sunday since Jack Doyle has been ruled out. He has a TD in two straight games and he has emerged as Luck's favorite red-zone weapon. His best game so far is coming this week. Projection: 6 receptions for 83 yards and 1 TD.
George Kittle vs. KC – Kittle is the primary receiving tight end, and with an aging Pierre Garcon and a hobbled Marquise Goodwin, Kittle might be the most reliable receiving option this week. In a game that should produce tons of offense, Kittle must be started in all leagues. Projection: 6 receptions for 82 yards and 1 TD.
Defense/Special Teams:
Denver Broncos vs. BAL -The Broncos should have no problem bursting through the Ravens' offensive line and disrupting the running game. Their secondary is also one of the best in the league and Joe Flacco does not exactly leave opposing defenses shaking in their boots.
Houston Texans vs. NYG – The Giants' offensive line is one of if not the worst in the league. The Texans have dominant pass rushers that will be in Eli Manning's face all game and they are likely to come away with a couple of turnovers.
Sit Em'
Quarterbacks:
Philip Rivers vs. LAR – Rivers has been the beneficiary of two beautiful matchups so far, but this week he gets his first real challenge. The Rams are firing on all cylinders and are loaded at all levels of the defense. It will not be easy to move the ball this week and Rivers is likely to make a few mistakes when under pressure. Projection: 275 yards, 1 TD, 2 INTs.
Andrew Luck vs. PHI – The Eagles are a brutal defense and the Colt's offensive line is in for a world of hurt this week. The main focus will be on T.Y. Hilton and that does not leave many other options for Luck to throw to. I expect a low scoring and relatively boring game for this one. Projection: 227 yards, 1 TD, 1 INT.
Carson Wentz vs. IND – Wentz could not ask for a better matchup to make his 2018 debut, but coming off of a torn ACL it is best to see how he looks before inserting him into our starting lineups. Projection: 227 yards, 2 TDs, 1 INT.
Running Backs:
Alex Collins vs. DEN – The Ravens have not been very successful at running the ball this season and now they have to try and run against a top-five run defense. There is also the issue of Buck Allen and the fact that he is the preferred RB on passing downs and in the red zone. Projection: 57 yards, 2 receptions for 27 yards.
Royce Freeman vs. BAL – As much as we want Freeman to be the guy in Denver, Phillip Lindsay has taken over. He has out touched and outproduced Freeman in both games, and he looks better than Freeman running the ball. Sadly, this is going to be a long season for Freeman owners. Projection: 65 yards.
Derrick Henry vs. JAX – Not only is Dion Lewis out snapping Henry 65% to 35% but this week they take on the league's best defense. If the Titans are going to have any luck moving the ball this week, it is going to have to be through the air, and that is not Henry's game. Projection: 52 yards.
Adrian Peterson vs. GB – The Redskins figure to be in catch-up mode for most of this game and that adds up to another poor performance coming from Adrian Peterson. Chris Thompson is the clear passing downs RB and he looks explosive with the ball in his hands. This is going to be a low carry, low production game for AP. Projection: 48 yards.
Wide Receivers:
Corey Davis vs. JAX – Marcus Mariota still does not have all the feeling back in his fingers so we might be looking at another Blaine Gabbert game. That alone is enough to bench Davis but add in the fact that he will be matched up against Jalen Ramsey and you would be crazy to think about starting him anywhere. Projection: 4 receptions for 41 yards.
Demaryius Thomas vs. BAL – Thomas has a date with Brandon Carr who has been shutting down every WR that he has covered. In fact, after A.J. Green scored 3 TDs last week when he was not covered by Carr, he was tasked with shadowing Green for the rest of the game and he shut him down. It is obvious that DT has lost a step and Carr will not make it an easy day for him. Projection: 5 receptions for 46 yards.
Michael Crabtree vs. DEN – Crabtree is set to go head to head with Chris Harris, Jr. arguably the league's best cornerback. Add in the facts that John Brown is demanding more targets and Crabtree has had a hard time gaining separation in the first two weeks and it is best that he rides the bench this week. Projection: 5 receptions for 51 yards.
Devin Funchess vs. CIN – One of the best cornerbacks that no one is talking about is William Jackson of the Cincinnati Bengals. He has been very impressive for two weeks and he will likely be assigned to cover Funchess. With many other options at Cam Newton's disposal in the passing game, I don't expect he will be looking Funchess' way very often. Projection: 4 receptions for 41 yards.
Tight Ends:
Jared Cook vs. MIA – The Raiders should have no problem rushing the football this week and that will lead to a negative game script for Cook. Not to mention that the wide receivers should find plenty of success as well. This is shaping up to be a quiet game for Cook. Projection: 4 receptions for 32 yards.
Tyler Eifert vs. CAR – Eifert has been severely disappointing thus far and his role does not appear to be growing. He has name value due to a 13 TD season, but the fact of the matter is he can't stay healthy and when he is on the field, he is not very productive. If Eifert is your plan for tight end this year, it is time to start re-evaluating your options. Projection: 3 receptions for 26 yards.
Defense/Special Teams:
Detroit Lions vs. NE – the Patriots are going to score at will this week so you are best served finding another option if they are your starting defense.
Washington Redskins vs. GB – The redskins have looked terrible this year and now they take on Aaron Rodgers and the high flying Packers offense.
Questions and comments?
thescorecrowsports@gmail.com
Follow Us on Twitter @thescorecrow
Follow Us on Reddit at u/TheScorecrow
Follow Frank Dyevoich on Twitter @Fantasy_Giant
Main Credit Image: [getty src="1035261216″ width="594″ height="396″ tld="com"]