John Supowitz | February 10th, 2019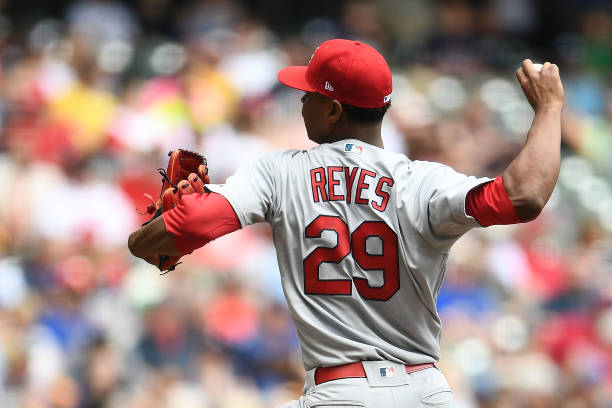 Continuing our dive into team prospects, today we bring you the St. Louis Cardinals. They are led by one of the most intriguing arms coming into 2019. Let's dive in.
Height: 6'3"
Weight: 230 lb.
Age: 24
Throws: Right
Highest level; MLB
Scouting grade: Fastball: 75 | Curveball: 60 | Slider: 50 | Changeup: 55 | Control: 45 | Overall: 55
ETA for the majors: 2019
Reyes has been with the Cardinals since signing an international free agent contract for $950,000 in 2012.
It's not surprising Reyes comes in at number one, he one of two Cardinals on the MLB's Top 100 Prospect, coming in at number 33. The Cardinals are very high on Reyes, The problem for Reyes is he has trouble staying on the field. He was poised to have a significant impact after having an impressive stint in 2016 with Cardinals coming out of the bullpen. Unfortunately, he missed all 2017 and part of 2018 recovering from Tommy John. He pitched his way to St. Louis in 2018, on for it to be cut short due to season-ending surgery for a torn lat muscle
There's a good chance that he will be on roster big club roster for opening day, and should be. He can easily throw his fastball in the triple digits but can settle into the high 90's if he were to become a starter. He has an effective changeup, but the best off-speed pitch is the curveball. Reyes has a heavy hammer, 12-6 curveball, it's his swing and miss pitch.
A swing and a miss is his specialty. Including the minors and majors, he has a strikeout per 9 ratio of 12.
What makes it more intriguing, according to baseball writer Kyle Glaser, he has been working on a slider. He could have the 4th pitch in his arsenal for the 2019 season.
No doubt he has the potential to be an essential part of that pitching staff, he has the stuff. The only question is if he can stay healthy.
Height: 6'1
Weight: 210
Age: 18
Bats: Left
Throws: Rights
Highest Level: A
Scouting grade:Hit: 50 | Power: 60 | Run: 40 | Arm: 55 | Field: 50 | Overall: 55
ETA for the majors: 2022
The Cardinals might have found their third baseman for the future. They were surprised to still see the Arizona high schooler still on the board at number 19, they drafted him there in 2018 and signed him to a full pick value at $3.2 million. His power came out quickly as he popped for 17 HR between rookie and low A ball. MLB has also noticed as he joins Reyes as the other prospect in the top 100 at 61, and eight overall third baseman.
The ceiling is very high for Gorman. He has quick hands, excellent bat speed. He is your typically left-handed power hitter, along with that 17 HR, also struck out in 34% of his at-bat, on the positive he walked in 9%. He might be a high strikeout guy, but he may also be able to make the pitchers find opportunities.
He is an above average fielder, good arm, he would be able to be a reliable everyday player at the hot corner.
Most likely he'll start his single in Low-A, but if he can continue his power trend, he could end the season with a some promotions
Height 6'3"
Weight 205 lb
Age 22
Highest Level; High-A
Scouting grade: Fastball: 55 | Slider: 70 | Changeup: 50 | Control: 50 | Overall: 45
ETA for the majors: 2021
Roberts was an essential member of the Wake Forest pitching staff, earning all-conference in his sophomore year. The Cardinals selected him with the 43rd overall pick in the 2018 draft.
His fastball ranges in the mid-90s, if he is a starter he'll throw consistency 93-95, he can push it up 97 when coming out of the bullpen. His slider is his specialty. A pitch he relied upon in college was considered one of the best in his draft class. He throws it in the mid-80s, it has a high spin rate, to where some compare it to a power curve.
It's tough to say whether or not he's going to be a starter or move to the bullpen. The Carindals are going to groom him as a starter. For that to happen, his command needs to improve, in 2018 between rookie and low-a, he posted 3.7 walks per 9, but he can also strike them out, posting a 12.9 strikeout per 9 innings also in 2018.
Height: 6'1"
Weight: 200 lb
Age: 24
Highest Level; AAA
Scouting grade: it: 50 | Power: 45 | Run: 30 | Arm: 55 | Field: 50 | Overall: 50
ETA for the majors: 2019
The backstop is sort of a newer position for Knizer, he started at North Carolina as a third baseman but moved to catcher after his freshman season. The Cardinals drafted in the 7th round of the 2016 draft. In his first full season in the Cardinals' farm system, he quickly pushed himself him, ending in Double-A Springfield. He followed that with an impressive Fall League appearance hitting .358.
Last season he continued his upward trend, starting in AA and moved up to AAA Memphis. He also pressed on with offensive skills with an AVG of .313 and an OBP of .368.
With Carson Kelly being shipped off to Arizona in the Paul Goldschmidt trade, Knizner will be the backup to Cardinals' future Hall of fame catcher Yadier Molina. Most wondered with an aging Molina turning 37 this season, why would they trade Kelly? Safe to stay Knizner was a factor in that season.
One of his highlights is his impressive arm. In the minors, he has thrown out 45% percent of runners attempting to steal.
Knizner is ready to be the backup catcher. He'll be able to slip into lineup 30-40 games and be efficient enough to not be a soft spot in the lineup and being able to have one of best catchers in this century will help in only to improve.
Height: 6'5"
Weight: 215 lb.
Age: 24
Highest Level: MLB
Scouting grade: Fastball: 65 | Slider: 60 | Curveball: 50 | Changeup: 50 | Control: 50 | Overall: 55
ETA for the majors: 2019
The Cardinals were very excited went Hudson fell late in the 1st round and took him with the 34th overall pick. The Mississippi State alum has quickly climbed through the Cardinals. In 2016, after only pitching in four innings in the rookie league, he skipped Low-A and advanced to High-A. In 2017, he started in AA Springfield, posting 2.58 ERA in eighteen starts, to end the season in AAA Memphis. Last season, while earning the Cardinals' Minor League Pitcher of The Year, came to the big club and was a great help in the bullpen, posting 2.63 ERA and batters only hitting .196.
He has talent; unfortunately, his biggest problem right now is his control issues. Lasts season in St. Louis, his walks per 9 were 5.9. On the plus side, that did not result in giving up a lot of runs. A starter throughout the minors, they're going to try to groom him that way. There's a good chance the most of his work comes out of the bullpen, but he will have the opportunity to get spot starts and come in early to games as a long reliever.
He has a fastball they stay in the mid-90s, with a heavy sink, the slider is his most effective pitch, coming in with like cutter-like movement. He not gonna blow anyone away by putting K's on the board, but he'll get outs when he needs to.
Check out the rest of our Top-5 Prospect Series | Toronto Blue Jays | Colorado Rockies | Minnesota Twins | Chicago Cubs | Texas Rangers | Atlanta Braves | Tampa Bay Rays | Arizona Diamondbacks | Cincinnati Reds | Kansas City Royals | Seattle Mariners | Miami Marlins | New York Yankees | Los Angeles Dodgers | Detroit Tigers | New York Mets | San Diego Padres | Cleveland Indians | Boston Red Sox |
Questions and comments?
thescorecrowsports@gmail.com
Follow Us on Twitter @thescorecrow
Follow Us on Reddit at u/TheScorecrow
Follow John Supowitz on Twitter @Imthatsupi85
Main Credit Image:"[getty src="968703596″ width="594″ height="396″ tld="com"]