John Supowitz | February 18th, 2019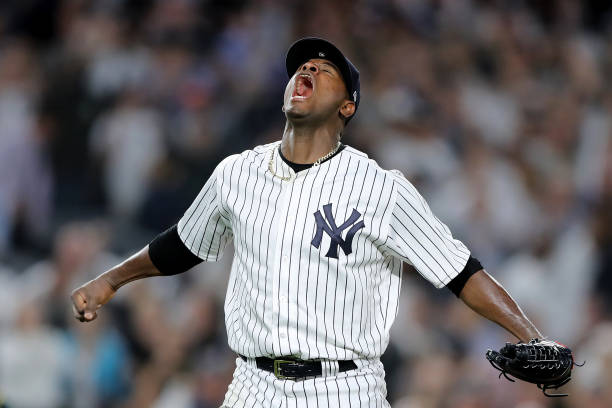 The New York Yankees announced they signed SP Luis Severino to a four-year $40 million extension, with a fifth-year team option. This move has set a positive precedent for the Yankees going forward into the 2019 season.
Severino looked like an AL Cy Young Award front runner during the first half of the season, going 14-2 with a 2.12 ERA through 19 starts. His second half was the reverse. From July 12 until the end of the season, Severino was 5-6 with a 5.69 ERA in 13 starts.
This deal seems to be an excellent fit for both parties. The Yankees know they have an ace-quality pitcher for a lower price than many pitchers of his caliber, they don't have to go through arbitration, Severino knows he's guaranteed $40 million ($52.25 million if his club option is picked up), and he's under contract if there's a work stoppage when the collective bargaining agreement expires after this season.
Severino will be 29 at the end of the four-year initial deal.
Severino is one of the first occasions where the Yanks offered a multi-year extension to a player currently under contract. Being one the first of the young core nearing arbitration, it could be a sign the Yankees are looking to invest in their future.
"Three, four, five years from now, we got a lot of homegrown kids that we love, our fans love, that are going to be coming up for free agency," Yankees owner Hal Steinbrenner said during the owners meeting last month.
The Yankees have a group of young players that have played well in the Bronx simultaneously becoming fan favorites. The Yankee Universe feel this is reminiscent of the late 90's/early 00's teams that delivered four championships in five seasons.
This Severino deal could give the young players confidence knowing their organization is investing in the future. Players like Judge should be excited knowing the front office wants to keep this team together.
MLB.com reported General Manager Brian Cashman received calls about trading Gary Sanchez, but he wasn't talking:
"We're not talking Gary Sanchez with anybody, although I've been asked,"
After a struggling 2018 campaign with injuries, a .186 batting average, and criticism of his skills as a catcher, you would hope he feels better and can focus on a bounce-back season.
The Yankees seemed to be committed to keeping the roster young. Last year, their batter's average age in the lineup was 27.9, 2017 it was 28.6, the last time that number was below 29 was in 1985.
Aaron Judge and Gary Sanchez, both 26 years old, are arbitration eligible going into the 2020 season. Gleyber Torres and Miguel Andújar will reach arbitration going into 2021 season.
Some core players will enter free agency after this season. Didi Gregorius, Aaron Hicks, and Dellin Betances will be unrestricted free agents after this year. The Yankees will try to keep these pieces.
The front office says they want to keep the payroll low. This year they will be the seventh highest payroll since 1998 the previous lowest was two. This will also be the first season the Yankees will be below the luxury tax.
The Yankees General Manager knows they have to keep the payrolls low now so they can pay these players down the line. "…we have to manage our payroll in the present as well as the future,'' Cashman said. "There's going to be paydays coming down, and you have to prepare for those.''
This could be the logical reason why the Yankees may not have offered considerable contracts to Manny Machado or Bryce Harper. In previous years, primarily when "The Boss" George Steinbrenner was in charge, they had no problem, out-spending other teams, to get the big free agent. A lot of those contracts, Carl Pavano, Hideki Irabu, Jacoby Ellsbury for example, have not been money well spent.
Trying to sign players through their arbitration years could be a new trend in baseball. Just days earlier to Yankees locking up Severino, the Phillies signed their ace-pitcher Aaron Nola to a four-year $48 million extension, also having him under contract during his arbitration years.
Questions and comments?
thescorecrowsports@gmail.com
Follow Us on Twitter @thescorecrow
Follow Us on Reddit at u/TheScorecrow
Follow Us on Facebook at The Scorecrow
Follow Us on Instagram at The Scorecrow
Follow John Supowitz on Twitter @Imthatsupi85
Main Credit Image:"[getty src="1049110232″ width="594″ height="396″ tld="com"]