Levon Satamian  | May 29th, 2019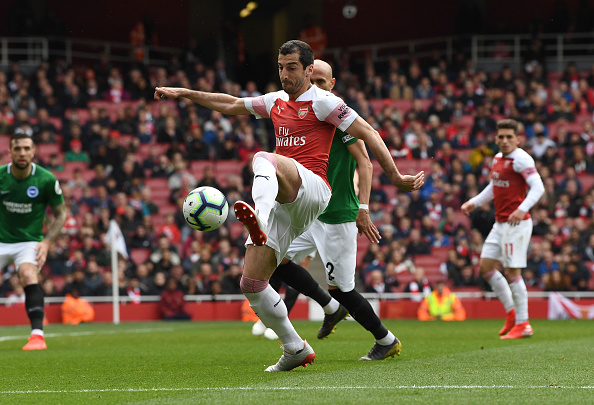 Armenian Midfielder Henrikh Mkhitaryan will not make the trip to Baku because of security concerns relating to the political relations between his country and Azerbaijan.
Mkhitaryan will not play in the Europa League Final because of political tensions between Azerbaijan and his native Armenia. The same political tensions saw him miss Arsenal against Qarabag in Baku earlier this season. This also happened in 2015, when Mkhitaryan was playing for Borussia Dortmund in another Europa League game against Gabala, in Northern Azerbaijan.
Mkhitaryan spoke with his family and decided not to go to Baku, amid tensions between Azerbaijan and Armenia over the disputed ethnically Armenian but geographically Azerbaijani territory of Nagorno-Karabakh, per James Maasdorp. Nagorno-Karabakh also is known as Artsakh, is a landlocked region in the South Caucasus.
Azerbaijan's ambassador told Sky News, "My message to Mkhitaryan would be: you're a footballer, you want to play football? Go to Baku, you are safe there," he said. "If you want to play the issue, then that's a different story." Just because the ambassador says it's safe there, that doesn't mean it's true. He could be saying that for a plateau of reasons. To make Azerbaijan look good, to say I told him it's safe, but he didn't want to play regardless, etc. That way, the blame does not get placed on Azerbaijan, but that's not how it works. Azerbaijan is notorious for its human rights violations. For Mkhitaryan to go there, he will definitely be subjected to threats against his life.
For years, there have been no diplomatic relations between Armenia and Azerbaijan, mainly due to the Nagorno-Karabakh conflict. 2016 was the most recent clash between Armenia and Azerbaijan, where 350 troops were killed from both countries.
Vinai Venkatesham said the decision was one the player and club made together, "We don't feel he can travel to a major European final and that's extraordinarily sad, he has had that opportunity taken away from him, one that is a rare opportunity for any player." In other words, if Mkhitaryan goes to Azerbaijan, there is a chance he will not be able to return to England, and that is a scary thought in and of itself.
UEFA said it respected Mkhitaryan's "personal decision," but Arsenal's Frenchman defender and captain Laurent Koscielny was not pleased. He said, "I am not very happy. First, because we need to leave one player here because he can't play in the final," the Frenchman told the BBC. I think UEFA needs to know about the different problems they can have with the politics in the country. When one country has a problem with another, it should not give the final to that country." For us, it is difficult because we want to have Micki with us. He is an important player for us." Mkhitaryan's presence will be missed on the pitch for Arsenal.
Former Arsenal coach, Arsene Wenger had an input on this situation as well. He said, "The Mkhitaryan situation is something that should not happen in football, I feel it's not normal that in 2019 — inside Europe, with very sophisticated democracies — that you cannot play for political reasons."
Arsenal goalkeeper Bernd Leno on Mkhitaryan not playing in Baku, "It's a scandal that he cannot play because of that, he works hard all season and cannot come to such a final for political reasons. I'm just sorry for him."
Legendary Midfielder Emmanuel Petit said, "When you decide to hold a European final so far away from the usual destinations then you need to anticipate problems such as Mkhitaryan's. It's a disgrace. Arsenal and Mkhitaryan are the victims, and I'm very disappointed with UEFA."
Arsenal defender, Sokratis Papastathopoulos said, "I don't like to be in his position, really. I am very sad he will not be with us. He's a good player and a very big player. We are sad, but we also have to play for him and for the players who were injured in the year."
Ronan Evain, CEO of the Hamburg-based Football Supporters of Europe organization, said, "We have to maintain pressure on UEFA and other football governing bodies to ensure that this kind of game does not happen again. Because it's not acceptable. We're all put in the situation where we are part of the whitewashing exercise because that is the strategy of the Azerbaijani authorities."
I am a native born Armenian of Yerevan, like Mkhitaryan. I know full well, the pogrom's that were committed against the Armenians in Azerbaijan and elsewhere, I strongly agree with Mkhitaryan's reluctance to travel to Azerbaijan.
Questions and comments?
thescorecrowsports@gmail.com
Follow Us on Twitter @thescorecrow
Follow Us on Reddit at u/TheScorecrow
Follow Us on Facebook at The Scorecrow
Follow Us on Instagram at The Scorecrow
Follow Levon Satamian on Twitter @TheSportsNotes
Main Image Credit: