John Lepore | March 25th, 2019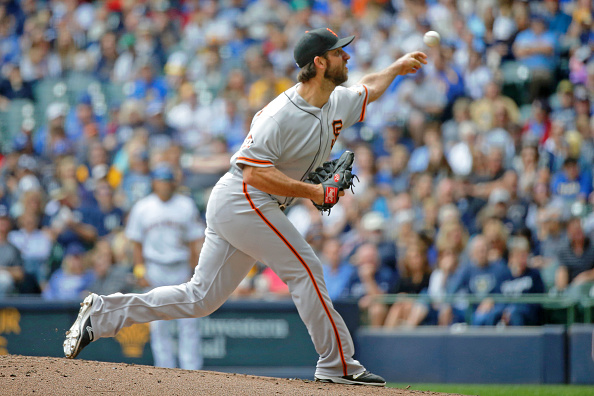 The San Francisco Giant even-year magic came to an end in 2016. They had won the World Series in 2010, 2012, and 2014. In 2016 they beat the New York Mets in the WC game on a Conor Gillaspie 3-run homer off Jeurys Familia in the ninth and a CG shutout by who else but MadBum himself. That year they couldn't get past the Cubs. For the past two years, they haven't been close to good. With an aging team and not much in the farm system, let's take a look at what the Giants have in store this year.
Last Season: 73-89 4th in the NL West
The roster needs to be overhauled. Although they might have one more run in them, it's probably time to move on from their aging players. They've tried to bring in new people to stay competitive like Evan Longoria and Andrew McCutchen. The fact still remains that this team needs a rebuild.
Catcher/Infield Projections
Buster Posey missed almost 60 games last season. If the Giants are going to be competitive he needs to be in the lineup. Even before he went on the IL, he was having the worst season of his career. It's time to move to first base permanently. That brings us to Brandon Belt. If the Giants find themselves out of the playoff race, this would be a perfect time to trade him. He has three years left on his deal and the Giants could move Posey to 1B long term. Panik is another player who can't seem to stay healthy. He has never played more than 140 games in a season and he was downright bad last year. He is still only 28 years old so he's the young guy in the infield and he's shown flashes of being a very good MLB player. Brandon Crawford's defense is great. His bat…meh. The past two years he's had a .709 and .719 OPS respectively. Evan Longoria may have needed a year to adjust to a new team and league. It was the first time in his career his OPs was below .700. It was also the first time since 2012 he didn't play 150 games. Although he should find his bat again this season, he is another aging star on this infield. Solarte was a nice pickup. He can be the Swiss Army knife for them and will be serviceable.
Outfield Projections
Mac Williamson has some pop and he showed a bit more plate discipline last year. He will have a chance to seize the LF spot and hang onto it for a while. Steven Duggar is the prized pupil. In his first taste of the majors last year he held his own. Duggar was an excellent fielder in CF and slashed a respectable .255/.303/.390. While that doesn't seem like much, the Giants are hopeful that his spring stats (.341/.372/.463) indicate an improvement. Gerardo Parra was brought into man RF. At this point, he's probably the best OF the Giants have. Parra has been solid throughout his career and may do well at AT&T Park as he has always been a gap and line drive hitter. The expectation is probably around .280/.340/.420.
Starting Rotation Projections
MadBum will be the one everyone is looking for. How will he do? Much has been made about a decline. I don't see it. The man is 29 years old and, despite the loss in velo last year, has it back up this spring. While the K-rate has declined significantly (10-8.2-7.6) over the past three years, one has to wonder if that was due to change of routine and injury rather than overall fatigue. The Shark will have to prove himself. He's the innings eater, although that wasn't the case last year for the first time since 2012, which was the last time he threw fewer than 200 innings. His first two years in SF he had a 4.12 ERA and started 64 games. That's what the Giants need as a third or fourth starter. It doesn't fit the bill as a number two. Dereck Rodriguez was pretty good last year. The son of Hall of Famer Pudge Rodriguez has a pretty good arm, as expected. He knows how to pitch also. While he doesn't miss a lot of bats as indicated by his 6.8 K/9, he also has a 2.7 BB/9 rate and a 0.7 HR/9 rate. He pitches in one of the best parks also. Pomeranz and Holland should be stopgaps for a bit. One of them will give way to Suarez with injury or poor performances.
Bullpen Projections
Will Smith should be the closer. We all know Melancon has the experience but Smith is the better pitcher. Melancon was hurt but when he pitched he had a 14/31 BB/K rate while Smith had a 15/71 BB/K rate. Dyson and Watson will be the main guys in the middle innings getting the tough outs. Watson is a lefty and Dyson is a righty so it works out for Bruce Bochy. Trevor Gott and Nick Vincent were brought over and Montoya needs to work on his control but he does have good stuff and could be an integral part of that bullpen for a while.
Predictions
Looking at the bright side, the Giants could have all of their older players find a renaissance for a year and contend for a playoff spot. Belt, Crawford, and Longoria all revert back to 2016 and post up great numbers while maintaining Gold Glove defense. Duggar could be a phenom. The pitching staff could be good with MadBum anchoring it along with Shark and D-Rod. Even Pomeranz and Holland locking down the four and five slots would be great.
Realistically, the team is old and has no help in the minors. It's time for a rebuild. The Dodgers are the class of the NL West right now but they may fade in the next couple years. Colorado looks good but they don't know how to manage their system. San Diego is up and coming but only time will tell if they can be great or if they spent all their money on Hosmer and Machado for nothing. The Diamondbacks are in a rebuild with an aging albatross in Greinke and a bunch of decent players. The NL West can be won by the Giants in 2020 or 2021. Not this year though. This year will be to trade the big pieces for young guns who will help in a couple of years.
Check out our other Team Previews | Colorado Rockies | Toronto Blue Jays | Minnesota Twins | Atlanta Braves | Chicago Cubs | Tampa Bay Rays | Arizona Diamondbacks | Miami Marlins | Cincinnati Reds | Seattle Mariners | Texas Rangers |Los Angeles Dodgers | New York Yankees | Milwaukee Brewers | San Diego Padres | Detroit Tigers | Kansas City Royals | Cleveland Indians | Oakland A's | Philadelphia Phillies | Boston Red Sox | New York Mets | St. Louis Cardinals | Pittsburgh Pirates | Washington Nationals | Houston Astros | Baltimore Orioles | Los Angeles Angels
Questions and comments?
thescorecrowsports@gmail.com
Follow Us on Twitter @thescorecrow
Follow Us on Reddit at u/TheScorecrow
Follow Us on Facebook at The Scorecrow
Follow Us on Instagram at The Scorecrow
Follow John Lepore on Twitter @jball0202
Main Credit Image: [getty src="1029944544″ width="594″ height="396″ tld="com"]