Mike Fanelli| April 8th, 2019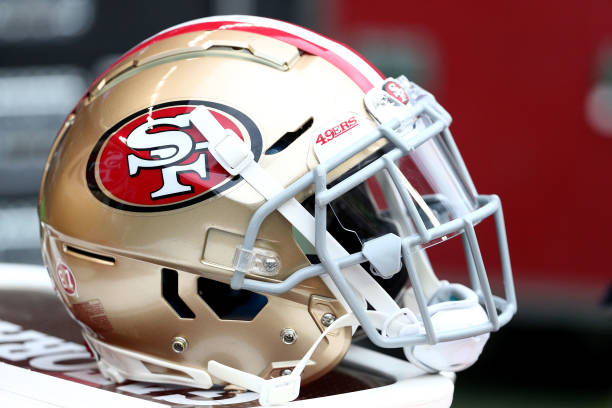 The 2019 NFL draft is less than a month away and teams are putting the finishing touches on their player evaluations. Every year we see several surprising picks that come out of nowhere like when the Seattle Seahawks drafted Rashaad Penny in the first last year. Everyone loves mock drafts so here is a seven round mock draft predicting every San Francisco 49ers' pick. To help with this mock draft, I used the fanspeak on the clock simulator.
Round 1, 2nd Overall: Nick Bosa, EDGE, Ohio State
The 49ers have spent three of their last four first-round picks on defensive linemen. However, they haven't gone the production out of the trio they had hoped for. Earlier this offseason they traded for former Chiefs' pass rusher Dee Ford and are hopeful he proves impact off the edge. However, Ford has been very inconsistent throughout his career and the 49ers can't rely on him. Instead, adding Bosa to Ford and the trio of Solomon Thomas, Arik Armstead, and DeForest Buckner would give the 49ers arguably the best front four in the league.
A year ago at this time, Bosa was viewed by many as the top prospect in the 2019 draft. However, after having his junior year cut short by a core muscle injury and the emergence of Quinnen Williams, Bosa has to some degree been underappreciated. Bosa has a non-stop motor with an ideal build and has very developed hands despite only playing in 29 games at Ohio State. Despite playing just three games as a junior, Bosa had four sacks and was unstoppable in the season opener verse Oregon State.
Nick Bosa is so damn good. pic.twitter.com/OWM9ZVsK4V

— Jordan Reid (@Jordan_Reid) September 1, 2018
Round 2, 36th Overall: N'Keal Harry, WR, Arizona State
After Jimmy Garoppolo suffered a torn ACL in week three last season, the 49ers offense was never the same. Starting wide receivers Marquise Goodwin and Pierre Garcon both struggled and had career low seasons. Goodwin has a long injury history while the team released Garcon earlier this offseason. 2018 second round pick Dante Pettis played well during the second half of the season and the 49ers did sign Jordan Matthews in free agency but the team needs to give Garoppolo another weapon.
While D.K. Metcalf stole all the headlines at the combine with his freakish performance, Harry had a great day as well. The 49ers have put together a good young offense around Garoppolo with Pettis and 2018 break out star George Kittle. Adding Harry to that trio will give the 49ers one of the best young offenses in the league. Harry does an excellent job with back-shoulder throws and is a very good athlete. His excellent yards after the catch ability combined with his great hands will all but guarantee him a top 40 selection.
#ASU WR N'Keal Harry with the casual one-handed catch at his pro day. #NFLDraft pic.twitter.com/1ULtctyGGf

— Cole Topham (@HamAnalysis) March 28, 2019
Round 3, 67th Overall: Justin Layne, CB, Michigan State
Earlier this offseason the 49ers signed former Chargers' cornerback Jason Verrett to go along with starters Richard Sherman and Ahkello Witherspoon. However, Verrett has played in just five games over the last three seasons because of injuries and the 49ers simply can't count on him to stay healthy. Given all the good wide receivers in their own division, let alone the entire NFC, the 49ers need to add at least one cornerback during the draft.
Layne has been rising up draft boards since his good performance at the combine in early March. As a former wide receiver, Layne has only two years of experience as a full-time cornerback. However, he had three interceptions and 23 passes defended in 24 games as a cornerback at Michigan State. Layne's good combination of size, length, and movement skills makes him a good fit for the 49ers defense.
https://twitter.com/ezlazar/status/1111085695882481665
Round 4, 104th Overall: Marquise Blair, SAF, Utah
Tartt Jaquiski has one starting safety spot nailed down, but the other safety spot lacks a clear starter and adding some competition is necessary. Blair plays like his hair is on fire and is always aggressive attacking the ball carrier. However, sometimes his aggressiveness burns him as he gets called for penalties and misses tackles. Blair's good range and speed will make him a good center field playmaker in the NFL.
I had a 1st round grade on Marcus Williams coming out, and sure enough, there's another Utah free safety I really like. Marquise Blair is a centerfielder with good range and play speed. He's not quite on his caliber, but he's cut from the same cloth as Williams. Mid-round steal. pic.twitter.com/dOsHJUisl9

— Jonah Tuls (@JonahTulsNFL) December 19, 2018
Round 6, 176th Overall: Nate Herbig, iOL, Stanford
Starting right guard Mike Person is solid but the 49ers should draft a guard to challenge him. Herbig doesn't get a lot of hype but he can make plays; especially in the run game. Herbig is a three-year starter who was named to a Pac-12 All-America team twice. The 49ers have a number of good running backs on their roster and should take advantage of that. Given how well Herbig moves in the run game, he would be an excellent addition for the 49ers.
Look at all 330 pounds of RG #63 Nate Herbig get movin' to the outside here pic.twitter.com/LVBrdhBGXd

— Benjamin Solak (@BenjaminSolak) November 20, 2018
Round 6, 212th Overall: Blake Cashman, LB, Minnesota
After adding former Buccaneers' linebacker Kwon Alexander in free agency, the 49ers plugged their biggest need on defense. However, the depth at linebacker is very thin and that's an issue given Alexander's injury history. Coming off a torn ACL from last season, it's unclear if Alexander will be ready for week one. Cashman is the best linebacker in this draft that very few are talking about. During his time at Minnesota, he went from walking on to 104 tackles his senior year; including 15 for a loss. Cashman is an excellent run-stopping linebacker with a non-stop motor.
Two blockers. One Blake Cashman.

Winner: Blake Cashman pic.twitter.com/CeF9yuGITc

— Jonah Tuls (@JonahTulsNFL) March 4, 2019
Check out our other Team Mock Drafts: Washington Redskins | Indianapolis Colts
Questions and comments?
thescorecrowsports@gmail.com
Follow Us on Twitter @thescorecrow
Follow Us on Reddit at u/TheScorecrow
Follow Us on Facebook at The Scorecrow
Follow Us on Instagram at The Scorecrow
Follow Mike Fanelli on Twitter @Mike_NFL2
Main Image Credit: [getty src="1081182114″ width="594″ height="396″ tld="com"]