With the signing of wide receiver Kenny Britt, the New England Patriots filled a need in their undersized receiving corps.
At 6 feet 3 inches tall, Britt becomes one of their tallest targets on the team with only tight ends Jacob Hollister and Rob Gronkowski ahead of him.
One also cannot ignore the fact that he is indeed a Rutgers alum. In fact that was the first thing Patriots safety Devin McCourty jokingly mentioned as one of the best things about the new wide receiver.
"He's a Rutgers guy," McCourty said. "Do we need to expand on that?"
Britt also has a long standing playing relationship with the McCourty family. The wide receiver played alongside Devin's twin brother, cornerback Jason McCourty in Tennessee before moving on to the Rams. The pair reunited in Cleveland this season and by moving from the Browns to the Patriots Britt moves from one McCourty to another.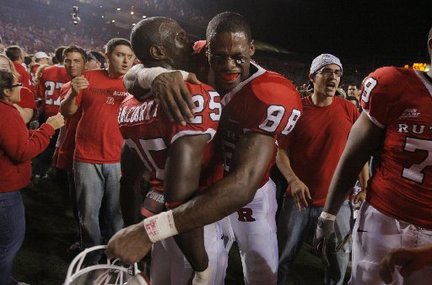 McCourty then when on to talk about how while it is great to play with a former college teammate, he has a long road ahead to catchup with the playbook and the team.
"I'm excited for him – the opportunity to come here and try to catch on," McCourty said to MassLive.com. "Obviously, it's tough coming in at this point in the year, just trying to learn as much as possible and get out there. It's always exciting to have a guy you played with in college as a teammate in the NFL."
McCourty's fellow safety Duron Harmon who came into Rutgers the year Britt left for the NFL, also made his feelings known that you can never go wrong with another former Scarlet Knight and hopes he can make an immediate impact with the team.
"Another Rutgers guy," Harmon said to nesn.com. "You can never be mad about that. He's been in the league for a while. Everybody knows what he's about, big physical receiver. Happy to have him here. Hope he can help us."
Fans of the Patriots and analysts of the team have likened this signing to the addition of Michael Floyd last season. However, based on his previous full season with the Los Angeles Rams and his ties with one of head coach Bill Belichick's favorite schools to draft from, one cannot help but think he may turn out better than what Floyd was for the team.