Nickolas Loza | April 3rd, 2019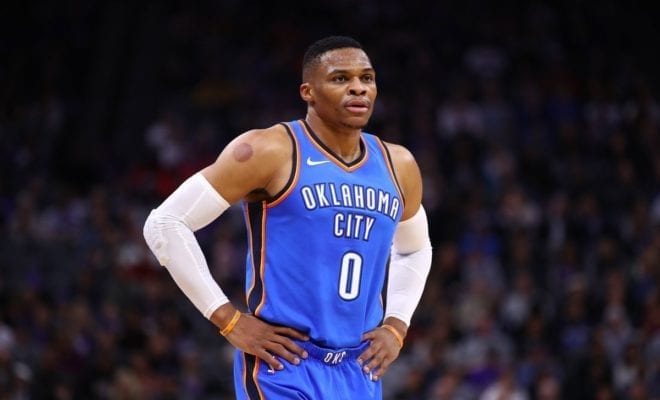 Russell Westbrook and the Thunder went into a game against the Lakers looking for their 45th win, and they helped their All-World Point Guard do something truly special. The Lakers in this game were without LeBron James, so the Thunder were heavily favored, and with the Thunder at home, they were favored to win by most people.
The Record Itself and How Historic It Truly Is
Before this game, only one player had achieved a game of 20 points, 20 rebounds, and 20 assists, his name was Wilt Chamberlain, the greatest player of his generation and considered by many to be one of the most dominant athletes of all time. Russell Westbrook came into this season having two straight seasons averaging a triple-double per game (10/10/10) which is a monumental achievement. He came into this game wanting to secure a third straight season averaging a triple-double, and this game all but secured that achievement. He gets saddled with many crazy narratives, like "Stat-padder" "Russ is a bad teammate", and many more which are disrespectful towards his greatness. He managed to do something only one other player has done, so he made his critics shut up by putting up a historic game.
The Game Itself
This was the 78th game for the Thunder, who own the eighth and final playoff spot in the West, and if the playoffs started today they would face the Warriors which has its fair share of narratives. The Thunder as said earlier were heavily favored and came out firing on all cylinders, once the first half was over the Thunder were up by four, but once the third quarter started, it was all over for the Lakers, the Thunder jumped on them and once the quarter was over they had a 16 point lead. They would end the game with a Russell Westbrook rebound with 40 seconds left to secure history, and they would win the game 119-103, getting their 45th win.
Wilt Chamberlain and Russell Westbrook Statline Comparison
All the way back on February 2nd, 1968, Wilt Chamberlain got 22 points, 25 rebounds, and 21 assists on 9/13FG shooting. This was recognized as one of the NBA's most unbreakable records, until recently when Russell Westbrook started putting up these crazy numbers. In this game, Russell Westbrook got 20 points, 20 rebounds and 21 assists on 8/23FG shooting. He distributed the ball at will and dominated this entire game.
Concluding Thoughts
In conclusion, people should stop disrespecting Russell Westbrook for stat-padding and appreciate greatness, because greatness like this only comes around every now and again. We should be glad we get to witness this generations stat god. This was a truly historic game.
Questions and comments?
thescorecrowsports@gmail.com
Follow Us on Twitter @thescorecrow
Follow Us on Reddit at u/TheScorecrow
Follow Us on Facebook at The Scorecrow
Follow Us on Instagram at The Scorecrow
Follow Nickolas Loza on Twitter @SportsGuyV2
Main Credit Image: https://www.google.com/imgres?imgurl=https%3A%2F%2Fbasketballforever.com%2Fwp-content%2Fuploads%2F2019%2F01%2F879198052.jpg.1513180814-660×400.jpg&imgrefurl=https%3A%2F%2Fbasketballforever.com%2F2019%2F01%2F03%2Fthe-nba-rule-change-which-ruined-russell-westbrooks-free-throw-shooting&docid=4TezUUtAaX1xWM&tbnid=-lR3FLN_PQ0CMM%3A&vet=10ahUKEwjn_Z6JjbPhAhWKPN8KHc6PDHIQMwhhKBQwFA..i&w=660&h=400&bih=920&biw=1904&q=free%20images%20of%20russell%20westbrook&ved=0ahUKEwjn_Z6JjbPhAhWKPN8KHc6PDHIQMwhhKBQwFA&iact=mrc&uact=8