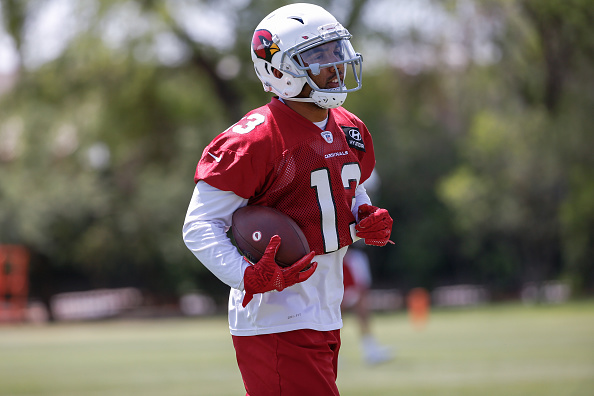 Wide receivers are probably the second most valuable position in fantasy football next to running back. Here's a look at five wide receivers, the situations they landed in, and their 2018 projections. Also, just in case you missed it, you can check out our rookie quarterback preview here and our rookie running back preview here.
Christian Kirk
Christian Kirk landed in probably the best situation of all wide receivers. Kirk is a bit undersized at 5'10 but has a solid frame at 200 lbs. and ran a 4.46 at the combine. His best year was as a freshman. His production slowed down in his sophomore and junior seasons but never fell off. His explosiveness was always on display and often drew the comparison to Odell Beckham Jr. Being drafted by the Arizona Cardinals put Kirk in one of the best positions. Arizona has been desperate for a true complement to Larry Fitzgerald since Anquan Boldin. There isn't a whole lot of competition in front of him and he should have good quarterback play from Sam Bradford or Josh Rosen. He can emerge quickly onto the scene. Christian Kirk's ability and the Cardinals' depth chart is the reason he's tagged as the top rookie wide receiver in this class.
2018 Prediction: 79 Receptions; 936 Yards Receiving; 8 Receiving TDs
Michael Gallup
Michael Gallup has true upside potential but couldn't have been drafted by a worse team from a fantasy perspective. The Dallas Cowboys selected the 6'1 198 lbs. wide receiver from Colorado State in the 3rd round of the NFL draft. In his only two seasons at Colorado State Gallup posted a line of 76-1272-14 as a junior and 100-1418-7 as a senior. His production was unbelievable at Colorado State but being drafted by the Cowboys, who added Deonte Thompson, Allen Hurns, and Tavon Austin in the off-season, means a crowded depth chart. The Cowboys are also going to feed Zeke and will mostly be a run-first team. I think Michael Gallup's upside is great but he has boom or bust potential due to the crowded depth chart.
2018 Prediction: 72 Receptions; 992 Yards Receiving; 7 Receiving TDs
Courtland Sutton
Courtland Sutton is another wide receiver like Michael Gallup. He has tremendous upside potential but might be hamstrung by the presence of Demaryius Thomas and Emmanuel Sanders. Sutton has great size standing at 6'4 and weighing 218 lbs. but only ran a 4.54 at the combine which is good but not great. However, at 6'4 Sutton can be a great red zone target and also play outside the numbers allowing Emmanuel Sanders to play mostly out of the slot where he's looked the most comfortable. I expect Courtland Sutton to earn playing time in the Denver Broncos offense but it will be mostly as the third wide receiver.
2018 Prediction: 66 Receptions; 965 Yards Receiving; 8 Receiving TDs
Calvin Ridley
Calvin Ridley is another rookie wide receiver stuck in purgatory. Drafted by the Atlanta Falcons with the 26th overall selection joins fellow Alabama star wide receiver Julio Jones. Ridley's best overall season probably came as a freshman for the Crimson Tide but he posted his highest YPC (15.3) in 2017. Ridley is listed at 6'0 on a 190 lbs. frame and he is going to have to bulk up and add some muscle to compete in the NFL. The upside for Ridley is that he gets drafted into a situation where they have a legitimate franchise quarterback. The problem, however, is Pro-Bowl wide receiver Julio Jones and number two wide receiver Mohamed Sanu. Calvin Ridley was a first round pick and will see the field this year but there are a lot of mouths to feed in Atlanta.
2018 Prediction: 65 Receptions; 808 Yards Receiving; 6 Receiving TDs
D.J. Moore
D.J. Moore is a talented player that finds himself in a less suitable environment for wide receivers. Personally, I do not trust most wide receivers from the Carolina Panthers. I trust the organization to select and groom wide receivers as much as I trust the Jets to groom quarterbacks. Unlike some of the landing spots for other wide receivers, Moore has an opportunity to start very early in the season as the number two wide receiver. I think he's capable of beating out Torrey Smith or Curtis Samuel for a starting position. I don't like the situation for Moore because of Cam Newton's inconsistent quarterback play and his instincts to run first when a play breaks down. Aside from the lack of quality depth at wide receiver, you can fully expect Greg Olsen to be involved in the passing game as well as second-year running back Christian McCaffrey. Overall, I like the player, but don't like the situation for this upcoming season.
2018 Prediction: 51 Receptions; 721 Yards Receiving; 5 Receiving TDs
Questions and comments?
thescorecrowsports@gmail.com
Follow Us on Twitter @thescorecrow
Follow Us on Reddit at u/TheScorecrow
Follow The Maj on Twitter @themaj381
Main Credit Image: [getty src="968029290″ width="594″ height="396″ tld="com"]