The New England Patriots lost to the Kansas City Chiefs on Sunday afternoon, 23-16. But were the Chiefs their only opponents?
Bad officiating in the NFL is a story as old as time. Non-calls. Phantom calls. Flags that get picked up. The refs overdid themselves this time.
The Patriots' defense was having a tremendous night with both an interception and a blocked punt. They added a cherry on top of their performance by causing Travis Kelce to fumble the ball late in the third quarter.
Cornerback Stephon Gilmore scooped up the ball and looked to be on his way to the end zone until the whistle blew for no apparent reason.
What was the mysterious reasoning? They ruled Kelce down by contact. You be the judge.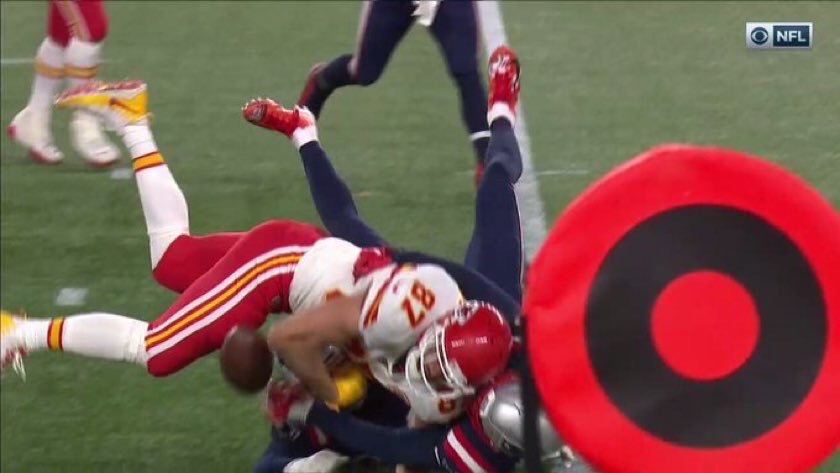 Officials are told to let the play go on and then take a look at it afterward when the play gets reviewed, as all turnovers and all scoring plays get looked at a second time.
That's one touchdown the referees took off the board for New England.
Brady and co. got the ball back and proceeded to drive down the field to score what appeared to be a touchdown. However, once again, the refs decided to let their voices be heard and called receiver N'Keal Harry out of bounds before stretching for the pylon. Again, you be the judge.
"That foot is out of bounds"
– professional referee standing three inches away pic.twitter.com/OxMG9dc4fX

— feitelberg (@FeitsBarstool) December 9, 2019
The Patriots had to settle for a field goal after Jakobi Meyers dropped what would've been a touchdown pass by Brady.
It didn't end there, though.
During the last drive for New England, they were moving quickly once again. On a deep lob to Phillip Dorsett, this happened.
Looks clean to me!

— Pat (@BarstoolPAT) December 9, 2019
While the NFL rule book can get confusing, I'm sure they don't tell you to hold both of the receiver's arms down before the ball gets there.
There was also an obvious illegal Kelce pick play that they didn't call earlier in the game that ended up leading to a K.C. touchdown.
You can never put 100 percent of the blame for a loss on the officiating. There were plays out there that the Patriots missed; that's a fact. New England certainly did enough to lose the game. But when you also do enough to claw back into the game just to have your best efforts thwarted by an opponent you can't defeat, it's a tough loss to swallow.