Sweeny Murti has been one of the premier Yankees beat reporters for more than 20 years now.
He was kind enough to answer a few questions from PTST's own, Marcus Guy.
Marcus
Thank you for joining me, Mr. Murti.
Sweeny
It's my pleasure.
Marcus
You do many different things at WFAN and with the Yankees. How would you describe your position?
Sweeny
Well, the job title is beat reporter, but it has kind of changed over the years because people can get their information a lot quicker, and in different ways now than when I started. So, it is still about getting information to people, but it's also some analysis of that information. I think early on when I started,I don't think I was as comfortable with the analysis because I hadn't yet established who I was or what I was able to do. So, nowadays the information is good, but I think the analysis is key, and I think people probably accept what I am saying more easily because I have developed some credibility through my position and experience.
Basically, the idea is, you eat, breath, and sleep Yankees baseball for as long as possible and in a very different way than the fan does.
Marcus
You grew up near Philly and went to Penn State for college. Were you a Phillies fan growing up?
Sweeny
I was. I grew up around Harrisburg, Pennsylvania, which is about two hours west of Philadelphia. My parents moved to the US from India in the early 60's, and they moved to Philly. My dad went to school there at the University of Pennsylvania.
He first started following baseball, and became a Phillies fan, and as a result, so did I.
A lot of people seem surprised about that, and they're taken aback, but as I told you earlier, my job isn't to root for the Yankees, my job is to report on them.
Reporting is not rooting. They are vastly different things.
Often, people are unsure how to take that, but think about the players too. Most of the players do not end up playing on the team they grew up rooting for. They are trying their best to do their job.
The same applies to us reporters.
Our rooting interest developed a long time before we actually started to choose our careers.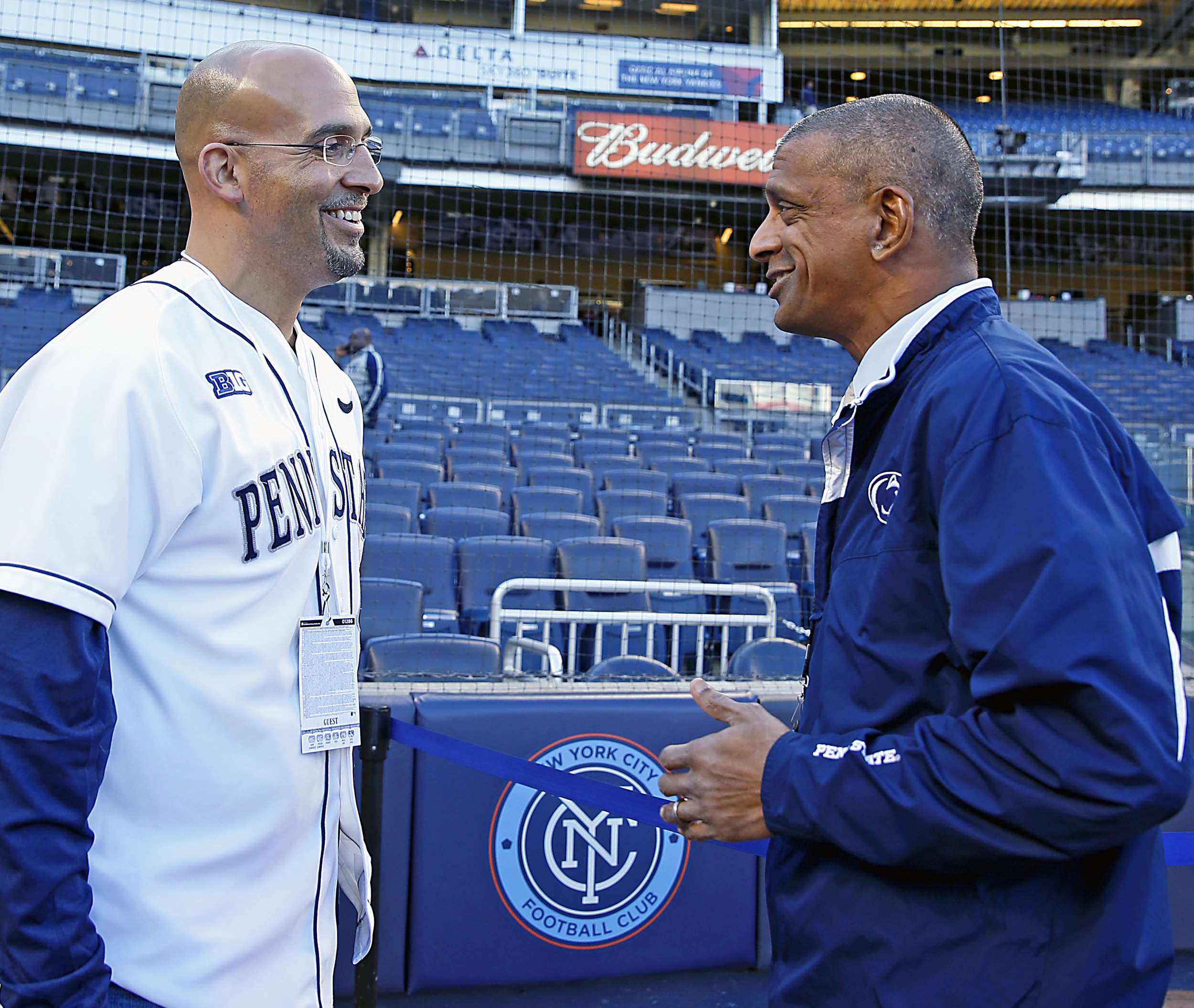 Marcus
Did you have any feelings for the Yankees before you joined WFAN?
Sweeny
I really admired Yankee history growing up. I had a poster of Mickey Mantle on my wall when I was a kid. I remember reading a book about him when I was in fifth grade, and though he retired before I was born, he became one of my favorite players. So, I always had the appreciation for that, and as a fan of baseball history, I knew the kind of success and stars they had throughout the years. You have Ruth, Gehrig, DiMaggio, and Mantle and all these other guys as you're going along.
When I was first old enough to really appreciate the World Series, the Yankees were there, in '77 and '78. I was seven, eight years old at that time, so I was watching Reggie, Thurman, and those guys and got a real appreciation for that.
So, I always appreciated who the Yankees were from a historical perspective.
When I got an internship at WFAN in the early 90's, I was mostly interested because they broadcasted Major League Baseball games, (at the time they were broadcasting Mets games). I set out to apply for internships at a handful of the radio stations that broadcasted baseball games, in Philadelphia, Pittsburgh, Baltimore, New York, places like that. So WFAN is the one that I was able to land, and everything good in my life has happened since.
Marcus
Would you say you are a 'professional' Yankee fan as opposed to a 'personal' one?
Sweeny
I wouldn't say I'm a professional Yankee fan. I wouldn't ever describe myself as a fan at all. I like it when they win, and I think that everybody who covers a team finds the people around that team more enjoyable to talk to when they are winning as opposed to when they are losing. But I can't let the emotions of winning or losing affect how I do my job.
That is the difference between a fan and a reporter.
Marcus
After you graduated Penn State and interned at WFAN, you worked at a few other sports media jobs around Pennsylvania, in Harrisburg and Gettysburg. You joined WFAN as a full-time employee in '93. What was that "I made it" moment for you?
Sweeny
I remember that I had written a note to myself on New Year's Eve, when I was 15 years old. It was 1985 going into 1986. I decided by that point what I wanted to do, I knew that I wanted to be on the radio talking about sports. So I made a note to myself that I would be on the air in Philadelphia by 10 years from then, on New Year's Eve, 1995, going into 1996.
You know, from the time I was 15, my goal was getting to a major market like Philadelphia and being on the radio within 10 years.
Well, I was still a producer at the time, but I was working some part time updates shifts, and I got a shift on New Year's Eve. My last update was at midnight, so I did the New Year's update at midnight, December 31 – January 1, exactly 10 years after I wrote myself that note. Though it wasn't in Philadelphia, it was in New York, I was on the air in a major market.I probably don't have that note anymore, but I remember writing and sticking it away somewhere. If I looked hard enough in my parent's basement, I probably still have it…
I probably don't have that note anymore, but I remember writing and sticking it away somewhere. If I looked hard enough in my parent's basement, I probably still have it…
I probably don't have that note anymore, but I remember writing and sticking it away somewhere. If I looked hard enough in my parent's basement, I probably still have it…
I probably don't have that note anymore, but I remember writing and sticking it away somewhere. If I looked hard enough in my parent's basement, I probably still have it…
That was that moment.
I set a goal for myself, and I accomplished it.
Marcus
Who was your favorite player growing up? Mike Schmidt?
Sweeny
I had a lot of favorite players growing up, but you know, it is funny because Schmidt was the best player the Phillies have ever had, and he was certainly someone I rooted for. But I liked so many players on those teams, Steve Carlton, Gary Maddox, Larry Bowa, Manny Trillo, those are all guys that I really loved watching. I don't know that I was as obsessed with one player the way, a lot of Yankees fans were with Derek Jeter, or Mets fans with David Wright. Mike Schmidt was always the best player and I knew that, but I had a lot of different players I was rooting for, for different reasons.
When I was playing Little League, I played the infield, so I liked Manny Trillo, as he was a second baseman. There was also Larry Bowa, who was a little guy and I wasn't a big guy, so I kind of identified more with him. Those are all the different things I found when I was trying to think of somebody that I would think of as my favorite player.
Marcus
The Yankees have made many high profile moves since you joined them. Some have worked out better than others. What is the move that you were sure the Yankees were going to make but did not?
Sweeny
Probably Bryce Harper, going back a couple of years to the year he won the MVP, in 2015.
Yes, he still had a couple of years until free agency, but I remember at the time thinking, this is the best player in the game, and he just won an MVP at age 23 or whatever it was… he's going to be Yankee.
I got that sense not just from the historical idea of they're the Yankees and they're going to try to collect great players. He grew up a Yankees fan, the Yankees kept up a relationship with him from the draft, and of course, they didn't end up drafting him, but there was obviously still some connection there that made me believe that he was going to be here one day. But the closer we got to free agency, a lot of other things happened, and it just never got there. But even when he was a free agent, and the Yankees were saying they weren't interested, he was the type of guy where I said, I'm not going to believe he's not a Yankee until I see him holding up some other uniform, until I see him standing in a different stadium, I'm not going to believe it's true.
It took a while, but the Yankees had gone in several different directions.
Like I said, in the three years after his MVP season a lot of other things happened, between Aaron Judge, Giancarlo Stanton, Gleyber Torres, and all that.
So there were a few different reasons why it didn't happen that way. But my answer would be Bryce Harper.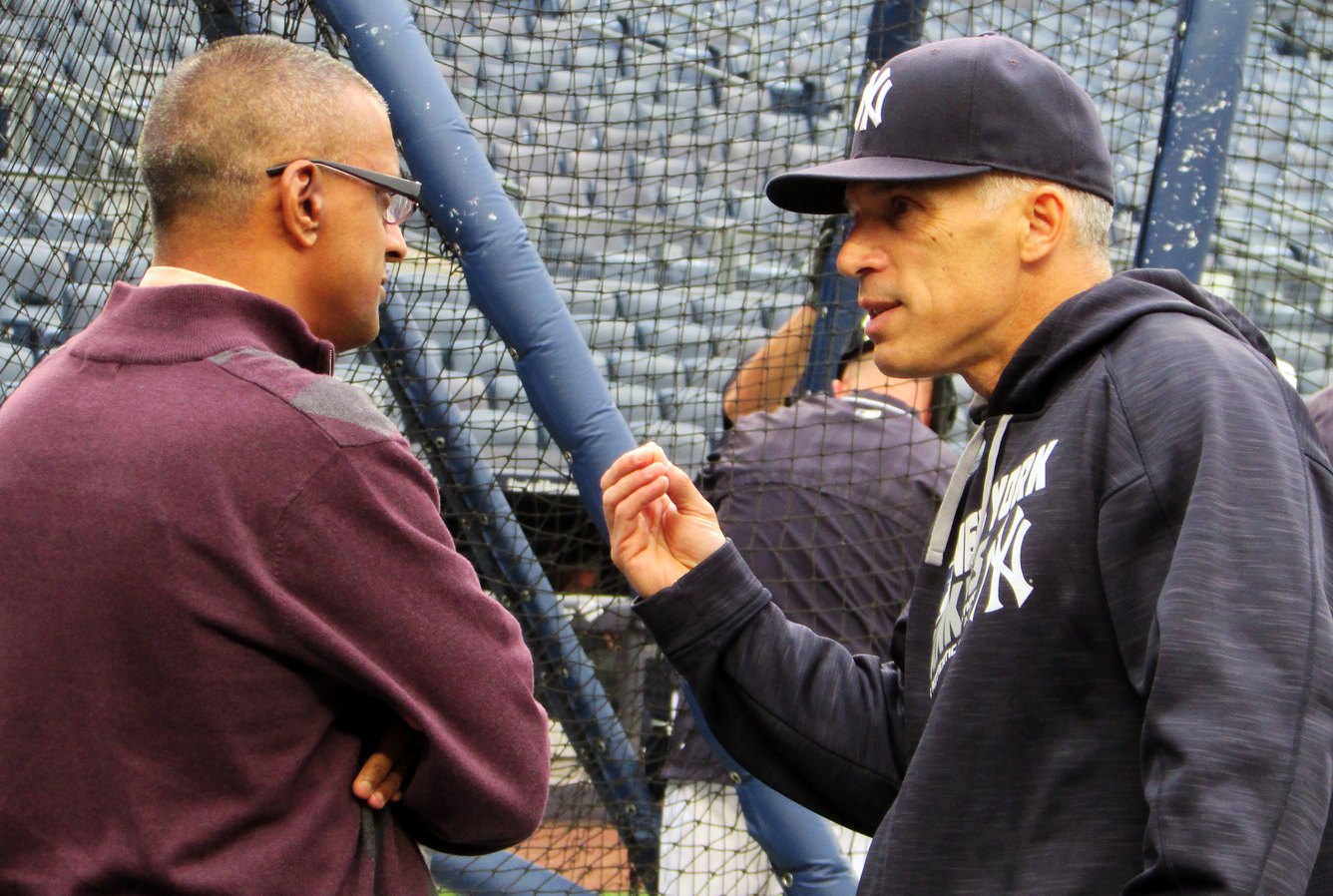 Marcus
What's a move that completely blindsided you, and you totally didn't see coming?
Sweeny
There's a lot of them, but I'm going to say when they traded for A-Rod, because I had a friend of mine who was a big Yankees fan, and he told me when Aaron Boone went down with a knee injury, that "they need to go get A-Rod". I was thinking to myself, "Come on, that's never going to happen…", but a month later, there he was.
They somehow made it happen. The Yankees had a shortstop, they just needed a third baseman, and they took a shortstop, from another team – was the best player in the league at that time, and turned him into a third baseman. When that happened, I said nothing short of Babe Ruth walking into the Yankees clubhouse is ever going to surprise me again. Anything was possible after that.
Marcus
Who was the most easy-going player you've ever dealt with from a media perspective?
Sweeny
Well, there's been a lot of them. Easy going is a hard way to put it, because I think they all look at it as part of their job.
But I really came to admire the way Mike Mussina handled himself as the years went on, because the first year or two he was there it really wasn't very easy to deal with him. He was not used to the number of media that wanted his attention and it took him a while to get used to the environment. Once the reporters that were there were able to show him the level of intelligence that they brought and what they were looking for, it became really an education for us to go talk to him every day. I always think I learned a lot from him. By the time it was done, I think there was a great mutual respect with him. I can tell you that I found that his induction into the Hall of Fame last year was quite enjoyable for me because of the time I spent covering him.
I would never call it "easy going" the way your question was phrased, but it was an enjoyable experience for me to be able to cover him, talk to him, and learn from him over the course of the eight years he spent with the Yankees.
Marcus
What is your favorite Yankees moment or memory of all time?
Sweeny
I feel like I have a great appreciation for the careers of Jeter and Rivera, because I was able to see so much of them up close. Watching them go out the way they did, with the storybook endings, and knowing that I had the ability to talk to them as many times as I did and build a bit of a personal relationship with them, was quite special.
In the press conference after the game when Mariano Rivera broke the all-time saves record, when I raised my hand to ask a question, before he answered my question, he stopped and asked everyone in the room to congratulate me because my daughter had just been born a week earlier.
That to me was a gift from Mariano. It was phenomenal.
Additionally, I got married during the 2010 season and before I worked my last game before taking a few days off, Derek Jeter made sure to find me so he could shake my hand and wish me good luck.
It was because of who they were as players, our equivalent to Mantle and DiMaggio, that the fact that I had developed some sort of personal relationship with them really stood out to me.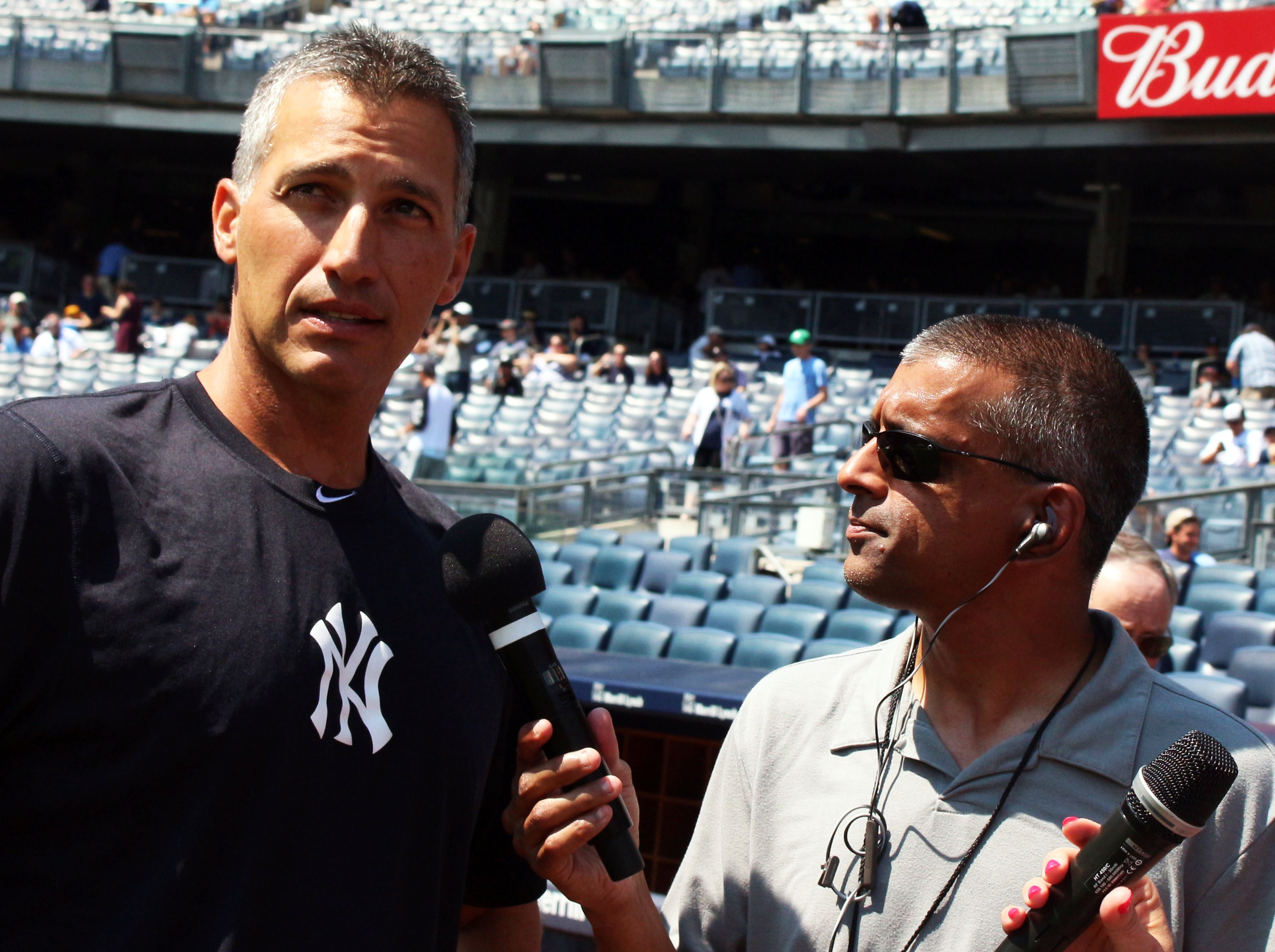 Marcus
You work with the legend himself, John Sterling. What is your favorite home run call by John?
Sweeny
'Bern Baby Bern' is probably my favorite because it's just very simple, and it fits because it's got a bit of a musical ring to it because of "Burn Baby Burn" (by Disco Inferno), and Bernie is a musical person. There was something about that, that always stuck out to me in its simplicity and how it is such a classic.
Marcus
The Yankees center fielder for the foreseeable future is Aaron Hicks. He's had major injury issues and the Yankees signed him to an extension, which at the time I think was a good deal because you had one of the best center fielders in the game locked up for the next few years.
But now, they have three outfielders who will be under contract for a while, as Stanton and Hicks have long term deals, and Judge will presumably be re-signed.
Do you think he's their center fielder of the future or may he be dealt?
And if he is, do you think he's viewed as an asset or a liability by the rest of the MLB?
Sweeny
He's the center fielder of the present is really the only way to look at it. He's recovering from Tommy John surgery, and when he comes back, you plug him in, and see what you have.
Two years ago, he did have a really good season and played a decent number of games, but then injuries started to plague him again.
He's got to prove he is more durable than he has been.
The contract they signed him to has a little more nuance to it because they spread out $70 million over seven years. Now if you think about the idea of letting him go, and you sign a free agent, it would have cost you a lot more than $70 million.
I think they took a gamble on the player that he was two years ago, and it burned them last year because he started out right from the beginning of spring training with some back issues, and then the arm injury came later in the year.
Here's the thing I'll say about Aaron Hicks, and I've said it many times on the air:
He has days and weeks, where he reminds me of Bernie Williams. But Bernie Williams had months and years like that, not days and weeks. So, the glimpses have been there for Hicks, but he's not a young guy anymore.
He has shown how good of a player he is, but he is going to have to show us he can stay on the field.
Marcus
You mentioned how Aaron Hicks isn't "a young guy anymore", the two oldest position players under contract next year for the Yankees are Aaron Hicks and Giancarlo Stanton. (Brett Gardner has a team option which may not be picked up).
Sweeny
That is correct.
Marcus
Miguel Andujar, has had some major defensive issues at third base and the Yankees tried him out in left field spring training. Where do you think he slots in defensively moving forward?
Sweeny
If you think about Alfonso Soriano, he moved around quite a bit and he was basically accommodating to whatever they had on the roster, but he got his at bats because they needed to be able to keep his bat in the lineup.
You might see something similar with Andujar.
I was really impressed with how quickly he came back this spring. I thought he would probably need some time to shake the rust off a little bit, maybe even start the season in the minors because he had missed so much time. But he got out of the box really strong, and after a couple of days you knew there was no need to worry about him, and he was going to be in the Opening Day lineup and he was going to have an impact.
His position is something where you kind of just have to judge the way the rest of the roster works and kind of plug him in somewhere.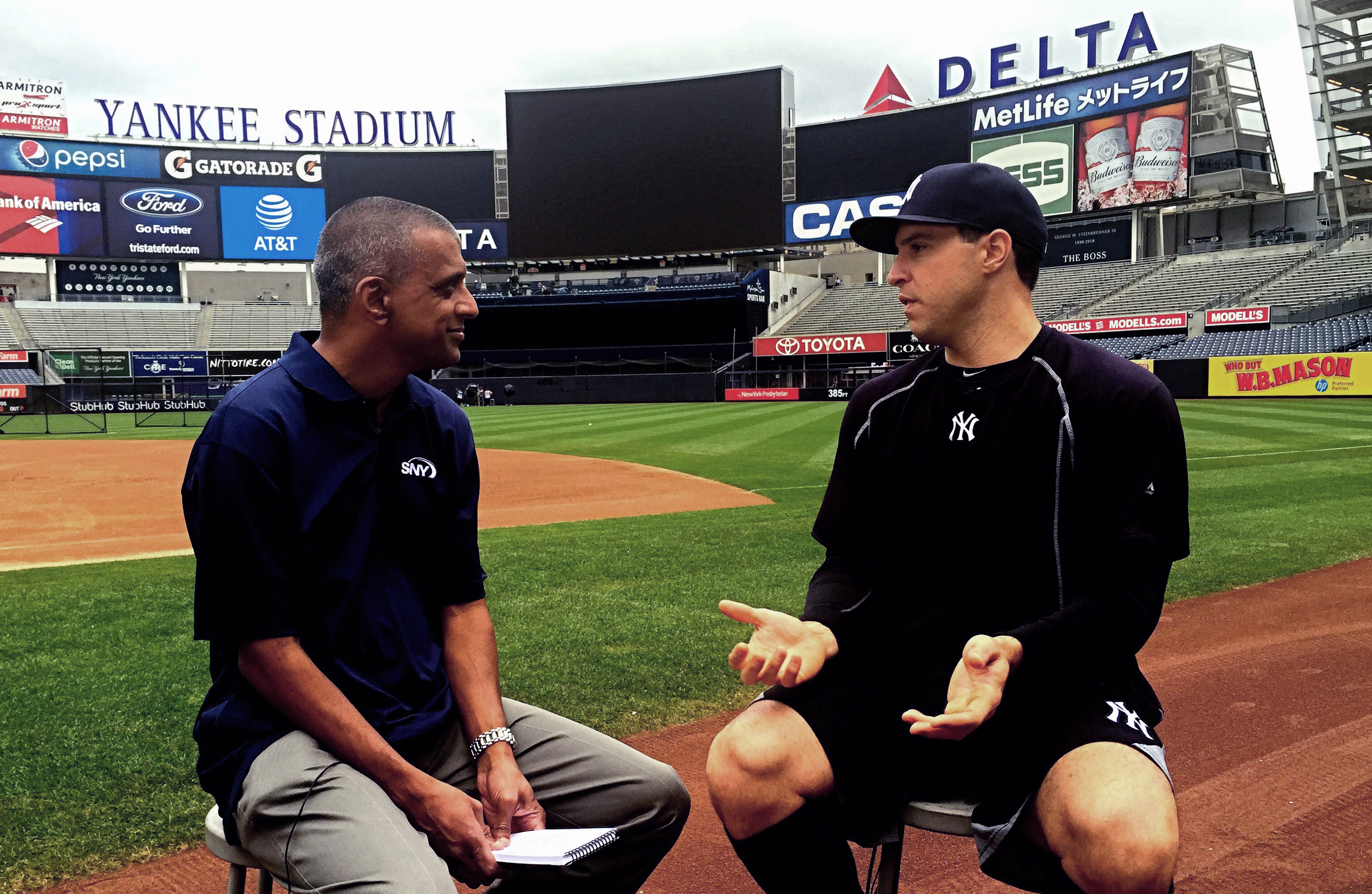 Marcus
What is your favorite clubhouse story?
Sweeny
Well, there's many, but because today is Yogi's birthday, I'll share one with you that happened with him.
The day after the "Luis Castillo Game" (where the Mets second baseman dropped an easy pop-up in shallow right field to allow the Yankees to score the tying and winning runs), I was in the Yankees clubhouse, and Yogi Berra was there.
I walked over to him, and I said, "Hey Yogi, what do you think of the end of that game last night?"
He looked to me with a smile, as if he'd been waiting all day for someone to ask him that question. He grabbed me by the arm and said to me:
"It ain't over 'till it's over."
That was the exact way to describe the end of that game in a nutshell, and he knew it.
I set him up perfectly.
Marcus
Who is your favorite active non-Yankees player to watch play?
Sweeny
I just wish I had a chance to see Mike Trout more often.
There was a game last year in Anaheim, and I remarked that really the difference between watching baseball and watching basketball is that I watched Mike Trout make this great play, and I think it was in about the seventh inning of the third game of that series. It was in the outfield, going towards the wall, and it was a really great catch.
If I'm watching LeBron James, I would not have to wait three games, and wait until the third quarter to watch him score or do something spectacular.
I'd probably see it two minutes into the game.
It's a difference in sport, and I just wish that we had a chance to appreciate somebody like that more because you obviously see talent in the highlights and stats.
Marcus
Thank you so much for taking the time to answer these questions!
Sweeny
Thank you for having me!