Pranav Ramasubramanian  | April 27th, 2019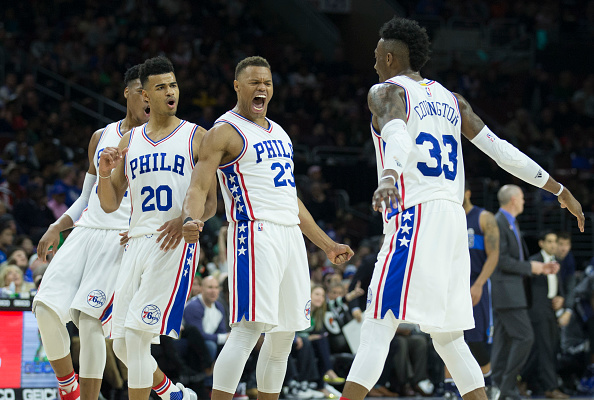 The Toronto Raptors and Philadelphia 76ers just came off dominating their first-round opponents in five games and both teams look to keep their run going. The stakes are as high as ever for both teams as the Raptors have Kawhi Leonard's impending free agency while the 76ers have to decide what to do with their cap if this run doesn't pan out. Each team has an equal shot of winning here's a look at how.
Toronto Raptors keys to winning the series
The others
Kawhi Leonard is the force that has driven this team all season, but he alone can't propel this team and he needs the other players in the starting lineup especially Kyle Lowry to step up. Kyle Lowry must not hesitate to shoot his shot, which is the three-pointer with confidence not worrying about the numbers or he should kick it out to Danny Green, who has declined on defense but can still make threes at a high rate from time to time. Pascal Siakam will be inserted into the starting lineup and he needs to continue his stellar play driving to the rim for easy shots or putbacks while being in the right place during certain sets to get himself open threes because Siakam can score from anywhere making the 76ers exert a lot of energy on defense. The trade for Marc Gasol was made for defensive purposes, but Gasol can still stretch out the perimeter with his shooting so he needs to make Embiid come out of the post to set up other players for easy shots near the rim to try and outscore the 76ers. The offense can't be stale from the starting lineup too much because of the 76ers ability to go on huge runs to close out the game so they need to find a way to keep generating offense. Fundamental basketball has its flaws, but it has its way of getting the whole team involved.
Bench depth
The whole bench had a decent year with some slumps through a long season, but they seem locked in to avenge their past playoff failures. The bench was gutted a little bit in a trade for Marc Gasol, but they managed to keep Fred VanVleet, who plays a full-court press defense that could pressure McConnell into bad decisions while managing to shoot efficiently from deep to provide timely offense. OG Anunoby is out for this series so Norman Powell needs to step up his defense in this series on whoever he gets put on cause his offense may not be there against Philly's size. Serge Ibaka will likely get subbed in and out between him and Marc Gasol in terms of minutes to keep the defense down low honest so if Ibaka can block some shots to limit Embiid while hitting some outside shots it could prove substantial to the Raptors. A proven champion Patrick McCaw needs to get more minutes because he can provide some defense on Jimmy Butler to give him a different look, but he must prove he can handle that responsibility. The bench is filled with a variety of players that bring different things, but they must put it all together to be effective and give the Raptors that extra edge in this series.
Defense
Nick Nurse has come in and molded the Raptors into one of the best defensive teams in the league behind effort and intensity that roots from his coaching days in the G-League. The switching won't work in this series because of the fact that the 76ers have Joel Embiid down low and perimeter threats in the starting lineup with Jimmy Butler, Tobias Harris, and J.J. Redick. They will relish the spacing and take good shots so the Raptors need to fight over the pick and rolls while laying off of Ben Simmons on the perimeter. Help defense is fine, but against a perimeter-based team like the 76ers, they have to be calculated and only do it at times that it leaves Simmons stranded on the perimeter. It's not easy to shut down the perimeter so they should use a blueprint from earlier this season against the Houston Rockets where they played tight one on one defense on the three-point shooters on the team making them drive and then brought their big man up to affect the shot so Marc Gasol would now be in that role with him being more than capable of doing this. Nick Nurse has immense trust in his players as Lowry's switching, ability to play in the post and willingness to take charges keeps him on the floor while Siakam is more of a conservative defender, but he can guard all five positions, which could be very deadly in this series. The physicality will be brought by Marc Gasol, who will try to bully Embiid in the post, but Kawhi is the leader of the defense with his discipline and experience. If the bench comes in and gives the same effort on defense as the starting five this series could be a quick wrap for the Raptors.
Philadelphia 76ers keys to winning the series
The new additions
The 76ers have been jumbling up lineups all year and the current starting five is one that actually hasn't played many games together because they all came to the 76ers at different times. The first trade brought All-Star Jimmy Butler into the mix and his ability to close out games was something Philly needed because they didn't have that guy who was mature enough to take responsibility so now when the games in the series get tighter the 76ers can just feed him the ball to let him help Philly try to get the series. Just when it looked like the dust settled, the 76ers shocked basketball fans with another trade that got them Tobias Harris, Boban Marjanovic, and Mike Scott getting them solid production on offense as Boban has his moments, Harris is a perimeter threat and Scott is a three-point sniper, which will force the Raptors to guard the entire floor. The two other minor trades got the 76ers James Ennis, another body on defense and Jonathon Simmons, who provides good energy off the bench so if they can make their presence felt in this series the 76ers could easily win. Brett Brown finally seems to know how to work all these players in on offense so he needs to continue running some of the same things that work and make some minor tweaks depending on the Raptors defense to help the 76ers beat the Raptors. If all the players are interconnected with each other then they will turn the Raptors into the baby dinosaurs again.
Joel Embiid's health concerns
Joel Embiid has only missed one game so far in the playoffs, but it was a crucial Game 3 that the 76ers managed to win without him due to a sore knee. He was questionable to play in other games but seemed to rough it out to help his team move on to the second round. The physicality he is gonna face from Marc Gasol and Serge Ibaka is gonna be intense so he must be ready to fight in the post to get his team offense. Boban Marjanovic is fun, but he doesn't have the same post moves that Embiid has or have a killer fade away that can give the Raptors defense trouble. Embiid also needs to play smarter in terms of conserving energy because if he gets too tired he will get subbed out because playing with an injury sucks the energy out of a player. He shouldn't force anything, but if the injury is too severe and he has to sit out that could be the reason the 76ers don't advance.
Three-point shooting
J.J. Redick is undeniably the best shooter on the team and he can just casually pull up from 30 feet if the ball is even slightly is in his hand so he needs to let the ball go as soon as he sees any type of space open up against the stingy Raptors defense to challenge them. The only other player in the starting lineup who is willing to shoot the three ball is Tobias Harris, who will just straight rise up over the defender so he moves around to get the ball in his spots to keep the defense scrambling. It's advisable that Joel Embiid doesn't shoot that many three's because he hasn't been making them that much lately and it keeps the defense in one area helping them conserve energy they can use on offense. Jonathan Simmons deserves some playing time because he is fearless in shooting the three, but the 76ers may opt to give those minutes to James Ennis because of his effort on defense. The most efficient shooter is Mike Scott and he needs to keep his energy up so he can keep hoisting up threes because if Scott gets hot the 76ers could blow out the Raptors. The 76ers lost some three-point shooting in the Jimmy Butler trade, but it looks like they still have enough to be a threat from deep.
Marquee matchup
Kawhi Leonard vs Ben Simmons
Kawhi Leonard is great on defense as his quick feet, athleticism, and good strength will draw Ben Simmons as his defensive matchup. Leonard also has long arms so he keeps them active to knock the ball out while eliminating airspace for the time he is on the floor without getting tired so he could limit Ben Simmon's chances at driving the ball on him. The best two way player in the league right now is Leonard because of what he can also do offensively taking smart shots within the flow of the offense, running curl patterns for jumpers, working in the mid-high post, and pulling up from anywhere on the floor with predetermined decision making so Simmons has a lot to handle. In order to limit Leonard, Simmons must use his size to force tougher shots while not getting stuck on any pick and roll action or being lazy because Leonard will make him pay. Simmons will be running the offense with his great vision kicking the ball out to shooters, rebounding to start the break and driving to the cup as he can't shoot a three so he has to just excel at playing his game without Leonard's defense affecting him for the 76ers to have a chance at winning this series. Leonard will be put in a better situation playing more calm and composed than Simmons, who is all over the place on the floor and just can't seem to put it together sometimes so Leonard can sag off Ben Simmons unless he's in the post making it easier for Leonard to play his game.
Advantage: Kawhi Leonard
Mike Scott has been ruled out for Game 1 so Zhaire Smith may get some extended minutes depending on the severity of the injury going forward. Brett Brown needs to improve with his defensive schemes or else the Raptors will take advantage of gaping holes fast. This series will come down to better offense and the 76ers have that so they should take Games 2,3,5 and 6 to win the series and advance to the Eastern Conference Finals.
Prediction: Philadelphia 76ers beat the Toronto Raptors in six games.
Questions and comments?
thescorecrowsports@gmail.com
Follow Us on Twitter @thescorecrow
Follow Us on Reddit at u/TheScorecrow
Follow Us on Facebook at The Scorecrow
Follow Us on Instagram at The Scorecrow
Follow Pranav on Twitter @PranavRama1
Main Image Credit:
[getty src="654638158″ width="594″ height="400″ tld="com"]
Advertisement