Pranav Ramasubramanian | September 29th, 2018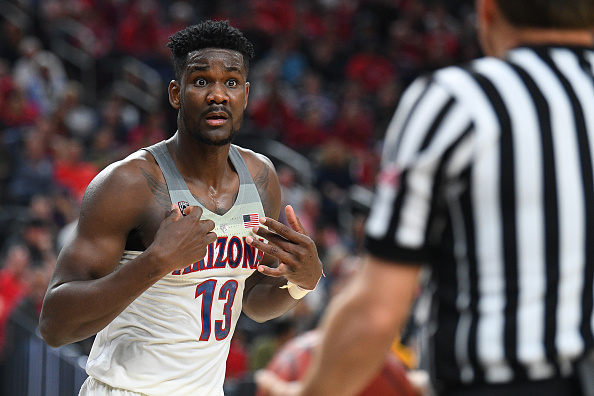 The Phoenix Suns were dreadful last year. They were 21-61 and dead last in the Western Conference. With a couple of new pieces and a new head coach, can they get back to respectability? Or will they again have a top pick in the draft?
Recap of Last Season
I mean, do we really have to describe what the Phoenix Suns did last season because they tanked at a different level last year. The turmoil started early last season as Earl Watson was canned after just three games with the Suns' players alienating him after a 48-point loss, which was the biggest loss in franchise history and the Suns wanted to look in a new direction after the year ended, so they decided to let Jay Triano be the interim head coach for the year. They traded away Eric Bledsoe, the second best player on the team, to the Milwaukee Bucks for Greg Monroe. Bledsoe was fed up with all the losing and was mad he was shut down the year prior for tanking purposes even when he was 100% healthy. He tweeted about his situation with the Suns even though he insisted it was about a hair salon, which was a hysterical cover-up that didn't work at all.
I Dont wanna be here

— Eric Bledsoe (@EBled2) October 22, 2017
The Phoenix Suns did try to implement new draft pick Josh Jackson into their offense, but he didn't start putting up good offensive numbers until halfway into the season and even though he put up 36 once, he showed some major inconsistency. In the 2016 Draft, the Phoenix Suns looked like they had selected decent players as they used both of their top-10 picks for what they thought would be a generational big man in Dragan Bender and Marquese Chriss. Both had very disappointing sophomore seasons with Bender only averaging 6.5 points, 4.4 rebounds and 1.6 assists while Chriss only averaged 7.7 points, 5.5 rebounds and 1.2 assists earning him a trade with Brandon Knight to the Houston Rockets for veteran three-point sniper Ryan Anderson. Devin Booker was the only bright spot on the team all year as he averaged 24.9 points, 4.5 rebounds, and 4.7 assists in his 54 games, but even Booker couldn't save the Suns from their organizational disaster as they finished 21-61 and the No.1 draft pick.
Offense
The offense should be a lot of fun to watch with the new No.1 pick, 7'1 center Deandre Ayton, who can do it all with his immense size and agility. From shooting threes to slipping to the rim for alley-oops to tremendous defense, people are feeling it has a Kobe-Shaq resemblance, which is ridiculous to assume already, but you can expect some highlight-worthy plays. The Suns ranked last in three-point percentage with just 33.4% on the season, but with new three-point shooters like Trevor Ariza via free agency, Ryan Anderson via trade, Mikal Bridges via draft-day trade, and De'Anthony Melton via free agency along with three-point champion Devin Booker, the Suns will likely make more threes this season. Adapting to today's NBA has been a bit of an issue for the Phoenix Suns thus far as they ranked 30th in offense last year. The Suns should be able to easily impose their will in the post with Tyson Chandler, who can get down and dirty while still making post moves and nice dunks. Ayton can dominate with his razzle-dazzle ability down low, Josh Jackson can fly in for easy shots or dunks, Devin Booker can slice up the D with his penetration, and Mikal Bridges can shoot through any gap for shots right at the rim.
Coming soon to a court near you!

Thanks for hanging out for #SunsMediaDay pic.twitter.com/W369Xf9rV3

— Phoenix Suns (@Suns) September 24, 2018
This should really help the Suns rack up points. The Suns have the potential to give opposing teams nightmares with creative lineups and their ability to hit shots from everywhere.
Defense
So this is another category that the Suns are 30th in. I mean the Suns had the players, but it just seems the effort wasn't there all the time. This should change this year with the signing of Trevor Ariza. He is a veteran presence who can play good lockdown defense as he contributed to helping the Houston Rockets become a good defensive team in years past. Deandre Ayton will man the post. He had 66 blocks with Arizona last season locking down any driving lane and swatting away any shot attempt in sight. The physicality has to show up from other players like Booker. The team added a few key defensive pieces which should help, but the Suns really need to buy into playing defense for this to work. Laziness can't be an option and it won't be with younger players.
Bench
Honestly, the bench has some solid players, but the young players just aren't consistent enough to make big impacts and it could cost them games they should win. Mikal Bridges will provide some good sustainable offense as he averaged 17.7 points last year with Villanova and he should continue that impressive play while also showing off his defensive prowess due to his long arms. The backup point guard role is a huge hole because of Elfrid Payton and Tyler Ulis leaving. Even though they weren't great, they gave solid minutes. Isaiah Canaan and Troy Daniels have shown that they can't really play substantial minutes late in games to help the Suns. The trust with them is low. The shooting off the bench should be nice with the additions of De'Anthony Melton and Ryan Anderson along with good post presence. Tyson Chandler may be moved to the bench to allocate more time for Deandre Ayton and Dragan Bender. TJ Warren should also be moved to the bench because of the signing of Ariza giving the Suns some more physicality on defense. Some new additions and lineup changes have the bench looking solid this year and they need to show some passion to win more games.
Prediction
The Phoenix Suns hired yet another head coach, Igor Kokoskov, because of his offensive intellect and relentless approach to making his players work harder.
The Phoenix Suns are hiring Utah Jazz assistant Igor Kokoskov as their new head coach, league sources tell ESPN. Kokoskov, a native of Serbia, will be the first European born head coach in the NBA.

— Adrian Wojnarowski (@wojespn) May 2, 2018
Another head coach just goes to show how much of an organizational mess the Suns are and it shouldn't improve this year as the Western Conference seems to be getting tougher. Devin Booker and Deandre Ayton will put up some good numbers, but it still won't be enough. The consistency from the other players just won't be there yet so it's a really good thing they locked up Devin Booker up for the next five years.
Devin Booker just made his max extension official 💰 pic.twitter.com/qli6o6I0fP

— SportsCenter (@SportsCenter) July 8, 2018
The Suns also have to work out chemistry with their new players so it may take time to mesh with each other and in the Western Conference that means that you will be eaten up fast. The Phoenix Suns made nice moves and good signings on the offseason, but they just aren't ready for substantial wins this season. Expect the Phoenix Suns to yet again be towards the bottom of the NBA and be picking in the Top 5 of the draft because they just can't handle the next step in the Wild Wild West.
Questions and comments?
thescorecrowsports@gmail.com
Follow Us on Twitter @thescorecrow
Follow Us on Reddit at u/TheScorecrow
Follow Pranav on Twitter @PranavRama1
Main Credit Image: [getty src="930283596″ width="594″ height="396″ tld="com"]