Levon Satamian April 13th, 2019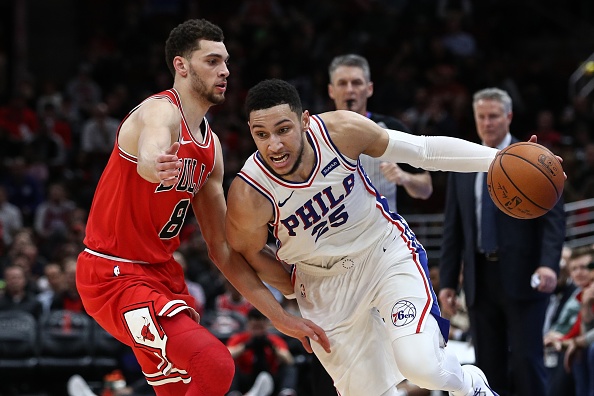 The Philadelphia 76ers are 3rd seed in the Eastern Conference, with their star-studded lineup. The Brooklyn Nets are 6th seed in the Eastern Conference, led by All-Star, D'Angelo Russell.
The Sixers traded for Tobias Harris prior to the trade deadline. Tobias Harris and Joel Embiid have been a tough front-court to stop, as expected. When pairing one of the most underrated players in the league and arguably the best center in the league, that will be a tough matchup for any team. Ben Simmons can do everything on the basketball court except for shoot the 3-ball. Jimmy Butler steps up in clutch moments, and not to forget about J.J. Redick, a sharp-shooter. So, the Sixers have a great starting unit, the bench on the other hand, not so much. T.J. McConnell is the heart of the team, Jonathon Simmons, James Ennis III, Mike Scott, and Boban Marjanovic. When Boban is in the game, he produces at a maximum level. That's a plus for the bench. They have solid role players but I'm not sure that will be enough to out perform the Nets bench.
As for the Nets, Caris LeVert is back, after his scary injury during the regular season. The Nets are in full force, except for Allen Crabbe being out for the season. D'Angelo Russell will be the X-Factor of this series. The Nets will be probably have D'Angelo Russell, Joe Harris, DeMare Carroll, Rodions Kurucs, and Jarrett Allen. Off the bench, they will likely have Spencer Dinwiddie, Caris LeVert, Ronde Hollis-Jefferson, Jared Dudley, and Ed Davis. They may go with Treveon Graham and Rondae Hollis-Jefferson, instead of Jared Dudley.
D'Angelo Russell vs. Ben Simmons will be a fun matchup to watch. They were high school teammates, good friends, and now will battle it out in the playoffs. Simmons is a good defender but Russell can score at will. It will be a great matchup to watch.
If the Nets can win Game 1 in Philadelphia, they will in six games. Especially if Russell has big games in game 1, 3, 4, and 6, the. Nets will win this series. But, if the Sixers win Game 1, they will win this series, because Joel Embiid will likely be back for Game 2.
I think Spencer Dinwiddie will have a big series in this round, because he will need to be the go-to player for D'Angelo Russell. If Dinwiddie and Russell can dominate, they will win this series. But, it will be tough to contain Tobias Harris, Jimmy Butler, Joel Embiid, Ben Simmons, AND J.J. Redick, it is possible, but it will be very tough to. The Nets have very little margin for error, if they have one off game, in games 1, 3, 4, or 6, they will lose this series. It should be a good series, and it should go down to the wire in every game of this series, as long as both teams are locked in.
Questions and comments?
thescorecrowsports@gmail.com
Follow Us on Twitter @thescorecrow
Follow Us on Reddit at u/TheScorecrow
Follow Us on Facebook at The Scorecrow
Follow Us on Instagram at The Scorecrow
Follow Levon Satamian on Twitter @TheSportsNotes
Main Credit Image: [getty src="923208652″ width="594″ height="396″ tld="com"]