Matt Woolsey  | April 4th, 2019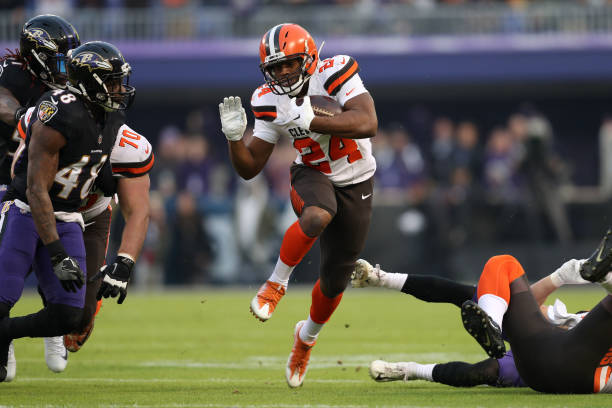 I was in a twitter argument a couple days ago over Nick Chubb and Kareem Hunt. The question was if you had to choose between one of these three running backs: David Johnson, Dalvin Cook, or Nick Chubb, who would you choose?
Now my thought on the matter was there is a risk with David Johnson and the terrible offense he is on, obviously that could change, but not definite. And there is some risk with Cook and his health the past couple of seasons, though I do think he is a very good running back. My choice was Chubb, I think he is the safest and believe it or not probably on the best offense. This led into he has Kareem Hunt in his rearview mirror talk.
Chubb Will Be Fine
Let's talk about Hunt for a moment. The Browns signed him to a one-year $1.1 million dollar deal. He will be a restricted free agent in 2020, but the Browns have no investment whatsoever in Hunt. A million dollars means nothing to an NFL franchise. In fact, the Cowboys gave four million dollars to Jason Witten so he can quit ESPN before they fired him, he was so bad. But the point is, the Browns are not invested in Hunt at all. The only reason why they signed him was that the Browns general manager John Dorsey was in Kansas City when they drafted Hunt. They can easily cut him, probably not, or trade him, more on that in a minute.
He will have to serve his eight-game suspension which means no contact with the team whatsoever. He cannot attend meetings, he cannot practice, he cannot even show up to games in street clothes. Which means the earliest he can join the team will be Week 9. Now since it is very likely the Browns will have a bye week somewhere between Weeks 4 and 9, Hunt will probably not be back until Week 10. Then there is having to makes sure he is "football shape" and knows the offense.'
The Browns are not going to just move away from Chubb, he is their future. He will be fine this season. I predict he will end the season as an RB1. There is a chance Hunt doesn't even have an RB1 week while in Cleveland. I wouldn't be surprised if Weeks 10 through 16 he doesn't even have a week in the top 15. I would still draft Chubb in the second round and I don't think there is a reason why you should either.
Bold Prediction
I said the moment the Browns signed Hunt I bet they would trade him to a running back-needy team before the trade deadline. They will absorb his suspension which is no cost to them because they will not have to pay him, nor will he count against the 53-man roster. So, my prediction is the Browns will then trade Kareem Hunt to the……….Oakland Raiders.
Jon Gruden has no problem making splashes in free agency or with trades, see Antonio Brown and Khalil Mack. He also doesn't have an issue with players that may have questionable character flaws, see Vontaze Burfict. The Raiders do not have a viable starter in the backfield, Hunt can fix that. The Raiders are lacking star power on the offensive side of the ball and Hunt can fix that.
The Raiders still have two first round picks and a second round pick next year thanks to the Mack trade with Chicago, send that second-round pick to Cleveland and get your running back of the future. Chicago is likely to have a decent season, so it won't even be a high second round pick. This October, make the call Gruden, get your running back.
The Raiders still have two first round picks thanks to the Mack trade with Chicago. Send your third-round pick to Cleveland and get your running back of the future. This October, make the call Gruden, get your running back.
Questions and comments?
thescorecrowsports@gmail.com
Follow Us on Twitter @thescorecrow
Follow Us on Reddit at u/TheScorecrow
Follow Us on Facebook at The Scorecrow
Follow Us on Instagram at The Scorecrow
Follow Matt Woolsey on Twitter @AresgodFF
Main Image Credit: [getty src="1088238314″ width="594″ height="396″ tld="com"]