John Lepore | October 4th, 2018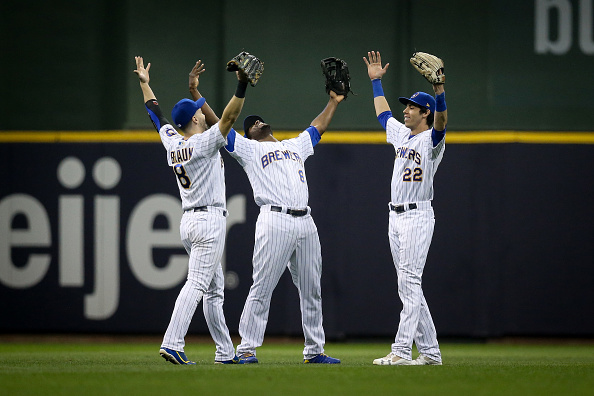 At 5:07 PM ET the first Division Series game will start. It features the Milwaukee Brewers hosting the Colorado Rockies. There are bound to be some home runs hit and some great pitcher vs hitter battles as both teams have power bats in their lineups and power arms out of their pens.
Head to Head Record
The Milwaukee Brewers were 5-2 against the Colorado Rockies this season. They took three of four in Colorado back in May and won two of three at Miller Park in August. Both teams have been hot for the last month. The Brew Crew is an impressive 20-7 in Sept/Oct while giving up less than three runs a game. The Rockies have been pretty good themselves going 19-10 over that same span.
| | | |
| --- | --- | --- |
| Milwaukee Brewers | Tale of the Tape | Colorado Rockies |
| ✓ 218 (4th) | Home Runs | 210 (8th) |
| 754 (12th) | Runs | ✓ 780 (7th) |
| ✓ 124/32 (4th) | Stolen Bases/CS | 95/33 (8th) |
| .252 (12th) | Batting Average | ✓ .256 (6th) |
| .747 (9th) | OPS | ✓ .757 (6th) |
| ✓ 3.73 (5th) | ERA | 4.33 (20th) |
| ✓ 1428 (9th) | Strikeouts | 1409 (13th) |
| ✓ 1.24 (8th) | WHIP | 1.31 (17th) |
| ✓ 173 (8th) | Home Runs Allowed | 184 (14th) |
| 108 (26th) | Errors | ✓ 74 (3rd) |
(Rank in Majors)
Trades and Acquisitions
In the offseason, the Brewers signed Lorenzo Cain to a 5-year $80-million dollar contract. He has been worth every penny for them. He slashed .308/.395/.417 this season while swiping 30 bags. According to Fangraphs.com, he led all Major League center fielders in Defensive Runs Saved with 20. He also brings a postseason resume with him. He has slashed .295/.376/.377 while stealing eight bases in 31 games along with winning the ALCS MVP in 2014 during his playoff career. The Brewers also traded for Christian Yelich. We won't go into who they gave up because at this point it really doesn't matter when you acquire the likely NL MVP. He was the only player in the NL with a 1.000 OPS. He finished the season two HRs (36) and an RBI (110) short of the triple crown and was second in runs (118) and ninth in steals (22). On September 2nd, the Cubs led the division by five games. Since then, Yelich has slashed .375/.513/.830 with 10 HRs and six SBs. MVP? No doubt. The Brewers also acquired a few veterans at the deadline in Gio Gonzalez, Curtis Granderson, and Mike Moustakas. All three have postseason experience and all of them bring something to the table. Gio has been very good since coming to the Brewers. In five starts he has a 3-0 record with a 2.13 ERA and gives them another reliable arm on the staff. Moose has slashed .256/.326/.441 with eight HRs in his time in Milwaukee. Grandy is a veteran bat off the bench that can walk or hit you a HR in a pinch and has a .407 OBP since joining the Brew Crew.
The Rockies made a concerted effort in the offseason to bolster the bullpen. While they spent the money on Wade Davis (3yr/$52mil), Bryan Shaw (3yr/$27mil), and Jake McGee (3yr/$27mil), they haven't gotten exactly what they were expecting. Davis has been decent and although he has a 4.13 ERA he also led the league in saves with 43. McGee has been downright brutal this year with a 6.49 ERA and even lefties are hitting at a .307/.395/.547 clip. Bryan Shaw isn't even on the playoff roster. One pickup they made during the season which could help them was Matt Holliday. He's an old favorite in Denver as he played there from 2004-2008. He finished second in the MVP voting in 2007 when he led the league in batting (.340) and RBI (137). Although that was 11 years ago, Holliday has held his own with the Rockies this year. In 25 games he has hit .283/.415/.434 with a couple home runs. He provides some veteran leadership, is a fan favorite, and can still be a solid bat in that lineup.
Preview of the Game 1 Pitching Matchup
Brandon Woodruff vs. Antonio Senzatela
Woodruff is "the opener" for the Rockies today. Although he has starter experience, he has pitched out of the bullpen exclusively since his last start on June 10th. He also hasn't thrown more than five innings this year. Woodruff has taken to the reliever role this year. In 15 appearances out of the bullpen, he has a 2.03 ERA with a 34/5 K/BB rate in 26.2 IP and has only allowed two HRs. The question is if he can visualize this as a bullpen day or not. As a starter in four games, he has a 6.32 ERA and a 13/9 K/BB rate. The Rockies hitters are a collective .387/.444/.581 vs. Woodruff with four BB and five Ks in 36 plate appearances.
Antonio Senzatela started the season in the bullpen. He didn't pitch at all in May or June but when he came back in July, he was inserted into the starting rotation and has been there since. In his 13 starts this year, Senzatela has a 3.95 ERA and has yielded less than a HR/9. He's been even better recently posting a 3.25 ERA in his last five starts going 2-1 in that stretch. No one on the Brewers has faced Senzatela more than three times and none of them have more than a hit against him. The lineup has four hits in 20 PAs and no HRs.
Prediction for Series Winner and MVP of the Series
These two teams are very evenly matched offensively. The Brewers have the NL MVP but the Rockies have Nolan Arenado who finished in the top-5 in MVP voting the past two years. He also could become just the fourth player in history to win six GGs and three HR titles (Mays, Schmidt, and Griffey). The starting staff on Colorado is better with Freeland and Marquez anchoring it, but the bullpen of the Brewers has been light years ahead of the disappointing Rockies' relievers. This series will go five games with the Brewers taking it at home. I'm going to go with Lorenzo Cain for MVP of the series. He hits well in Colorado (6-13, HR, 3 RBI in 3 games), he has the experience, and he can beat you with speed, a defensive play, or his bat. If the series goes the other way I would say DJ LeMahieu. He may be on another team next year and what better way to put a stamp on his time with the Rockies than with a great playoff performance. Hey, it worked out for Daniel Murphy in 2015.
Questions and comments?
thescorecrowsports@gmail.com
Follow Us on Twitter @thescorecrow
Follow Us on Reddit at u/TheScorecrow
Follow John Lepore on Twitter @jball0202
Main Credit Image: [getty src="1047380884″ width="594″ height="396″ tld="com"]