Bruce Cagle Jr. | October 4th, 2018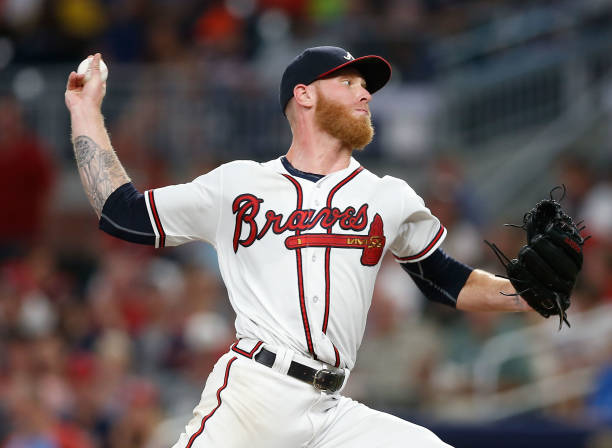 Later today we will witness the beginning of the NLDS at 8:30 ET between the Atlanta Braves and the LA Dodgers. This could turn into a very quick series if adjustments haven't been made. Let's take a dive, shall we? 
Head to Head Record
These two teams had only two series' this year, with the Dodgers winning both of them. A total of seven games were played, the Dodgers went 5-2, with all five wins holding the Braves under three runs. That shouldn't surprise you as you look over this chart, as the Dodgers have one of the best pitching staffs in the league. Don't sleep on the Braves though, as they have a sneaky staff, as they are still in the top 10 in key pitching areas. Also, they have been great at suppressing the home run, as they rank in the top three over all of MLB.
LA Dodgers
Tale of the Tape
Atlanta Braves

✔

235 (2nd)

Home runs

175 (19th)

✔

804 (5th)

Runs

759 (10th)
75/24 (17th)

Stolen Bases/CS

✔

90/36 (10th)
.250 (14th)

Batting Average

✔

.257 (5th)

✔

.774 (3rd)

OPS% 

.742 (11th)

✔

3.38 (2nd)

ERA

3.75 (7th)

✔

1565 (3rd)

Strikeouts

1423 (10th)

✔

1.15 (2nd)

WHIP

1.28 (13th)
179 (13th)

Home runs Allowed

✔

153 (3rd)
100 (21st)

Errors

✔

80 (7th)
(Rank in Majors)
Trades and Acquisitions
Some major names moved around the MLB this year, the Dodgers were on the receiving end of some of those moves. Manny Machado, Brian Dozier, and Ryan Madson were some of the bigger names moved, but the Dodgers have been splashing all year long. Scott Alexander was traded for early in the year, think back to January, the Dodgers received Alexander for a package of players in a three-team trade with the Royals and White Sox. A great value of a pickup, as Alexander is going to make league minimum while he pitched in 73 games with a very respectable 3.68 ERA. He brought exactly what the Dodgers were buying, as he was second in the MLB (for relievers) in groundball percentage. An astounding 70.6% was actually lower than last years 73.8%, which lets you know this skill will be around for years to come. Matt Kemp will have eyes on him as he was a player for the Braves just as recently as 2016 and was actually traded to the Dodgers in a four-player trade. David Freese is another sneaky name that you should see on the roster for the start of this series. He provides the ability to play multiple positions and check out this impressive slash line he has put up since becoming a Dodger, .385/.489/.641. This is in only 39 at-bats, but add in a couple of home runs to that slash line, and you can see why he is twice as valuable as the average hitter as his 210 wRC+ shows. Don't forget about Max Muncy, who was added in 2017, but never saw any playing time until this year. Ever since coming up because of an injury to Logan Forsythe (who was traded in the Dozier deal), he has been on an absolute tear. Smashing 35 home runs, while driving in 79 and walking at a very impressive rate of 16.4%.
The Atlanta Braves seem to have taken the opposite approach from the Dodgers, as their trades focused more on their pitching staff, both starters and bullpen help. Now, this doesn't mean they didn't add any hitting, but they added more bench players than starters. Obviously, the one starter they did add, will most likely turn out to be Rookie of The Year. That addition is the phenom Ronald Acuna Jr. After being held down for absolutely no good reason, the Braves finally smartened up and added a .290+ power/speed monster. Take a look at the blistering first season he put up, 111 G 26 HR 78 R 64 RBI 16 SB in only 487 PA. He also posted a very reasonable and usable 9.2 BB% that will help counter his higher strikeout percentage (25.4%). You will see him skyrocket up fantasy draft boards next year, think second round, he IS that good. Let's shift our focus to the staff just like the Braves did. They added multiple guys, Anibal Sanchez, Kevin Gausman, Brad Brach, and Jonny Venters. Let's key in on Sanchez for a moment. Since he took the last full-time starter spot, he has been vintage. 136.2 IP with almost a strikeout per inning (135 K), mix in a sparkly ERA of 2.83 and you'll want to take a further look into his numbers. Striking people out at a very healthy clip (24.7 K%) and keeping the ball on the ground (45 GB%) I expect him to be valuable going down the stretch. One thing I would like to alert people to is how he faired against the Dodgers this year. So far two starts with 11.1 IP and he had an ugly 7.47 ERA, 1.25 WHIP, with a pedestrian 7.23 K/9. A lot of that goes with the pair of homers he allowed, one in each start. Gausman has been another big addition to their staff. Since he has joined the Braves he has sported a very tidy 2.87 ERA in 10 starts. I'm under the impression regression can come very quickly for Gausman, as his xFIP is almost two full runs higher (4.46). I think his mediocre strikeout minus walk percentage (K-BB) at 10.7% is going to be a cause for concern moving forward in the postseason. Brach (1.52 ERA*) and Venters (3.54 ERA*) are going to be leaned upon during this series heavily as they have provided solid relief for the Braves. Together they haven't allowed a home run since joining the squad. Venters post one of the higher ground ball rate at a little over 68%, you should see him in some key double play situations. You'll also see Venters in versus some key left-handed hitting since he has dominated LHP with an impressive .131/.200/.200 slash, and 16 strikeouts of the 66 batters he faced.
* ERA since joining the Braves.
Preview of Game 1 Pitching Matchup
Mike Foltynewicz Vs Hyun-Jin-Ryu
Foltynewicz has put up a career year for himself in 2018, increasing his IP by 29 (183), pushing over his previous high in strikeouts by almost 60 (203), and driving his ERA down almost two full runs to a stellar 2.85. All of this has been done only starting three more games than last year (28 in 2017). So what has been the key to his success? Well, he has actually allowed fewer home runs in 2018 (17) then he did in 2017 (20) despite the increase in innings. Also, we have been teased with his electric stuff for so long we have been running out of patience, but low and behold 2018 was the year his K% soared. A few things point to why his increased use of the slider (+6% to 27.2%), and how he has been able to increase his spin rate on both his 4-seam fastball (2350 '18, 2294 in'17) and slider (2521 '18, 2427 '17). That slider has been devastating giving up only a .130 AVG and .200 SLG, no one can seem to do much with it. He has thrown it over 240 more times than 2017 and he has given up only three more hits (28) and has actually given up fewer home runs off of it as well (2 in 2018, 6 in '17). I'd look to see the Dodgers roll out more lefties in this game versus Folty, as he has given up 11 over his homers this year to LHP.
Ryu will take the mound for the Dodgers in this pivotal game 1. I figured you would see Clayton Kershaw take the hill first, but Ryu has been very good this year for LA so this move could benefit them. After plagued with a groin injury earlier, Ryu is back and dealing. Sitting back with a sub 2 ERA in nine starts with the club, Ryu has been flat out amazing with his walk percentage (2.4%). Striking out one-quarter of the batters he faces, this will be a solid combination to attack the Braves with. He comes at you with four main pitches, 4-seam fastball, Cutter, Curve, and Change-up. All of these he throws over 18%, so expect to see a nice mixture of pitches in the opening game to keep some of these hitters on their toes. It looks as if mixing in the cutter and sinker more this year has actually helped the results to his 4-seamer. Completely reversing the average on that pitch from an awful .362 in '17 to a sweet .204 in '18. We should see off-speed stuff early and often from Ryu.
Prediction for Series Winner and MVP of the Series
After looking over these two teams I think the Dodgers take this down in four games. They have taken the season series earlier this year without many problems. They have faced Foltynewicz before, back on July 27th they tagged him for two long balls and four total runs. The Dodgers obviously remember that as that game was against Kershaw and he went 7.2 IP with 1 ER and eight strikeouts for the win. To me, it shows the Dodgers are confident that Kershaw will be pitching them into a promising position for game three. I think we will see Manny Machado put up a monster series and take the MVP as he will be looking to showcase his talents he will bring to a team during his pending free agency period. Now, if the Braves pull off the win I think you will have Freddie Freeman to thank for it. Freeman has played every single game this year for the Braves, posted another +.300 batting average and gave you a career high in RBI with 98. He is their engine, their life, he also is 4/6 against Ryu, he is 3/6 against the now shaky Kenley Jansen, and the only damage he has done to Kershaw is a solo bomb (4-19 3 BB's). But as the Rockies showed us, only one run matters in the playoffs.
Questions and comments?
thescorecrowsports@gmail.com
Follow Us on Twitter @thescorecrow
Follow Us on Reddit at u/TheScorecrow
Follow Bruce Cagle Jr. on Twitter @BruceCagleJr2
Main Credit Image: "[getty src="1035142676″ width="594″ height="435″ tld="com"]