Joel Dorcas | February 28th, 2019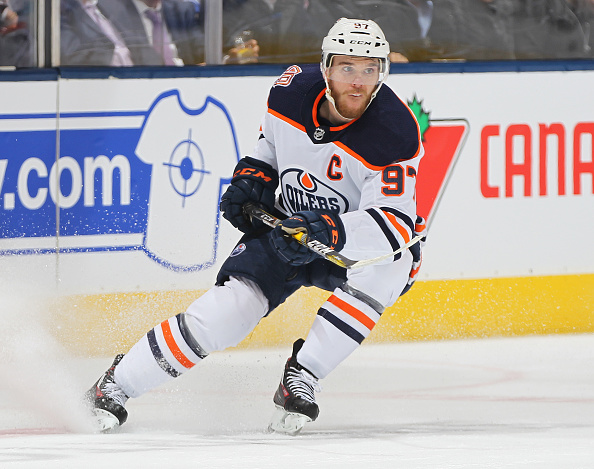 Not a mega-slate for Thursday in the NHL but a good size 7 game card is on tap. The following are my favorites for high-event probability: Philadelphia at Columbus, Edmonton at Ottawa, Florida at Las Vegas and Tampa Bay at Boston. Let's break it down!*side note, stacks are now listed as the last part of the article*
At the Core
Connor McDavid C EDM $7,900
We may see a pattern going forward, Fade the Ottawa Senators! The Sens got off to a decent 2-0 start Tuesday night on the road to the defending champion Washington Capitals, but just like we predicted, the Sens crumbled to a 7-2 score in the end. McDavid is matchup proof so a game against the NHL's weakest team, who as we know, got weaker, should mean lots of fantasy points for the league's most explosive player.
Cam Atkinson W CBJ $7,500
The Jackets failed to take care of the Penguins Tuesday night, tonight they face another Metropolitan division foe in the Philadelphia Flyers. They have to be ready for this one as their playoff hopes will dwindle if they don't take care of business. The Jackets have won the last three matchups with both teams combining for 23 goals. Atkinson leads the charge for this star-studded lineup. Over his last 10 games, he has six goals and 4o shots on goal.
Max Pacioretty W LV $5,400
The Vegas Golden Knights are struggling with only four wins in there last 10 games averaging 2.9 goals per game. Forward Mark Stone has been brought in to ignite the offense, this should be beneficial for Pacioretty who will play alongside Stone and Paul Stastny. The Panthers will be the Knights opponent, they have been involved in some high scoring games of late as the total has gone to the over in seven of there last 10 games.
Jakub Voracek W PHI $6,000
The Flyers have a good number of players priced under $6,500 and should give back a good return based on the context of the previous Blue Jackets/ Flyers games this season. Voracek is either tied or leading the Flyers in points(9) and shots on goal(38) in the last 10 games.
Value Plays
Sam Gagner W EDM $4,000
This play is totally dependent on if Gagner gets first or second line minutes. Gagner, as of this morning is playing alongside Ryan Nugent-Hopkins and McDavid. If Gagner gets moved let's hope he at least gets to play with the red-hot Leon Draisaitl. Since being acquired by the Oilers Gagner has regained a little bit of his scoring touch from his earlier years as a pro. It should be noted that the Senators have lost five straight allowing 24 goals, almost five per game.
Oliver Bjorkstrand W CBJ $3,500
Bjorkstrand is currently listed on the second line with ex-Senators Ryan Dzingel and Matt Duchene. This is great news for Bjorkstrand as he has had a less than inspiring season with only 12 goals and 11 assists on the season. Playing with Duchene should help the talented forward. Of late, Bjorkstrand has six points in his last 10 games.
Shea Theodore D LV $4,600
Theodore seems to be a steal at this price. He is averaging almost 20 minutes per game over his last 10 games(19.54) and has 25 shots on goal with 20 blocks. What's really to like about Theodore is that he gets first line powerplay minutes. The only thing left is for Theodore to get on the scoring sheet more often, only two goals and an assist over his last ten games.
Ivan Provorov D PHI $4,500
Provorov is a good value play based on the number of minutes he's been getting recently. He leads the Flyers in ice time over the last ten games with just over 25 minutes per contest(25.14). Provorov also has four points, 13 blocks and 29 shots on goal during that span.
Stacks
Edmonton Oilers-(C)McDavid, Draisaitl(C), Gagner(W), Nugent-Hopkins(W)
Columbus Blue Jackets- Atkinson(W), Duchene(C), Bjorkstrand(W), Jenner(C)
Vegas Golden Knights-Pacioretty(W), Statsny(C), Stone(W), Theodore(D)
Follow Us on Twitter @thescorecrow
Follow Us on Reddit at u/TheScorecrow
Follow Us on Facebook at The Scorecrow
Follow Us on Instagram at The Scorecrow
Follow Joel Dorcas on Twitter @Joel_Dorcas6
Main Image Credit:
[getty src="1128007365″ width="594″ height="469″ tld="ca"]