Anthony Smith | June 3rd, 2019
This exercise is meant to look at five teams across the NFL that should have long Super Bowl windows. This article will ignore teams that have found the fountain of youth (looking at you, New England) and teams that are unproven but have potential (i.e., the Ravens if Lamar Jackson makes a big leap).
5. Cleveland Browns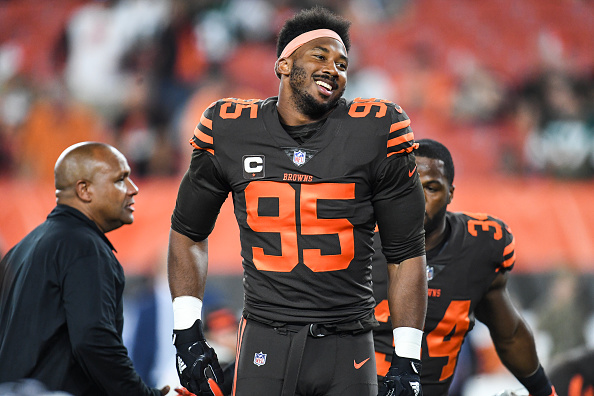 Key Pieces: Myles Garrett, Baker Mayfield, Joe Schobert, Genard Avery, Odell Beckham Jr., Denzel Ward, Nick Chubb, David Njoku
Notable Incoming Rookies: Greedy Williams, Sione Takitaki, Sheldrick Redwine, Mack Wilson
Head Coach: Freddie Kitchens – Year One
On paper, this team is stacked. Some may be surprised to see the Browns this low – after all, they have the clear 2018 Rookie of the Year runner-up in budding star Baker Mayfield, who will look to build on his rookie campaign. One of the newest members of the team, superstar WR Odell Beckham Jr., is just 26. Running back Nick Chubb quietly had an excellent season for the Dawg Pound. With that said, why isn't Cleveland higher?
I am hesitant to anoint any quarterback after one season of play, for one. If Mayfield progresses next season, Cleveland will truly have the franchise quarterback they've desperately needed for so many years. The other concern? The Browns have had great success over the last few drafts, and the time will come where they need to make some tough decisions on who to pay. We often hear that the salary cap is fake, but Cleveland's drafting prowess of late may mean they need to let some real contributors go down the line. If the Browns can gel immediately and integrate Beckham Jr., however, this team will certainly be a threat in the AFC for the next few years at least.
4. Chicago Bears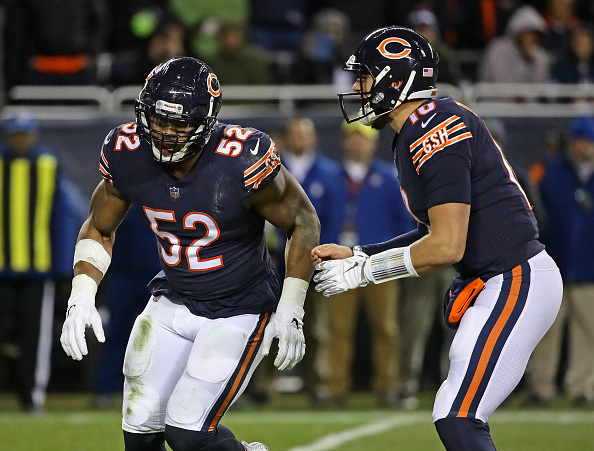 Key Pieces: Mitchell Trubisky, Tarik Cohen, Leonard Floyd, Kyle Fuller, Akiem Hicks, Eddie Jackson, Khalil Mack, Roquan Smith
Notable Incoming Rookies: David Montgomery, Riley Ridley, Duke Shelley, Stephen Denmark
Head Coach: Matt Nagy – Year Two
Cleveland and Chicago could easily be switched, but some factors lean toward Chicago being a little more equipped for long-term contention. Matt Nagy is part of a promising sophomore head coaching pool (more on that later) that looks the part as a true leader of men. Chicago's front office, led by general manager Ryan Pace, has not been afraid to swing for the fences in the NFL Draft or in blockbuster trades, which leads to another point of interest when talking about this team, Mitch Trubisky.
Personally, I am not the biggest Trubisky believer. While he made legitimate improvements in his second year at the helm, I would like to see just one more year before I can confidently say that he is the guy for Chicago. His trajectory will determine if the Bears ascend to NFC supremacy or falter and become the next decade's Bengals. Fortunately, the Bears have tons of talent on both sides of the ball, which is likely to ease the burden on the young signal-caller.
3. Philadelphia Eagles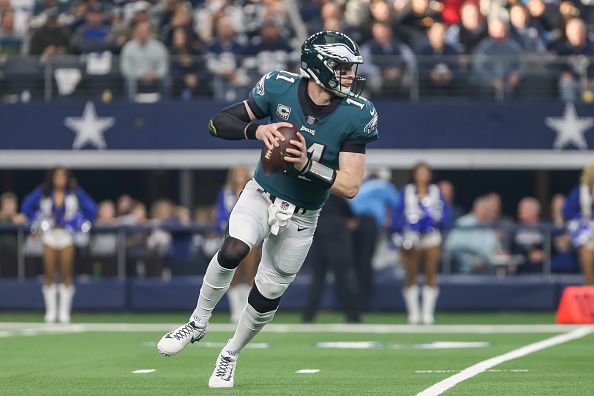 Key Pieces: Carson Wentz, Derek Barnett, Lane Johnson, Fletcher Cox, Ronald Darby, Dallas Goedert, Brandon Graham, Zach Ertz
Notable Incoming Rookies: Andre Dillard, Miles Sanders, JJ Arcega-Whiteside, Shareef Miller
Head Coach: Doug Pederson – Year Four
The Philadelphia Eagles were the toughest team to place on this list as far as their ranking. The team is just two seasons removed from their Super Bowl LII season, but the roster looks noticeably different. Gone is Super Bowl MVP Nick Foles, who filled in admirably for an injured Carson Wentz. Returning, is speedy receiver Desean Jackson, who this offseason came back home to Philly after being traded by the Tampa Bay Buccaneers for a 2019 6th round compensatory selection.
Now, to the reason the Eagles land at number three on this list. This team goes as Carson Wentz does. The dynamic quarterback has shown flashes of greatness in his young career. In the 2017 season, he was enjoying an MVP-caliber run prior to tearing his left ACL and being placed on injured reserve for the remainder of the season while Foles took the Eagles to the promised land. Wentz had mixed results last season as well, again showing potential prior to being shut down near the end of the season due to a nagging back injury. If he stays healthy however, the Eagles can expect to be long-term contenders.
2. Kansas City Chiefs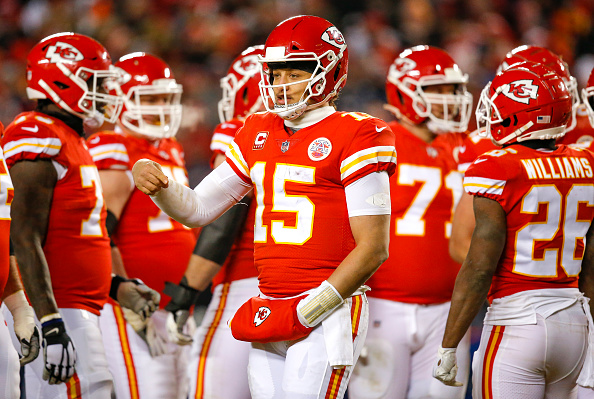 Key Pieces: Patrick Mahomes, Travis Kelce, Frank Clark, Tyreek Hill, Anthony Hitchens, Sammy Watkins, Chris Jones, Tyrann Mathieu
Notable Incoming Rookies: Mecole Hardman, Juan Thornhill, Khalen Saunders, Darwin Thompson
Head Coach: Andy Reid – Year Seven
I'll allow the shock factor of the Chiefs not being number one to subside for a moment while I list some of the obvious positives. Patrick Mahomes, after one year as a full-time starter, has already ascended to an inch below superstardom (Same rules that applied to Mayfield apply to you as well, Pat). Travis Kelce is the best tight end in the league, and the trade with Seattle to acquire star pass rusher Frank Clark should pay immediate dividends. An offense that was already loaded to start just added another dangerous piece in speedster Mecole Hardman.
Sound like a team that should be number one on a list like this? Maybe, but not so fast. The Chiefs may be without one of the most dynamic playmakers in the league in Tyreek Hill due to his off-field issues. The defense, with stud DT Chris Jones among others, has some legitimate talent, but could just as easily be the kryptonite that keeps them from reaching their full potential. Mahomes, for all his greatness last season, could very well experience some degree of a fall back to Earth with opposing teams having a full year of NFL tape to study. Can head coach Andy Reid overcome his playoff demons and fight off the other heavyweights in the league? This all remains to be seen. What's clear is this: Patrick Mahomes is fully capable of bringing this team its first Super Bowl in the modern era, and the Chiefs should be a true contender for the next 5+ years.
1. Indianapolis Colts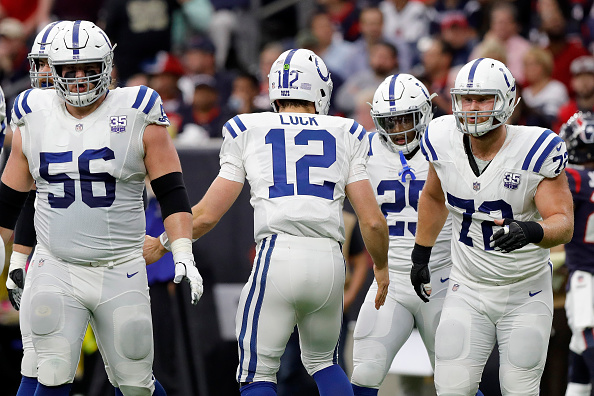 Key Pieces: Andrew Luck, Quenton Nelson, Darius Leonard, Marlon Mack, Malik Hooker, Pierre Desir, T.Y. Hilton, Ryan Kelly
Notable Incoming Rookies: Rock Ya-Sin, Ben Banogu, Parris Campbell, Bobby Okereke
Head Coach: Frank Reich – Year Two
The Indianapolis Colts have it all. Superstar quarterback? Check. Superb offensive line? Check. Playmakers on defense? Check. Front office filled with talent? Check. The trio of Andrew Luck, Frank Reich, and Chris Ballard could very well be the best QB-HC-GM combo in the league. Ballard, the 2018 PFWA Executive of the Year, is one of the most highly regarded GMs in the league, and he has an outstanding front office in place behind him. Have I mentioned that he drafted two first team All-Pro rookies last year in Quenton Nelson and Darius Leonard? Frank Reich, the backup plan at head coach after Josh McDaniels got cold feet at the altar, overcame a 1-5 start to lead the team to wins in 9 of the next of 10 regular season games before dismantling the rival Texans in their own stadium in the AFC Wild Card round. Pundits around the league were skeptical that Andrew Luck would ever play football again, and if he did, were concerned he'd be a shell of his former self. After shaking off the rust through the first few weeks of the season it became clear that the 2012 #1 pick was back. T.Y. Hilton is criminally underrated and will take Ohio State's Parris Campbell under his tutelage, and the apparent emergence of Marlon Mack as a legitimate #1 back last season bodes well for this team.
 To fulfill these lofty expectations, a couple things need to happen. Health – we know that Luck is back as a top 5 QB, but he needs to stay there. Malik Hooker, the rangy safety out of Ohio State, has all the tools to be one of the best young defensive backs in the league, but he too, has battled injuries in his time in Indianapolis. Can this team withstand the grind of a full season and enter the playoffs with a full bill of health? Secondly, Frank Reich will need to grow as a head coach. His innovative playcalling makes Indianapolis a tough draw every week, but what will he do for his encore? The Colts will face stiff competition in the AFC in the form of the New England Patriots, Kansas City Chiefs, Cleveland Browns, Los Angeles Chargers, among others on their rise to contention, but have all the tools to be a perennial Super Bowl contender.
Questions and comments?
thescorecrowsports@gmail.com
Follow Us on Twitter @thescorecrow
Follow Us on Reddit at u/TheScorecrow
Follow Us on Facebook at The Scorecrow
Follow Us on Instagram at The Scorecrow
Follow Anthony Smith on Twitter @ant_theOreo
Main Credit Image:  [getty src="1078892982″ width="594″ height="396″ tld="com"]