Beth Sullivan | August 4th, 2018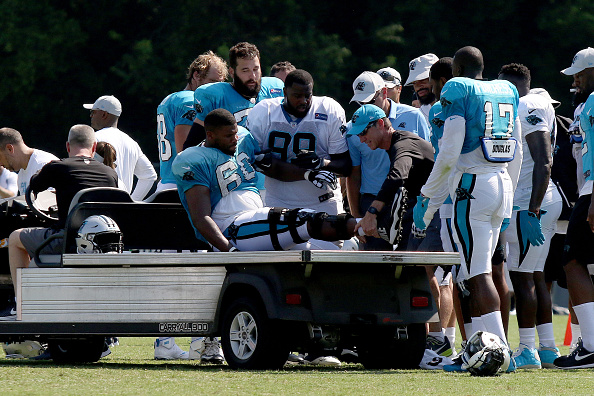 Each year when training camps open in the NFL hope for the upcoming season runs high with the fan base. Then the injuries begin happening and fans get upset. There are several calls to fire the strength and conditioning staff or multiple comments that the players didn't do enough during their break between OTA's and training camp to stay in shape. Everyone has a reason, but there are few answers as to what is causing the "spike" in injuries. So far two torn achilles tendons, 11 ACL tears, and 6 hamstring injuries have been reported and we are only halfway through the second week of training camp.
The first question we have to ask and answer is; is there really a spike in injuries, or is the way sports and news reported now part of the perceived increase? With the growth in social media over the last five to six years, the speed at which injury news gets reported has gone from an average of 5.2 hours after the injury to less than 2 minutes from injury to the time when video and pictures of the injury are trending all over social media. A lot of the minor tweaks and pains that get blown up on social media today, wouldn't have even gotten reported years ago. The transparency of injury news that occurs in the NFL today with daily injury updates and the demand that all players not attending be listed on the daily report has also helped in pushing the idea that injuries have increased.
The second question we have to answer is; have the player themselves actually helped to create this increase in injuries? After a walkout by players and mediation between the NFLPA and the owners a new CBA was ratified by both sides in 2011 and this agreement runs thru 2020. One of the biggest changes in the new CBA was a change in practice and off-season rules which drastically changed the number and intensity of practices allowed and the types of activities permitted during the off-season. Prior to this CBA, players were allowed to have off-season contact with training and medical staff on a more consistent basis than is permitted now. A reduction in the number of off-season practices with very specific rules as to what could be done at the allowed practices, a prohibition against training camp "two-a-days", and a limit on contact and padded practices in both the preseason and regular season were implemented in an attempt to decrease the number and severity of injuries. If the injury numbers since 2011 are any indication, this has actually backfired as the number and severity of injuries still seem to be rising.
The third question is one that Dr. James Andrews, the orthopedic "God" is trying to get an answer to with a study where he is currently gathering data. The question he is asking is whether the increase in injuries is actually the result of early single sport specialization which took off around 2005. In the old days, kids played every sport known to man. Some kids played different sports each season and some even played two sports in the same season, because they were able to coordinate practice and game time. Sports specialization as early as age six or seven ended this practice. In an attempt to help their child progress to the next level and be noticed by the best coaches at all levels of competition, and ultimately get scholarships to top colleges, parents rather than the athlete decided what sport they were going to play. This specialization leads to longer playing periods with kids participating in one sport specific activities basically year-round rather than changing sports with the seasons and thus limiting sport specific activities. Kids who are able to sample multiple sports and develop a true interest in the activity tend to excel at the sport and actually get better faster than kids who are pushed into a "better" sport for them by their parents or other adults in their life. One thing that is without question, kids learn more and faster when there is an interest in a subject or activity.
The current crop of NFL players are ones who were raised in this new climate of sport specialization. Multiple independent researchers examining early sport specialization participation trends in elite athletes have found that early specialization is not an essential component of elite athletic development and in fact the increased incidence of injuries at a younger age actually decrease the likelihood of these athletes achieving the elite status the parents are hoping for.
More research on all of these issues is needed. One thing is certain, something has to give in the injury spectrum. Making the game safer is important. Eliminating preventable injuries throughout the player's playing career is extremely important and better treatment of injuries at all levels of participation to eliminate the long-term effects of injuries all must occur going forward. In addition, a way for fans to categorize injuries to their severity is needed so unwarranted fervor over simple "hang-nail" type issues vs. justified worry over more serious injuries to account for the more rapid proliferation of injury information thanks to social media.
Questions and comments?
thescorecrowsports@gmail.com
Follow Us on Twitter @thescorecrow
Follow Us on Reddit at u/TheScorecrow
Follow Beth Sullivan on Twitter @GAPeachPolymer
Main Credit Image: [getty src="1006860600″ width="594″ height="396″ tld="com"]