Caleb Mynatt | September 27th, 2018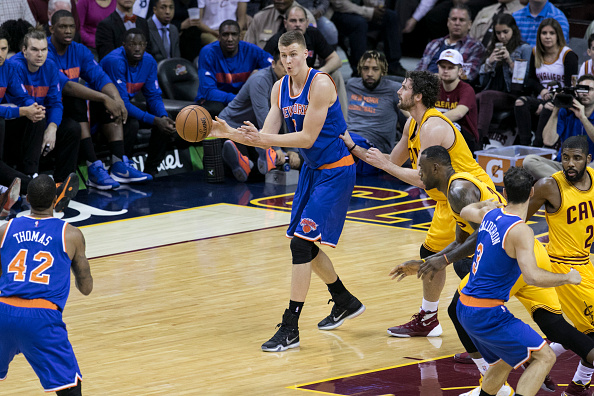 After a less-than-ideal 2017-2018 campaign, the New York Knicks are set to take the court again with the hopes of being competitive. Madison Square Garden has longed for success again but, in a tough Atlantic Division, will they be able to achieve it?
Recap of last season
At the beginning of last season, the Knicks were hoping to contend for a playoff spot in a wide-open Eastern Conference. The Celtics added a lot of talent, the Cavaliers still had LeBron, and the Raptors still had their core intact. Outside of those teams, it was really anyone's conference. And through December they were a .500 basketball team, posting a record of 18-18. January wasn't kind to the Knicks, but there was still optimism for them to be able to snag the eight-seed.
Then Kristaps Porzingis got hurt.
The season ended abysmally for the Knicks, as they went on to win six of their last 30 games.  They ended up ranking in the bottom seven in defense and finished in the bottom 12 in points scored per game. Without Porzingis, their team had no real leader and their overall talent took a huge hit. They finished with a 29-53 record, but they at least picked up Kentucky standout Kevin Knox with the ninth overall pick.
Offense
Looking forward to this year, the Knicks have a daunting task ahead: surviving without Porzingis. There has been a lot of speculation of when his return may be, but it seems safe to assume that New York will be extremely cautious with his health. It's hard to replace the void of 22.7 points and 6.6 rebounds a game, and the Knicks don't exactly have a ton of talent to assist with that. Enes Kanter has proven himself to be a nice offensive piece over his career and will have the opportunity to take more shots. Tim Hardaway Jr. is a proven scorer that will suit up for Game 1, but he only scores 17.5 points per game and is the definition of a volume shooter.
There are still a lot on offense the Knicks will have to figure out like how to create shots while Porzingis is sidelined. The Knicks will likely look to get Knox, who scored 22.7 points per game in Summer League, and Frank Ntilikina as many reps as possible in the hopes that they can blossom into high-quality impact players. Outside of the players mentioned above though, the Knicks will have to get creative with their offensive looks. That bodes well for Ntlikina to grow as a play-maker this season, but even then, they will have to figure out a way to get Trey Burke and him playing time, as Burke is definitely the superior offensive player and proven point guard thus far.
Defense
While the Knicks potentially have some answers on the offensive end, their defensive outlook is bleak. Ntlikina is probably the most talented defensive player on the team when Porzingis is out, which shouldn't make fans too optimistic because he was a rookie. Ntlikina looks like he could become a lock-down defender, but it will take some time, and defense also can't be played by just one person. Courtney Lee is probably their second-best defender, although his defensive rating has stayed around 110 since joining the Knicks. Of players who appeared in at least 50 games this season, Ntlikina leads them all with a defensive rating of 104.9. To put it mildly, that's not very good. Kanter and Hardaway are both notorious for not being good defenders, and it's a problem you accept because of their offensive potential. This team is very young, not extraordinarily athletic, and missing their anchor. Outside of unforeseen circumstances, like Knox becoming a lock-down defender, this team should be one of the worst defensive teams in the league.
Bench
Burke, Ntlikina, Hardaway, and Lee are all going to be contending for minutes, meaning two of them are going to have to take more a bench role. As far as depth is concerned, that's not a bad problem to have. All of those players are good bench pieces, but none of them are necessarily fantastic starting-caliber players. After that though, things really start to take a dip. Michael Beasley was a bright spot for a team off the bench last year, and his 13 points per game are going to be missed. Perhaps Lance Thomas and Kyle O'Quinn could take a step forward, but don't bet on it. When Porzingis comes back and Knox is coming off the bench, the bench will be a lot more formidable. While Porzingis is out though, they may lack in bench production.
Prediction
As of right now, things aren't looking great for the Knicks coming into the season. They rely on their all-star to do a lot for them, and it's going to be tough without him. Like I mentioned, there will be no rush to get Porzingis back considering he has a long career ahead of him and the last the Knicks want to do is injure him further. They also probably won't rush to get him back since this team doesn't have much of a chance to compete anyway. Last season, Porzingis, Haraway, and Lee were the only players that played over 30 minutes a game. That will likely change. This season should be all about getting the younger players reps and preparing for next year after the Knicks potentially pick up some star players in free agency.
Barring an unforeseen trade, the Knicks will likely be towards the bottom of the Eastern Conference again. The team simply does not have the talent or ability to compete for a playoff spot if their star is out for an extended amount of time. Next season should be promising though. It just means that Knicks fans have to get through this one.
Final Record: 26-56, 14th in the Eastern Conference
Questions and comments?
thescorecrowsports@gmail.com
Follow Us on Twitter @thescorecrow
Follow Us on Reddit at u/TheScorecrow
Follow Caleb Mynatt on Twitter @CalebMynatt
Main Credit Image: Embed from Getty Images