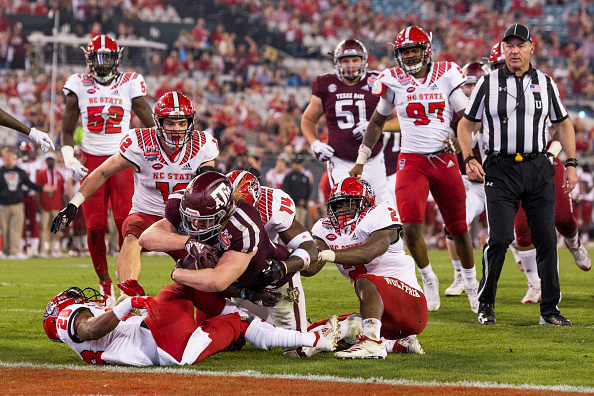 Givanni Damico | May 26th, 2019
For those of you who haven't heard, the NCAA is now exploring the possibility of allowing college athletes to be compensated for the use of their image, name, and likeness. This is not to be confused with the idea that the NCAA itself would be paying college athletes. What this means is that there is a possibility of the NCAA Football video game returning. Let me be clear. These are just rumors. Nothing is set in stone yet, but it makes the game creation a possibility.
Let's take a trip down memory lane back to the last NCAA football game made: NCAA Football 14. The game was a huge success, selling over 1 million copies over both consoles. Despite its lack of up-to-date graphics and poor online servers, this game is still being played by many people today, hoping that a new game comes out. The dynasty mode is better than any franchise mode in any Madden game. One of the game's best features was the offensive and defensive coordinators that assisted your head coach in your dynasty. Madden does not have coordinators despite the many suggestions that they've received to add them. The recruiting in NCAA 14 was very well-done as well. Even though the player names were very generic, the process was easy to understand and fun as well. The gameplay was dynamic and fun as well. Overall, it was a very fun and addicting game to play.
So now that there are talks that the game could be renewed after years of waiting, there are endless possibilities to improve and modernize the game from what it once was. Let's discuss some of those possibilities.
NO ULTIMATE TEAM: What EA tends to do with Madden is focus completely on MUT (Madden Ultimate Team) rather than putting some emphasis on Franchise mode and Career mode. Here's the thing. Not everybody enjoys giving EA all of their money to improve their ultimate team. For some, franchise mode is the most realistic and fun mode for people to play. When it comes to NCAA, dynasty mode was easily the best part of the game. If an ultimate mode was implemented, I already know that EA would put all of their focus in that again and leave much to be desired in dynasty mode and RTG.
Ability to expand the CFB Playoff: As most people know, there is a lot of opposition to only four teams making the playoff. Because the Playoff wasn't a thing when NCAA 14 was made, only the top two teams made the National Championship, so obviously, this would be updated. There also should be an option to expand the playoff to 8 or 16 teams for those who want a more tournament style playoff.
Senior Bowl: The Senior Bowl is such a fun event. In the game, it would give you one last opportunity to play with your seniors. As some of you may know, in NCAA 14, your bowl game would be the last time you'd get to play with your seniors, so this would be a great final send-off.
FCS Teams: In NCAA 14, there were a few FCS teams, but rather than being actually teams such as North Dakota State or James Madison, they would just be called "FCS Northwest" or "FCS Southeast". You also were unable to control these teams in dynasty mode. If FCS teams are added, you should be able to control them in dynasty mode and possibly, if you have enough success, turn them into FBS teams. This would provide a challenging yet fun rebuild for those who are so good at the game that they could rebuild Texas State in two seasons.
Create-A-Stadium: This is just like it sounds. You should be able to create a stadium and change small details such as seat color and layout as you can in NHL 19. In Madden, they only give you generic options that get old after a while. You should also be able to create your own mascot.
Create New Rivalries: Obviously, there are already rival games like Michigan versus Ohio State and Alabama versus Auburn, but you should be able to start new rivalries with teams. Say you put Notre Dame on your schedule and they injure your quarterback, then you should be able to create a rivalry with them.
Scandals: This may be hard to code, but there could be scandals such as players who are academically ineligible to play still being allowed to play by their university. The player could get suspended or the university could suffer punishment such as losing bowl eligibility for a year or two. There should also be a way that you can attempt to hide that you are doing something that you shouldn't to add an element of strategy to the game and so that scandals aren't too common.
Student Sections: This is pretty self-explanatory. There should be a section with the band and a bunch of students going crazy for their team.
Customizable Stadium Sounds and Video Board Graphics: This could be anything that a person wants to import into the game using a USB drive. If you want there to be a funny sound effect every time you intercept the opposing team, you should be able to import that in.
GPAs: The academic aspect of college needs to be more prevalent in order to make the game more realistic. If a player has a terrible GPA, they should be ineligible until they get it back up. This should be controllable by the user so that if a player becomes ineligible, they are able to make them eligible again as quick as possible.
Suspensions: This goes along with scandals and is also self-explanatory.
College Gameday Weekly Picks: My favorite sports show on ESPN is College Gameday. The guys should be able to make their picks on each game every week. The segment doesn't need to be too long in order to keep the game rolling, but they could even introduce guest pickers like in real life.
Primetime Games: The better your team is, the more primetime games they should get.
Export To Madden: You should be able to import either your draft class in dynasty or your RTG into Madden so you could see your guys at the next level.
Different Broadcasts: This would be near impossible to do, but it would be cool if they could get a few different announcers from different networks to broadcast the game. If Gus Johnson announced the game, I might cry tears of joy.
RTG Pickup Football: This would work similar to MyPark on NBA 2k. You can head to different fields and jump in unofficial games with your RTG player.
Transfer Portal: A lot of people hate the transfer portal, but I couldn't love it more. Adding this to the game would be great because if you are in serious need of something that you couldn't pick up in recruiting, you could check the transfer portal and have talks with the player to convince them to come to your school.
Fans Rushing The Field: After a big win, it would be incredible if there was an animation where the fans just stormed the field like in real life, but I guarantee this wouldn't be included so that it doesn't seem like EA is promoting that happening.
Roster Bank: This would be so you could play dynasty mode with rosters from past seasons if you get bored of the players from the current season.
Design New Team Uniforms: This would be something like creating new whiteout uniforms or just different themed uniforms.
Create-A-Team: I'm aware that you could do dynasty mode with schools that have no football program, but you should be able to create your own team, design the logo, uniform, stadium, mascot, etc.
Future Recruiting: What this means is that you should be able to recruit players from two or three years in the future like in real life. This is not a pressing need for me, but it's just a thought.
Weekly Practice: You should be able to prepare specifically for the opponent that you are playing that week as well. A "film session" on past times when you played said team would be cool.
This is all off the top of my head, but I don't want the readers to think I'm greedy. I just want the game back. If 25% of this stuff is implemented, I'd still throw all of my money at the game. The most pressing thing on this list for me personally is the first. I really don't want an ultimate team mode. This would easily be the best sports game out there and maybe one of the most popular video games in general. People have been longing for this for five years. Who knows? Maybe they'll bring back NCAA Basketball too.
Questions and comments?
thescorecrowsports@gmail.com
Follow Us on Twitter @thescorecrow
Follow Us on Reddit at u/TheScorecrow
Follow Us on Facebook at The Scorecrow
Follow Us on Instagram at The Scorecrow
Follow Givanni Damico on Twitter @giodamico15
Main Image Credit:
[getty src="1076537948″ width="594″ height="396″ tld="com"]