Mike Fanelli | January 29th, 2019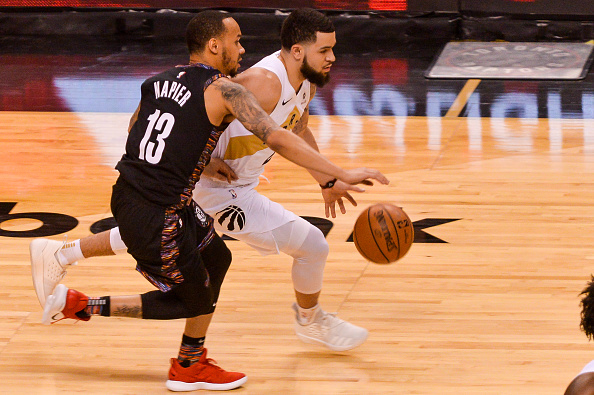 The NBA trade deadline is just around the corner and the rumor machine is on fire. While most teams won't make a deal, each will consider many options between now and the February 7th deadline. In a six-part series, I will provide one trade each NBA team should consider making between now and the deadline. The Atlantic division is up first and here is trade each team should make.
Celtics trade: Semi Ojeleye, a future second-round pick
New York Knicks trade: Noah Vonleh
Many will hope the Celtics will make a major splash move before the deadline but with them unable to trade for Anthony Davis until the offseason, I don't expect them to offload any of their young assets. Instead in a smaller move, the Celtics improve their frontcourt depth and get some help on the glass. Vonleh is averaging 8.6 rebounds per game in about 27 minutes a night, while the Celtics don't have a single player averaging more than 6.5 rebounds.
The Knicks are in full tank mode and hope to luck out in the lottery. With Kristaps Porzingis hopefully 100% healthy to start next season, combined with a high pick, the Knicks hope they are a favorable landing spot for free agents this summer. Vonleh is a free agent after the season and won't be resigned so swapping him for Ojeleye (who has a non-guaranteed contract for next season) and a future second-round pick a solid return.
Nets trade: Shabazz Napier, Denver Nuggets 2019 first round pick
Phoenix Suns: trade Kelly Oubre Jr.
For the first time in a long time, the Nets are in the playoff race. The young duo of D'Angelo Russell and Jarrett Allen have been playing great lately, all without most improved play candidate Caris LeVert. The Nets are buyers at the trade deadline for the first time since 2013 when they traded for Paul Pierce and Kevin Garnett. The Nuggets' draft pick is likely to be in the 25-30 range so flipping it and a bench warmer for a young athletic wing could secure the Nets a playoff trip for the first time since 2015.
Nets are 20-5 over their last 25 games, best streak in franchise history. All without Caris LeVert who was a leading MIP candidate before his injury. This team is the real deal.

— Hoop Central (@TheHoopCentral) January 28, 2019
When the Suns traded Trevor Ariza to the Washington Wizards back in December, Oubre was supposed to end up with the Memphis Grizzlies. However, because of a miscommunication, that deal fell apart and Oubre was sent to the Suns the next day in a new deal. With T.J. Warren, Josh Jackson and Mikal Bridges under contract for the next several years, the Suns aren't likely to resign Oubre this offseason. If they have no plans on bringing him back, swapping him for an expiring contract and a late first round pick is a good return.
New York Knicks
Knicks trade: Courtney Lee, Frank Ntilikina, first round pick (top one protected)
Charlotte Hornets trade: Kemba Walker, Dwayne Bacon
As I mentioned above, the Knicks are in full-blown tank mode and hope to be players in free agency this summer. However, wouldn't it be better if they already had a star on the roster to go along with Porzingis when recruiting free agents? If the Knicks can sell free-agent stars like Kevin Durant or Jimmy Butler that they can play with Walker and Porzingis, that will go a long way in swaying them. If the Knicks want to contend in the Eastern Conference starting next season, this is the kind of move they need to make.
Walker is an upcoming free agent this summer, the Hornets are at a crossroad. They can either resign him to a massive extension and try to build a team around him or use him to acquire assets for their rebuilding project. The Hornets have failed to give Walker a good supporting cast and he may refuse to resign this offseason. If the Hornets don't want to lose him for nothing, trading Walker for a former top 10 pick, a veteran with only one year left on his deal and a likely top-five draft pick is a good return.
76ers trade: Justin Patton, a future second-round pick
Suns trade: Jamal Crawford
Despite the reported friction between Jimmy Butler and other members of the 76er organization, I expect Butler to remain on the team past the trade deadline. Instead of making a splashy move with him, the 76ers should focus on adding veteran shooters similar to what they on the buyout market last year. Patton hasn't played a game since coming over in the Butler trade and is a free agent this summer. Crawford would give the 76ers another late-game closer beside Butler.
How Crawford remained on the free agent market for so long this past offseason is crazy. However, when the Suns signed him they knew he wouldn't be with them all season long. If the Suns can't trade him, they will likely come to a buy out agreement as they are tanking and Crawford wants to compete for the playoffs. Swapping Crawford for an expiring contract and a second round pick is better than releasing him after the trade deadline.
Raptors trade: Malachi Richardson, cash considerations
Sacramento Kings trade: a future second-round pick (top 55 protected)
If you thought the last trade was boring, this one is even worse. The Raptors are more than $16 million dollars over the luxury tax line and have 15 guaranteed contracts on their roster. By trading Richardson, who has played in just 22 games this season, they lighten their tax bill a little and open up a roster spot for buyout candidates.
The Kings are the only team in the NBA with cap space so expect them to make at least one move like this before the trade deadline. The Kings will get enough cash to cover the rest of Richardson's contract, plus a little more for their troubles and then will release him as soon as the trade is completed. NBA trade rules require both team's to get something in a trade so the Kings will send a top 55 protected second-round draft pick, meaning unless the Kings finish with a top five record this season the pick will never transfer.
Questions and comments?
thescorecrowsports@gmail.com
Follow Us on Twitter @thescorecrow
Follow Us on Reddit at u/TheScorecrow
Follow Mike Fanelli on Twitter @Mike_NFL2
Main Credit Image: [getty src="1081231924″ width="594″ height="395″ tld="co.uk"]