Givanni Damico | February 25th, 2019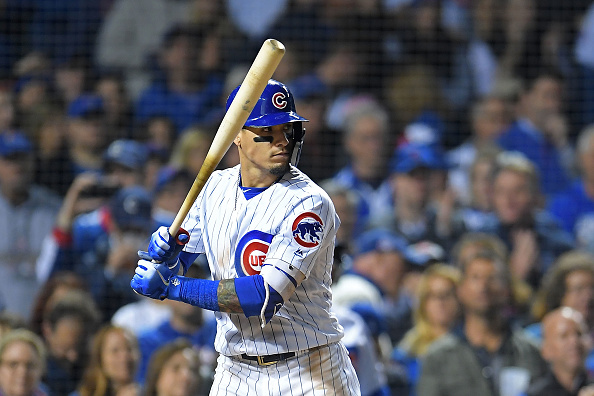 We see it every year. A player who has been good during the course of his career has a down year or a breakout year. It happens. Last year, it was Eric Hosmer, Kris Bryant (for his standards), and Jake Arrieta who underperformed. Who will it be this year? No one can know for sure, but I will definitely give my input (with the help of other members of the Scorecrow team).
MLB 2019: Players Who May Slump
2018 w/ PHI: .246 BA, 34 HR, 96 RBIs, 150 SO, 87 BB, .354 OBP, .496 SLG, .850 OPS, 0.5 WAR
Hoskins doesn't have anything else going for him besides power at the plate. He struck out 23% of the time last year and he didn't even get a WAR of 1. Defensively, he's a liability, recording a -3.6 WAR and made 12 errors in the field last year. People were all over him in 2017 when he came in as a late-summer call-up and managed a .259 batting average with 18 home runs and 48 RBIs. Last year, his average dipped to .246. It's not a good sign for a pure hitter like he is to already have his averaging dipping below .250. He will never hit for average, especially as pitchers continue to figure him out. There's a lot of hype surrounding him, despite the fact that his impact is relatively minimal in the success of the Phillies. I don't expect his power numbers to dip very much, but I think his average will continue to go down. Players who hit purely for power are quite frustrating because when they don't come through when you expect them to (with a big home run and whatnot) then what's the point in having someone who hits .230 and isn't clutch? I expect a line similar to this for Hoskins this year:
.232 BA, 30 HR, 79 RBIs, 173 SO, 81 BB, .331 OBP, .481 SLG, .812 OPS, 0.1 WAR.
This is just my rough prediction, but I don't think there is much room for Hoskins to grow.
2018 w/ TB: 21-5, 1.89 ERA, 221 SO, 64 BB, 11 K/9, 3 BB/9, 0.974 WHIP, 7.5 WAR
Let me be clear: I do not think that Snell will have a bad year this season. I think that he will take a step back this year. There's no way that he can get to 21 wins again this year or strike out 11 guys per nine innings. I'm also not saying that I think he will take just one step back. This year could be a couple steps backward for Snell. He has the pressure of living up to his Cy Young season and I promise you, it's just unattainable for him to do it again. Let's not forget that one year before, Snell went 5-7 with a 4.04 ERA and only eight strikeouts per nine with four walks per nine. Last year was a huge progression for him, but we don't know how consistent he can be. His first year was solid with a 3.54 ERA and 10 strikeouts per nine, then he took a step back, then a huge step forward. It hasn't been solid progression throughout the first three years which makes me wonder, will this be another mediocre year for Snell? Keep in mind, this is only his fourth season so he could be just as good, but I just don't see it happening. The AL East is a tough division for any pitcher (unless your name is Chris Sale) and it's only going to get tougher. Here's my prediction for Snell's line this year:
13-10, 3.32 ERA, 211 SO, 71 BB, 10 SO/9, 4 BB/9, 1.319 WHIP, 6.2 WAR
Once again, this is just a very rough prediction. These numbers are still solid, just nowhere near 2018 Blake Snell.
2018 w/ ARZ: 11-7, 3.15 ERA, 246 SO, 48 BB, 11 K/9, 2 BB/9, 1.050 WHIP, 4.8 WAR
Patrick Corbin changed teams in the offseason, signing with the Washington Nationals in the NL East. This is always a big deal, especially when it comes to pitchers. You're used to facing the same hitters in your division for however many years, and now you have to adjust to all new hitters. The NL East has more talented hitters than the NL West does (in my opinion). People like Freddie Freeman, Ronald Acuna, J.T. Realmuto, etc. are difference makers that make the pitcher's job very hard. Patrick Corbin's career has come with many inconsistencies. His ERA has fluctuated more than my uncle's weight over the last five seasons. He was an all-star in 2013, pitching to a 3.43 ERA. He followed that year with a 3.60 ERA, then after that, it skyrocketed to a 5.15 ERA. In 2017 it dropped to 4.03, then of course last year was his best year at 3.15. If he had consistently been getting better, I wouldn't be worried, but he has always been inconsistent. If you're playing fantasy baseball, Corbin eats a lot of innings which can be good, but it could also come with a higher ERA. Here's my projected line for Corbin in Washington this season.
12-12, 4.10 ERA, 187 SO, 57 BB, 9.5 K/9, 2 BB/9, 1.302 WHIP, 3.2 WAR
This would be a huge step in the wrong direction. His ERA may not jump as high as I'm saying it is, but I would be willing to bet that it is at least .3 points higher than last year.
2018 w/ CHC: .290 BA, 34 HR, 111 RBI, 167 SO, 29 BB, .326 OBP, .554 SLG, .881 OBP, 6.3 WAR
Just like with Blake Snell, I think that Baez will have a good season, but not nearly as good as last year. Last year was obviously a breakout year for Baez as he finished second in NL MVP voting and hit a career-high 34 home runs with career highs in almost every hitting category. These numbers are just not sustainable. Javy is a career .267 hitter, so last year was an anomaly of a season for Baez. He hit .273 in the two years prior to last year and I believe that that is a more likely number for him this year. Both Anthony Rizzo and Kris Bryant are projected to have huge seasons today which will take away from Baez in certain areas. Regression is inevitable for Baez because he is not a natural .290 hitter. It's not the new norm for him. I don't think that Baez will slump this year, rather just not reach people's sky-high expectations. It's important to note that Baez had the highest swing-and-miss percentage in the MLB last year, as well as the second highest swing percentage overall. Here's my projected line for Baez in 2019.
.270 BA, 26 HR, 92 RBIs, 16 SB, 172 SO, 34 BB, .311 OBP, .523 SLG, .834 OPS, 4.0 WAR
2018 w/ ATL: .261 BA, 24 HR, 72 RBI, 116 SO, 36 BB, .305 OBP, .452 SLG, .757 OPS, 3.8 WAR
Albies plays so much like Javy Baez, it's uncanny. Both Baez and Albies swing the bat a lot and hardly ever walk. Baez had the second highest swing rate at 57.7%, while Albies was fifth at 56.2%. In my Braves preview, I said that I thought that Albies would be just as good as last year, but I'd like to retract that statement. I don't think that people realize that Albies hit .226 with only four home runs after the All-Star break. Albies needs to work on plate discipline if he wants to continue his All-Star appearances because pitchers started to figure out that he liked to swing a lot. He didn't total a ton of strikeouts over the season, but pitchers will be more reluctant to give him good pitches to hit since they know he swings at more than half of the pitches they throw. There was a lot more weak contact off of Albies' bat after the break because of his lack of discipline. He makes contact with pitches that are hard to drive and they end up being weak grounders or pop-ups. It'll be hard for Albies to live up to how he started last year. Here's my projected line for Albies in 2019.
.251 BA, 20 HR, 69 RBI, 148 SO, 40 BB, .298 OBP, .450 SLG, .748 OPS, 2.3 WAR
2018 w/ LAD: 1-5, 3.01 ERA, 82 SO, 17 BB, 10 K/9, 2 BB/9, 0.991 WHIP, 0.6 WAR
I honestly believe that hitters have figured out Kenley Jansen. Despite blowing just four saves last year (not bad, not great), he pitched to the highest ERA of his career. His HR/9 was 1.6 which was far and away the highest of his career. His motion is interesting and I think it's becoming less effective. He also surrendered the second-most hits in his career. He does a good job at keeping people off base via the walk, but he got lit up in a few games last year. It's concerning when a closer goes from dominant to hittable. An ERA of 3.01 is a bit high for a quality closer. I think it will only get worse this year. Here are my projections.
2-5, 3.32 ERA, 84 SO, 26 BB, 10 K/9, 3 BB/9, 1.109 WHIP, 0.1 WAR
Honorable Mentions
David Peralta, LF (ARZ)
The Freight Train was a beast last year, but I only have one reason for him not being as valuable (fantasy-wise at least): the humidor. The Diamondbacks front office thought it would be fun to limit the number of home runs hit by using the humidor to make their baseballs heavier. Heavier baseballs equal fewer home runs. Stupid D-Backs front office. Thanks to my Scorecrow colleagues for telling me about this.
Christian Yelich, LF (MIL)
He's still going to be a fantastic player but he had a crazy, unsustainable second half last season with a lot of home runs. I doubt he even cracks 30 home runs, which would be a pretty big step back for the MVP.
Chris Davis, 1B (BAL)
Just kidding, can't get any worse than last year. Davis couldn't hit the broad side of a barn.
Questions and comments?
thescorecrowsports@gmail.com
Follow Us on Twitter @thescorecrow
Follow Us on Reddit at u/TheScorecrow
Follow Us on Facebook at The Scorecrow
Follow Us on Instagram at The Scorecrow
Follow Givanni Damico on Twitter @giodamico15
Main Credit Image: [getty src="1049381930″ width="594″ height="396″ tld="com"]