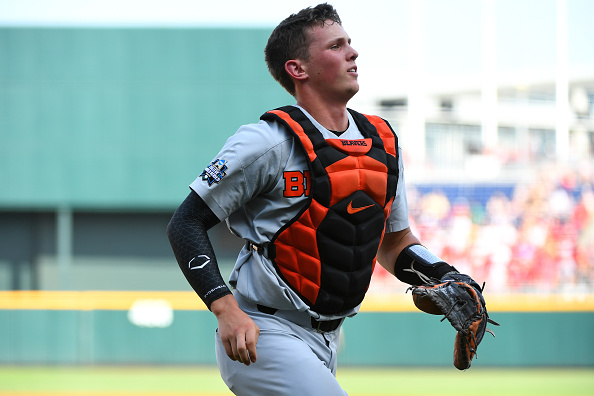 Height: 6'2″
Weight: 216 LBS
Age: 21
Bats: Switch
Throws: Right
2017 Stats: .234/.322/.306, 2 HR, 33 RBI, 27 BB, 39 SO, .988 FLD%
2018 Stats: .408/.505/.628, 9 HR, 83 RBI, 53 BB, 40 SO, .987 FLD%
2019 Stats (Through May 24, 2019): .426/.585/.778, 17 HR, 57 RBI, 72 BB, 36 SO, .990 FLD%
MLB Pipeline Grades: Hit: 60 Power: 60 Run: 40 Field: 60 Overall: 60
As you can see from the stats, Adley Rutschman has made significant improvements from his Freshman campaign in 2017 to where he is now. He was previously drafted in the 40th round of the 2016 MLB Draft by the Seattle Mariners. But what makes Adley Rutschman so good? What are his weaknesses? And finally, where can we expect him to land come draft day on June 3rd?
Adley Rutschman was born Feb. 6, 1998 in Portland, Oregon to Carol and Randy Rutschman. His Father, Randy, played college ball at Linfield College which is a Division III private school in McMinnville, Oregon. His Grandfather, Ad, was the head football coach at Linfield until 1991 which would explain Adley's football background. Adley was a placekicker and Oregon State's kickoff specialist his Freshman year. After 2016, he decided to drop football altogether to focus more on baseball and perfecting his craft.
Rutschman said during the 2018 College World Series that he shortened up his swing from 2017, working with coaches all off-season with hopes of getting his bat plane more level and long through the zone. His closed up stance, shorter leg kick, and stride help him take the ball the other way more consistently. Rutschman has an incredible list of accolades. He set school history marks a year ago, with the most single-season hits (102) and RBI (83). Rutschman went on to be named the College World Series Most Outstanding Player because of his (you guessed it) outstanding play. There is a reason Rutschman garnered the nickname "Clutch Man." He set the record for most hits in a CWS with 17 and finished with two homers and 13 RBI, leading the Beavers to their third National Championship in program history.
The changes and improvements he made were more than visible in 2018 and he has only gotten better this season. As of writing this, Rutschman is leading the nation in on-base percentage (.586) and walks (72). Rutschman is also second in the nation in batting average, hitting .426. He was recently named a finalist for the 2019 Golden Spikes Award.
[youtube https://www.youtube.com/watch?v=ek3OSOTCPPQ&w=560&h=315]
Strengths
The young switch-hitting catcher has a natural swing from the left side of the plate. He seems to know how and when to put a nice easy swing on the ball to hit a solid line drive. He's perfectly fine taking what the pitcher gives him and slapping a single or double to the opposite field. However, he can also torque it up a notch when he wants to hit for power and explodes through the baseball. This past season, he has improved even from the right side of the dish and has seen an increase in power from both sides. He hit another homer the other day and is now up to 17 for the season, already eight more than he hit a year ago. He's a very good gap to gap hitter, hits for average, and gets on-base a ton. Defensively, Rutschman is a very good backstop and can block the ball nicely. He has a plus arm and can make all of the throws with a good pop time.
Weaknesses
Rutschman really doesn't have many weaknesses. If there is a downside to his game, it's his speed. But how many catchers in the league right now are stealing an absurd amount of bases? He still moves well enough on the bases to not make him a liability. The other concern might be his ability to hit consistently from the right side of the plate at the big league level. He's made improvements and is still considered very good from that side, but there are scouts that feel his ability to hit consistently for contact right-handed might be uncertain. Scouts also have some negative things to say about his pitch-framing, although they feel he is good enough as it is now and has the tools and basics to improve upon more coaching instruction and practice. He is still considered a good pitch-framer just not to the level of a great major league catcher yet. To be honest, I don't see the concern that some of them see. Watching him play, I've seen him frame many pitches that were borderline and get them called strikes. In my opinion, he makes it look relatively easy, is fluid with his movements, and makes it difficult for umpires not to call strikes.
Overview
There is no extreme downside to his game. Rutschman hits for average, power, and has shown the ability to produce when his team needs him the most. He has a keen eye at the dish as evidenced by his ever-increasing walk rate. Rutschman has all the tools in the world to be a top-notch catcher in the MLB for years to come. He has an above average throwing arm, pop time, blocking skills, game calling, and is a very good pitch-framer. On top of his undeniable talent, Rutschman has an exceptional motor. His work ethic and will to perfect his craft makes him a can't miss prospect. The team that takes him will be very lucky to have him.
Draft Prediction: Round 1 Pick 1 Baltimore Orioles
All signs point to the Baltimore Orioles taking Rutschman with the number one overall pick. Taking the best player available with the first overall pick is never a bad idea. The Orioles have a plethora of needs and the catcher position is no exception. The O's only have one catcher on their MLB Pipeline top-30 prospects list, Brett Cumberland who is also a switch-hitting catcher, but doesn't project as a great big leaguer. They need pitching as well, but a good catcher like Rutschman would certainly help in that regard. The Oregon State Beavers have talented pitchers, but Rutschman can be credited to a lot of their success. This seems like a safe bet and the Orioles future will be looking very bright if they make this choice. If this does indeed happen, Rutschman will be the first catcher selected first overall since Joe Mauer was taken by the Minnesota Twins back in 2001.
Questions and comments?
thescorecrowsports@gmail.com
Follow Us on Twitter @thescorecrow
Follow Us on Reddit at u/TheScorecrow
Follow Us on Facebook at The Scorecrow
Follow Us on Instagram at The Scorecrow
Follow Joey Ricotta on Twitter @theriot326
Main Credit Image:
[getty src="994991974″ width="594″ height="396″ tld="com"]