Joey Ricotta | May 6th, 2019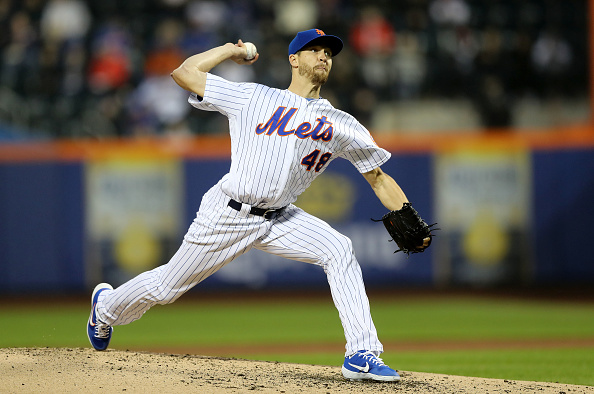 There are a ton of great pitchers throwing tonight. All of them are capable of having great outings every time out. Getting pitching right could be the key to this 9-game slate tonight. With that said, let's take a look at some options.
Locks
Jacob deGrom ($10.7K on DK and $11.1K on FD)
The San Diego Padres are batting only .227 against right-handers this year and striking out at a 27.1% rate, which is the worst in baseball. deGrom gets a nice spacious ballpark to go to work in tonight. He should be able to mow through this order. Even if the win isn't guaranteed, the points should be.
Cole Hamels ($9K on DK and FD)
Weather conditions play a huge role at Wrigley Field. The wind is blowing in from left field and whenever that is the case, pitching is what you want. Hamels has been solid. He put up 34 DK points the last time he faced the Marlins, allowing only three hits and zero runs while striking out eight in seven innings. The amount of righties in the Miami lineup doesn't scare me. They shouldn't be able to do much against Hamels.
1B/3B Matt Carpenter ($3.8K on DK and $3.2K on FD)
I'm a Cubs homer at heart and was extremely happy the Cubs swept the Cardinals this past weekend. But that was yesterday and this is today. My brain tells me this price tag is too cheap for a guy like Matt Carpenter. He'll be squaring off against Vince Velasquez, who has been worse against left-handed batters in his career. That hasn't quite been the case this year, but I think he comes back to earth tonight.
2B/OF Stevie Wilkerson ($2.9K on DK and $2.8K on FD)
If Wilkerson is in the lineup over Joey Rickard, I'll put him in at second base or an outfield spot and move on. His price tag is too cheap and with the great pitching on this slate we will need to pay up for, it makes too much sense. He's hit safely in each of his last four games with a HR and four RBI during that span.
3B Vladimir Guerrero Jr. ($3.9K on DK and $2.7K on FD)
This is more of a gut call than anything. It seemed like everyone thought Vlad Jr. would come up from the Minors and take the league by storm right away. Admittedly, I was one of those people. But that's not usually the case with Minor Leaguers. His upside is still as good if not better than anyones. Now that his price is dropping on daily sites, I'll be looking to attack. Calling my shot, Vlad Jr. hits his first big league home run tonight off Martin Perez.
OF Michael Brantley ($4.9K on DK and $4.1K on FD)
Brantley is on fire right now, hitting .336 with 7 HR and 24 RBI. He has hits in six consecutive games with multi-hits in four of those and homers in back-to-back games. He even has three stolen bases on the year. A home run and a steal would be huge for your lineup. Jakob Junis has already given up three HR to left-handed batters in only 17.2 IP. Lefties also have a .403 wOBA and Junis' FIP against them is 5.24.
OF J.D. Martinez ($5.1K on DK and $4,3K on FD)
It's either JD Mart or Mookie Betts in cash games for me tonight. Betts is $400 more on DraftKings, so I will go ahead and take the discounted price on Martinez. He's been hitting the ball well, with a .331 average and hits in each of his last four. Although he has hit well, Martinez hasn't hit a homer since April 17. With his power, it's only a matter of time before he hits another one.
BvP
OF Christian Yelich ($5.6K on DK and $4.7K on FD)
Yelich owns Max Scherzer. Weird thing to say right? Not many people do, but Yelich is 10 for 26 lifetime with three HR and five RBI against him. His price tag is too high for me to play him in cash games, especially going up against an ace like Max Scherzer, but I will definitely play him in tournaments. Yelich seems to be fully healthy as he blasted a home run yesterday in his return to the lineup.
Stacks
BOS vs John Means
The Red Sox faced Means a few weeks ago at Fenway. Means pitched well giving up only one run on four hits through five innings. So, why would we stack Boston? They've seen him and can now make adjustments. The White Sox had a lot better success the second time they faced Means and they aren't the offense the Red Sox are.
HOU vs Jakob Junis
Houston is red hot. Bregman, Correa, Brantley, Altuve, Springer, virtually anyone in this lineup is in play. Junis can be susceptible to the home run ball at times and the Astros are no strangers to hitting them. Houston ranks number one in wRC+ and number two in wOBA against right-handed pitchers.
TB vs Merrill Kelly 
Kelly has been pretty good and hasn't allowed a whole lot of hard contact. He has a 3.60 ERA so far this year, but I think he's getting a little bit lucky. Kelly has a 4.92 FIP and 4.49 xFIP. Tampa Bay seems like a good way to go in tournaments. You can stack them up pretty easily because of their prices too.
TOR vs Martin Perez
I don't mind using Perez as a value pitcher tonight, but I also don't mind stacking against him. He's ramped up his velocity, throwing 95 MPH this year. That only means the ball can go a lot farther if he makes mistakes. The Blue Jays have a lot of righties in their order that could do damage tonight.
Joe Ricotta has been playing fantasy sports for a little over 10 years. Ricotta began playing daily fantasy shortly after its inception. He has taken down a few large field tournaments and regularly cashes in his head to head matchups. This is not to say that he always will, but he always has a reason behind his lineup constructions. Fanduel pricing has been included but for all intents and purposes, the article was based on DraftKings research. The main slate of games beginning at 7:05 EST were the ones addressed. Recheck starting lineups and weather concerns before the games start and make changes accordingly.
Questions and comments?
thescorecrowsports@gmail.com
Follow Us on Twitter @thescorecrow
Follow Us on Reddit at u/TheScorecrow
Follow Us on Facebook at The Scorecrow
Follow Us on Instagram at The Scorecrow
Follow Joey Ricotta on Twitter @theriot326
Main Image Credit:
[getty src="1146366924″ width="594″ height="394″ tld="com"]