Joey Ricotta | May 28th, 2019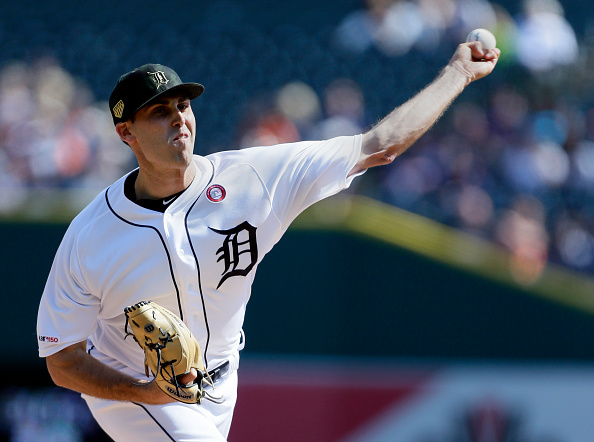 I hope everyone had a great Memorial Day. Now, we will look to get back to the grind in hopes of putting some money in our pockets. Let's take a look at some locks, batter vs pitcher, and stacks for tonight's main slate of games.
Locks
Matthew Boyd ($10,300 on DK and $10,200 on FD)
Well, I wanted to write up Lucas Giolito, but apparently, the White Sox verse the Royals game was removed from the slate. With that said, starting pitcher number one has to be Boyd for cash games. Boyd has a 3.11 ERA and a 29.6% strikeout rate. The Baltimore Orioles strikeout at a 26.1% clip against lefties.
Jeff Samardzija ($7,700 on DK and $6,600 on FD)
"The Shark" Samardzija will get the benefit (as he normally does) of pitching in a pitcher's park against a right-handed heavy Miami Marlins squad. I don't like the Shark as a pitcher at this point in his career, but this might not be the worst spot to use him. He might be serviceable. Miami strikes out at a 25.7% clip against righties and is near the bottom in most offensive categories.
Marco Gonzales ($6,900 on DK and $7,300 on FD)
Gonzales is in a similar situation that Samardzija is. He too isn't the greatest pitcher in the world and doesn't strikeout a ton of batters. But the matchup looks like a decent spot given what his price is. Texas Rangers have a lot of left-handed hitters and they strikeout at the second highest rate against lefties in the Majors (28.8%). They are also tied for the worst batting average against left-handers (.217).
Other Targets: Rich Hill, Trevor Richards, and Dylan Bundy.
1B Anthony Rizzo ($5,500 on DK and $4,400 on FD)
Rizzo is red hot with a nine-game hitting streak and home runs in four of his last six games. Corbin Martin has decent strikeout potential, but he has allowed a homer in each of his first three big league starts.
2B/OF Enrique Hernandez ($3,400 on DK and $2,700 on FD)
"Kike" Hernandez generally beats the crap out of left-handed pitchers. This season is no exception. He's hitting .300 against southpaws, with a .936 OPS. Hernandez is hitting only .220 on the season as a whole but just hit a three-run homer last night.
OF David Dahl ($4,200 on DK and $3,700 on FD)
Dahl is cheap exposure to the Colorado Rockies offense at Coors Field. As of writing this, the Vegas over/under game total is sitting at 12 runs. The Rockies are -135 favorites going up against Merrill Kelly. It doesn't take an insane amount of analysis to know, that is an insane amount of expected runs. Dahl should be hitting anywhere from 1-3 in the Rockies order. Fire him up in cash games and feel good about it. You never know, he could take you a Mile High.
OF Mallex Smith ($3,500 on DK and $2,300 on FD)
Usually, putting players that hit near the bottom of the order in your lineup can be upside limiting. The difference here is Smith has great speed and sets up the top of the Mariners' offense when he gets on-base from the nine spot. The stolen base upside is clearly there as well, Smith stole for the cycle on Monday with four stolen bases.
BvP
Freddie Freeman ($4,800 on DK and $4,000 on FD) vs Stephen Strasburg
Freeman is 17-48 with 4 HR, 16 RBI, and nine extra base-hits lifetime vs Strasburg. That is a big enough sample size to take it seriously. Strasburg isn't a pitcher I'm really interested in playing much of or stacking against, but Freeman could be a nice one-off play.
OF Shohei Ohtani ($3,300 on DK and $3,200 on FD) vs Frankie Montas
While there is no prior history of at-bats between Ohtani and Montas, I thought we should still highlight the matchup as a BvP play. Ohtani has been a little sluggish out of the gate since making his debut and Montas has been terrific. However, Ohtani's price is way too cheap. According to Fangraphs, Montas has thrown his splitter 162 times. Opponents are hitting only .190 and striking out 42.6% against it. However, Fangraphs also has Montas throwing a sinker 347 times this year.
Opponents are hitting .299 and striking out only 10.5% against it. Why is this important? Well, it depends on which pitch Montas decides to throw against Ohtani. He would be much wiser to throw his splitter, not only because it's more effective, but because Ohtani hasn't seen the pitch much. In his short career, Ohtani is 0-8 with three strikeouts against the splitter. Last year, in 67 at-bats against sinkers, Ohtani hit .299 with a .415 wOBA and six home runs.
Stacks
ARI @ COL
All areas of this game make sense to stack in tournaments and even in cash games. Every nook and cranny. Except for the pitching of course. I'm presuming they will be in a lot of trouble.
SEA vs Jesse Chavez/Adrian Sampson
Chavez will be the opener and Sampson is probable to be the long reliever. Chavez has a 4.55 ERA. Sampson has a 5.39 xFIP and has allowed 46.8% hard contact.
CHC vs Corbin Martin
The Chicago Cubs could be without Kris Bryant again. It doesn't matter. Martin has struggled after his first big league start and having the designated hitter will help balance out not having Bryant in the lineup.
NYM @ LAD
The late-night hammer! Most DFS players don't like to use too many players from teams that have late start times. Not to mention, there are two decent pitchers facing off against one another, Steven Matz vs Rich Hill. Both of these stacks could be low-owned and they are relatively easy to afford with some other premium plays.
Scorecrow Staff Home Run Picks
Joey Ricotta: Anthony Rizzo ($5,500 on DK and $4,400 on FD)
Frank Ammirante: Paul Goldschmidt ($4,100 on DK and $3,700 on FD)
Levon Satamian: Justin Turner ($4,100 on DK and $3,200 on FD)
Gio Damico: Renato Nunez ($4,300 on DK and $3,000 on FD)
Kody Clawson: Pete Alonso ($4,500 on DK and $3,700 on FD)
Matt Bishop: Lourdes Gurriel Jr. ($3,600 on DK and $2,700 on FD)
Devin Davis: Jackie Bradley Jr. ($3,300 on DK and $2,500 on FD)
Questions and comments?
thescorecrowsports@gmail.com
Follow Us on Twitter @thescorecrow
Follow Us on Reddit at u/TheScorecrow
Follow Us on Facebook at The Scorecrow
Follow Us on Instagram at The Scorecrow
Follow Joey Ricotta on Twitter @theriot326
Main Image Credit:
[getty src="1144845334″ width="594″ height="442″ tld="com"]