Matt Bishop| January 31st, 2019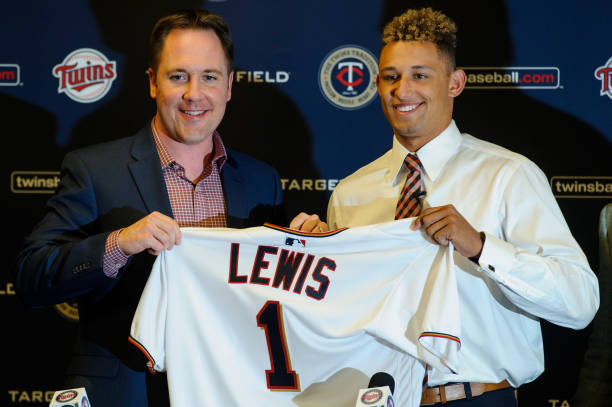 The Minnesota Twins have drafted well and it shows. Coming into 2019, the Twins Minor League system ranks as the 6th best farm system in baseball and is headlined by three Tier 1 Prospects who are destined to take the league by storm. The Twins have a bright outlook and their homegrown talent may put them in contention sooner than expected.
ROYCE LEWIS, SS 6'2" 188 lb Age 19
ETA: 2021
Scouting grades:
Hit: 60 | Power: 50 | Run: 70 | Arm: 55 | Field: 55 | Overall: 65
Royce Lewis, currently ranked #5 on MLB's Top 100 Prospects List, shot up draft boards his junior year of High School after winning Los Angeles Times Baseball Player of the Year honors and taking MVP in both the Under Armor All American Game and the Perfect Game All American Classic.  In his Senior season in 2017, he won California's Baseball Gatorade Player of the Year and was drafted #1 overall by the Minnesota Twins for $6.725 million. He played mainly outfield but switched to shortstop his senior season.
Lewis would debut in the Gulf Coast League slashing .271/.390/.414 (.804 OPS) with 3 HR 38 R 17 RBI and 15 stolen bases (88% success rate) in 159 plate appearances. He would walk more than he struck out (11.9% BB 10.7% K), which was extremely impressive for his first exposure to professional baseball and would award him a promotion to A ball in the Midwest League.
He would start the 2018 season off in the Midwest League Class A where he would continue his stellar play batting .315/.368/.485 (.853 OPS) with 9 HR 50 R 53 R and 22 stolen bases (85% success rate) in 327 plate appearances.  He would earn a promotion to the Florida State League in High A and would finish 2018 off with the Fort Meyers Miracles, slugging .255/.327/.399 (.726 OPS).
Lewis has shown to be a patient and well-rounded hitter, being, that his walk rate has increased at all stops in the minors while maintaining a sub 20% k rate. He consistently barrels the ball up and should add power as he further develops. With a projected plus hit tool and elite plus-plus speed that some scouts call 80-grade, it's not hard to see why the Twins are excited about this kid.  Some scouts are concerned about his range at shortstop and think a move to the outfield is imminent, but the Twins have made it clear the position is his when he's ready. Lewis is a five-tool player and could be the next crop of great baseball players.
MLB Comparison: Trevor Story
ALEX KIRILLOFF, OF 6'2" 195 lb. Age 21
ETA: 2020
Scouting grades:
Hit: 65 | Power: 55 | Run: 50 | Arm: 50 | Field: 50 | Overall: 60


Alex Kirilloff, currently ranked #9 on MLB's Top 100 Prospects List, hit .563 his senior year of high school and went 8-0 with a 0.74 ERA as a pitcher. He would play in the Perfect Game All-American Classic that summer and win the games Home Run Derby. He was later drafted 15th overall by the Minnesota Twins in 2016.
In his first exposure to professional baseball, Kirilloff would hit .306/.341/.454(.794 OPS) 7 HR 33 R 33 RBI in 232 plate appearances, which would earn him Appalachian League MVP Honors in the Rookie League.  But his season was cut short after finding a tear in his elbow, which forced him to have Tommy John surgery and would miss the entire 2017 season.
He returned fully healthy in 2018 and would only get better. In 561 plate appearances across 2 levels, Kirilloff would dominate the Midwest League (A) and Florida State League (A+) by hitting .348/.392/.578 (.970 OPS) 20 HR 75 R 101 RBI.
Kirilloff projects to have a plus hit tool, which is apparent from his .335/.377/.541 (.918 OPS) in 793 plate appearances in his minor league career.  He continues to barrel the ball on a regular basis and should grow into his projected plus power. Kirilloff makes consistent hard contact to all fields and has shown the ability to take walks while keeping his strikeout rate under 20%. Kirilloff should move quickly through the Twins organization and could push their hand in 2019 if he continues this violent pace.
MLB Comparison: Michael Conforto
BRUSDAR GRATEROL, RHP 6'1" 180 lb. Age 20
ETA: 2021
Scouting grades:
Fastball: 70 | Curveball: 50 | Slider: 55 | Changeup: 45 | Control: 50 | Overall: 55


The Twins signed Brusdar Graterol as an international free agent in 2014 for $150,000 which was a minimal sum as far as Twins prospects go. He would debut in 2015 in the Dominican Summer League, going 0-1 with a 2.45 ERA 1.18 WHIP 13.9 K/9 in four starts only to miss the entire 2016 season after having Tommy John Surgery.  He would return healthy in 2017 and see his stock rise quickly after going 4-1 with a 2.70 ERA 0.98 WHIP and a 10.1 K/9 across 40 innings in Rookie Ball in the Florida State and Appalachian Leagues. He was promoted to A ball and High A in 2018, finishing the season off 8-4 with a 2.74 ERA 1.15 WHIP with a 9.4 K/9 across 102.0 innings in 19 starts.
Graterol has electric stuff as his fastball sits in the high 90s and can reach triple digits, all while projecting as a plus-plus offering.  He throws both a curveball and a slider, while his slider projects to be a plus offering and a potential put away pitch. His changeup is well behind his two breakers but has the potential to be a league average pitch with a little development.
Graterol is more of a control pitcher, which is evident with his 2.47 BB/9 throughout his five stops in the minors so far. But his 10.5 K/9 throughout his minor league career has the Twins excited about his long term potential and they think he could become one of the best pitching prospects in baseball.
NICK GORDON, SS/2B 6'0" 160 lb. Age 23
ETA: 2018
Scouting grades:
Hit: 55 | Power: 40 | Run: 50 | Arm: 55 | Field: 55 | Overall: 55


Nick Gordon was drafted 5th overall by the Minnesota Twins in the 2014 amateur draft. He would debut in the Appalachian League hitting .294/.333/.366 (.699 OPS) with 11 stolen bases in 256 plate appearances. He would steadily climb the corporate ladder creating almost identical slash lines in his next three stops, only to rake in 2018 at Double-A, hitting .333/.381/.525 (.906 OPS) with 5 HR 22 R 20 RBI and 7 stolen bases in 181 plate appearances, this was good for a 153 wRC+.  He was underwhelming in his promotion to Triple-A, hitting .212/.262/.283 (.544 OPS) in 410 plate appearances.
Nick Gordon is not an uber-prospect but does carry a high floor with his projected plus hit tool and ability to hit for average.  While he only carries average speed, he has shown a willingness to swipe bases in the lower levels of the minors, averaging 17.5 stolen bases per year from 2014 to 2017.  Of his 70 stolen bases in that span, he was caught stealing 35 times, or a 66% success rate. If you can't steal bases in the minors, you will be completely ineffective in the majors.  Even if he can't swipe many bags in the bigs, he still projects to hit for average and should give the Twins plenty of scoring opportunities.
MLB Comparison: Jose Peraza
STEPHEN GONSALVES, LHP 6'5" 213 lb.
ETA: 2018
Scouting grades:
Fastball: 55 | Curveball: 50 | Slider: 40 | Changeup: 60 | Control: 55 | Overall: 55


Stephen Gonsalves was drafted in the 4th round by the Twins in the 2013 amateur draft. His first action came in the Gulf Coast League, where he would finish the season with a stellar 0.95 ERA 1.02 WHIP 12.5 K/9 in 28.1 innings and 8 starts across two levels.  
In 2016, he was named Minor League Pitcher of the year after going 13-5 with a 2.06 ERA 1.02 WHIP 9.96 K/9 3.66 BB/9 with 155 strikeouts in 140.0 innings across 2 levels. He was an August call-up in 2018, starting seven games, but underperforming 6.57 ERA 2.03 WHIP 5.84 K/9 8.03 BB/9 in 24.2 innings.
Gonsalves possesses an above average fastball with the potential to be a plus pitch while sitting in the low 90s. His breaking pitches project as average secondary offerings, while his changeup is already a plus pitch that he can keep low in the zone. The Twins bullpen may be in for a huge workload in 2019 since their rotation does not look promising on paper. Gonsalves projects as a solid mid-rotation starter and one we could in 2019 if current starters underwhelm.
Check out the rest of our Top-5 Prospect Series | Toronto Blue Jays | Colorado Rockies
(All graphics courtesy of Minor Graphs at Prospects Live)
https://www.prospectslive.com/minor-graphs/
Questions and comments?
thescorecrowsports@gmail.com
Follow Us on Twitter @thescorecrow
Follow Us on Reddit at u/TheScorecrow
Follow Matt Bishop on Twitter @Bishphat
Main Credit Image:"[getty src="814945424″ width="594″ height="395″ tld="com"]