Tom Greene | May 10th, 2019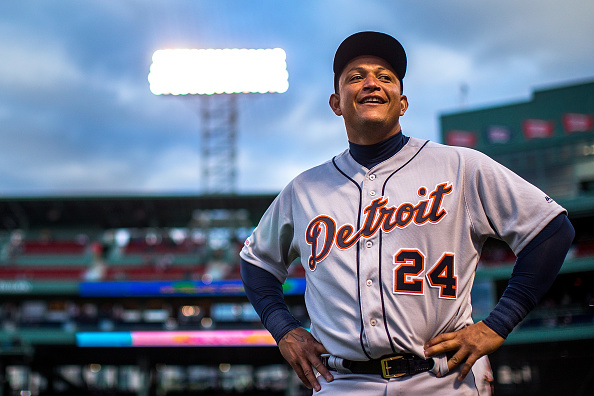 Just last weekend during the Kansas City series, Miguel Cabrera answered the press asking him about his lack of power so far this season. His answer? "Don't worry about it."
Cabrera has only hit one home run this season. The Tigers have a total of 25 home runs (which ranks 29th in the MLB), and no player on this team has hit more than three. In a league where the ball seemingly flies out of the yard on a whim, this is a concern for the Tigers. The last-place team in home runs? The Miami Marlins, who only have 10 wins on the season (at the time this article was written). Let's look at three things you should worry about for this Tiger team, besides Miguel Cabrera.
Three things to worry about in Detroit
The Rotation
To start 2019, the Tiger rotation (in no particular order) was set to look like this: Matt Moore, Jordan Zimmermann, Michael Fulmer, Tyson Ross, Matt Boyd. OK, a solid rotation for a rebuilding team. Playoffs? Probably not. Respectability? Certainly.
Fulmer undergoes Tommy John before the year starts. Down one? No problem, Daniel Norris has answered the call before.
Moore tears his meniscus against Kansas City, causing him to end his season. Down Two? Uh-oh. Spencer Turnbull, can you save us?
Zimmermann leaves a start in Boston with elbow soreness. Down Three. Seems like "Strike three, you're out!" at this point. It will be up to Ryan Carpenter to fill some of the holes in this rotation, and in his start against the Angels… it doesn't look good. Perhaps Casey Mize gets called up? We shall see.
The Lineup
A thing that has plagued Detroit since Brad Ausmus arrived (and left, thankfully) was inconsistencies in the lineup. Feast one day, famine the next. The track record has proven similar under Ron Gardenhire and hitting coach Lloyd McClendon. However, the talent on this team is that of a rebuilding one, so this is expected.
The Tigers are hitting .230 as a team (OK, not the worst) but only three batters in this lineup (Besides Victor Reyes' only hit) are hitting .300. Yes, one of those happens to be Cabrera. Injuries and call ups/demotions have not helped with this statistic, either. Perhaps Christin Stewart can save the lineup? We shall see.
The Bullpen
Ah yes. I shall let every reader of this article that thought I drifted to Wrigleyville know that yes, in fact, I still am a Tiger fan. Did any Tiger fan think this article would be written and published without something about the Bullpen? Me neither.
First, there is one positive about this. Shane Greene has seemingly nailed the door shut every time the ball is given to him. 13 saves and a 1.69 ERA over 16 innings makes him one of the top relievers in the league. A trend upward!
But then, the typical trend downward. The next-best ERA on this staff is Buck Farmer, who is the only other reliever whose ERA is below 3.5. Tiger fans typically hold their breath when Farmer (Or anyone besides Greene, really) enters the game. Rick Anderson has done a decent job with the hand he's been given. The problem is, in a game of Euchre (A Michigan favorite), the hand is Ace-No-Face. (Greene, and not much else). Could this become Casey Mize's role? Again, we shall see.
Questions and comments?
thescorecrowsports@gmail.com
Follow Us on Twitter @thescorecrow
Follow Us on Reddit at u/TheScorecrow
Follow Us on Facebook at The Scorecrow
Follow Us on Instagram at The Scorecrow
Follow Tom Greene on Twitter @TomTV23
Main Credit Image: [getty src="1144925552″ width="594″ height="396″ tld="com"]