Richard Benites | August 30th, 2018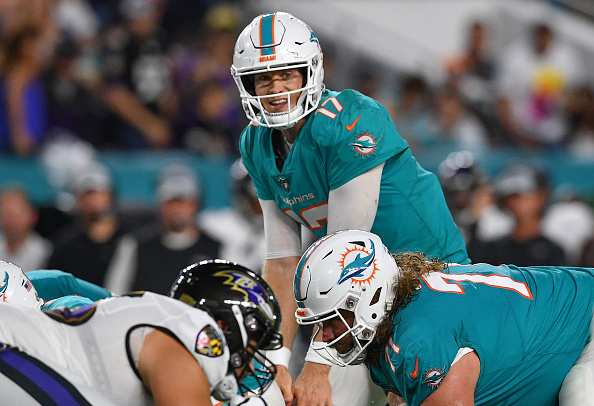 We are now about a week away from Week 1 as the exciting start to the NFL regular season nears closer. For most teams, this final preseason matchup is nothing more than the last rehearsal before final roster cuts, as the 2018 kickoff is just on the horizon.
Miami Dolphins Season Preview
Recap of Last Season
The start to the Dolphins' 2017 season was honestly quite impressive. After losing their starting quarterback Ryan Tannehill, Miami was scrambling for a replacement before agreeing on a 1-year deal with free agent veteran Jay Cutler. They found their form early as the team began 4-2 whilst upsetting playoff-caliber teams in the Chargers, Titans, and Falcons. Unfortunately, Miami couldn't keep their hot streak alive as only two more wins came their way for the remainder of the year. With a healthy Tannehill back under center, hopes are high that the team will find their way back on the right track.
Strengths this Year
Following a year in which they traded their star running back Jay Ajayi to the Eagles, the Dolphins were very confident in the abilities of backup Kenyan Drake. This bet eventually proved to pay off as Drake would take control of halfback responsibilities since Week 8; he'd go on to finish with 883 all-purpose yards and 4 touchdowns. Drake will be antsy to get a full year's workload in after coming off his breakout year, and the run game will be further bolstered as veteran Frank Gore will also be introduced into the mix.
Ndamukong Suh, another talented star, was released by Miami during the offseason. However, his presence in the Dolphins' pass rush was quickly replaced after the team signed a younger and more productive defensive end in Robert Quinn. The former Los Angeles Ram earned a total of 8.5 sacks last year and will be part of an exciting tandem,  opposite veteran Cameron Wake.
Perhaps the most unpredictable piece of the Miami defense would be its secondary. However, throughout all the inconsistency, both of the safety positions stood out due to their combined experience. Reshad Jones has also separated himself as a stud; add in a couple of young and promising players to the depth, now you got yourself a bunch of hungry playmakers.
Weaknesses this Year
Tannehill's return will surely be an improvement at the quarterback position, although his set of weapons at the receiving corps might not help much with easing him back in. During the offseason, the Dolphins lost the league's best slot receiver in Jarvis Landry. Hopes are high that the remaining pass catchers will make that jump in production, especially DeVante Parker who's still searching for that breakout year; veteran wide receiver Kenny Stills continues to be the roster's most reliable wideout.
The linebacker position is another position that needs to be looked at in Miami; more so, a lack of depth is observed here. Last year, the Dolphins were 19th in the league in total tackles landed. Although their run stop game wasn't all too bad, their turnover potential was very unimpressive as the team finished 28th overall in total interceptions. The draft should help with the long-term solution to these issues, and the addition of Ohio State's Jerome Baker will have fans watching closely.
Additions/Improvements
Frank Gore is one of the best backup running backs you can have on a roster. Not to mention he is also the total career rushing yards leader, amongst active players, by a wide margin. Gore totaled 4 touchdowns and 1,206 all-purpose yards last year, even while sharing plenty of touches in a crowded Indianapolis backfield. He'll be a splendid complement to a Miami offense that is in need of consistent production.
Robert Quinn still has plenty left in the tank and was a great pickup for the pass rush. Last season with the Rams, Quinn totaled 8.5 sacks and 2 forced fumbles. He'll enter the new year with a chip on his shoulder, and he'll surely make an almost immediate impact in the defensive front seven for Miami.
Every year it seems like the Dolphins are missing their go-to guy at the tight end position. This time might be different as second-round pick Mike Gesicki will be a huge red zone target for Tannehill; huge as in 6'6″ and 245lbs, to be exact.
Alabama's Minkah Fitzpatrick was one of the highest touted defensive backs in this year's draft. He is a ballhawk and might just be the missing link when it comes to Miami's lack of caused turnovers.
Subtractions/Regressions
Ndamukong Suh earned 4.5 sacks and averaged almost two tackles a game. A bit of an underperformance for a player of his caliber, yet his absence will still be noticed at the defensive tackle position.
Just to reiterate, Jarvis Landry is the best slot receiver in the league and a major loss to Tannehill's offensive arsenal of players. During his 4 years in Miami, after being drafted in 2014, Landry has 4,038 yards and 22 touchdowns.
Longtime center Mike Pouncey was the heart and soul of the Dolphins offensive line. Truly a talented player, however, Miami didn't believe he was worth a contract extension and ultimately released him. What the team does with the offensive line, as well as who they'll decide to start, will be crucial towards both the run game and keeping the quarterback upright.
Prediction
Although the Dolphins are a part of a very competitive AFC East, most pundits' expectations for Miami are a bit disrespectful; placing them as low as one of the bottom teams in the entire NFL. This is a team who got hit by the injury bug early on last year, yet still managed to get the job done and surprise most people along the way.
That being said, there won't be a major improvement just yet, but slightly enough for the team to know that they are on the right track. Tannehill and the Drake/Gore backfield duo should provide a boost to the offense's scoring production, yet the season will ride on how exactly their defense will perform. Fans should treat this as a growing year and will still have plenty to be excited about.
2018 Record Prediction: 7-9.
Questions and comments?
thescorecrowsports@gmail.com
Follow Us on Twitter @thescorecrow
Follow Us on Reddit at u/TheScorecrow
Follow Richard Benites on Twitter @RichardIBenites
Main Credit Image: [getty src="1026178770″ width="594″ height="406″ tld="com"]